Canada for more trade with SL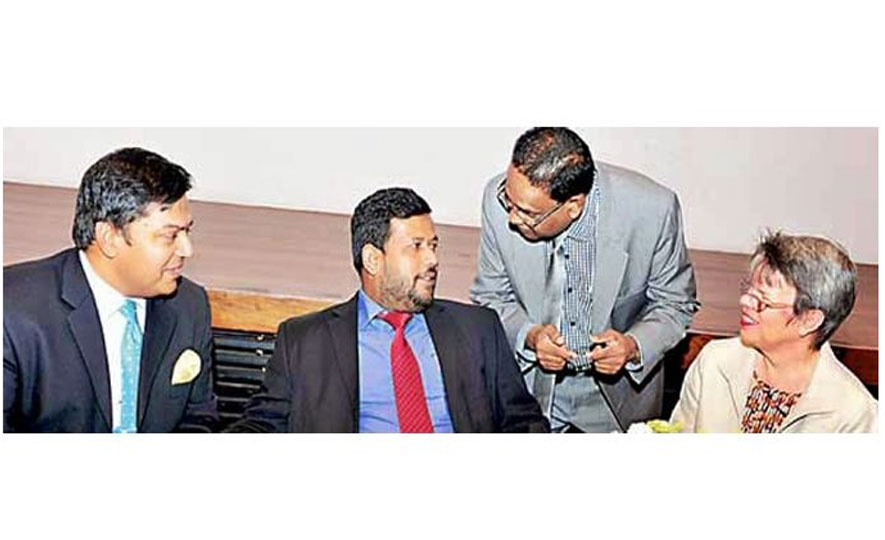 2014-11-19
As part of its new internationalisation thrust, the second largest economy in North America directly called for a fresh trade round with Sri Lanka yesterday, recording success for Sri Lanka with yet another NAFTA member.
More than 100 Lankan firms of all sizes packed EDB's pioneering 'Exporting to Canada' session in Colombo.
"I see great potential and synergy here today to do business with Canadian businesses and the Canadian import market. We are in a continuous process of internationalising, especially targeting emerging markets," said Canadian High Commissioner in Sri Lanka Shelley Whiting yesterday in Colombo.
Whiting was addressing the pioneering EDB session 'Exporting to Canada' held at the EDB, which was attended by over 200 eager reps from 100 Lankan firms of all sizes.
Also joining the session were Minister of Industry and Commerce Rishad Bathiudeen, EDB Chairman/CEO Bandula Egodage, Canada Asia-Trade Facilitation Office Project Manager Zaki Munshi, EDB DG Sujatha Weerakoone, EDB ED Dr. Yousuf Maraikkar, Bangalore Senior Canadian Trade Officer Stanley Gomes and officials from Sri Lankan Consulate, Toronto.
"Our aim is to build ties and extend businesses between both countries. The presence of TFO Canada in Colombo today speaks of the enormous economic progress underway in Sri Lanka right now and Sri Lanka's potential as a trade partner for Canadian Companies. 54% of Lankan imports Canada are apparel. Canada has established an important share in Sri Lanka's market for wheat and other agricultural commodities; 83% of Canadian merchandise exports to Sri Lanka in 2013 consisted of wheat and lentils," said Whiting.
She added: "Canada and Sri Lanka share a broad-based bilateral relationship, with long history of development assistance to Sri Lanka beginning with Colombo Plan and continuing through today where Canadian technical assistance is focused on building sustainable economic growth. All the locomotives that arrived under the Plan 60 years ago are still functioning today! I think these Canadian workhorses are in many ways are symbolic of Canada's trade relationship – longstanding, reliable, quality products, somewhat small-scale, but in for the long haul.
"We have a growing and significant presence in Sri Lanka's education, agriculture, IT, energy, and infrastructure. Just as Sri Lanka engages in a large export volume to India, our main partner is also in our neighbourhood – in our case, the US. However, as various people have acknowledged, we are not defined by that trading relationship alone. Just this September, the Canadian Government celebrated its most successful month for trading and investment in Canadian history. Like Sri Lanka, Canada too has entered into several Trade Agreements including with the EU, Korea, etc. Starting from the North America Free Trade Agreement (NAFTA), Canada has signed nearly 24 FTAs with the world. We also have seen a fivefold increase in Canada-India trade in the recent years."
Sri Lanka's bilateral trade with Canada has shown a continuously growing trend in the last few years. The $ 346 m total in 2009 surged by 26.23% to cross $437 m in 2013.
Bathiudeen, addressing the event, said: "With the support of our committed exporters, President Mahinda Rajapaksa has set a goal of $ 20 billion exports by 2020. As we aim for this goal, not only diversification, but even deeper access to existing markets has become important. Canada is in fact a promising destination in this regard. Last year our bilateral trade with Canada stood at $ 437 m. Firstly, Canada's consumer market is about 2.25% of the world's total consumer market. The neighbouring US market, which is also the largest market in the world, has 28% of the world's total consumer market. Therefore the Canadian market which is located just next to our biggest global marketplace not only offers its own opportunities for Lankan exporters, but even new openings to the US market as well.
"It is clear that $ 437 m trade with the Canada market also shows great unrealised potential that we can begin to explore. Today's session with the valuable support of the Trade Facilitation Office of Canada (TFO Canada), and Sri Lankan Consulate in Toronto could help our committed exporters explore this promising North American market with added strength. I have no doubts that in time to come, with the support of TFO Canada, our EDB will be able to open new doors in Canada for our keen exporters. Therefore, on behalf of the people of Sri Lanka, I extend our warmest appreciation to the people of Canada today for this and many other support initiatives."
Among the 106 Lankan private sector giants at yesterday's session were A. Baur, Hayleys Exports, Eswaran Brothers, Ceylon Biscuits, Ramya Horticulture, Akbar Bros, Barbara Sansoni, Dankotuwa Porcelain, Samson Rubber and Anverally.