Govt. plans to ban cinnamon imports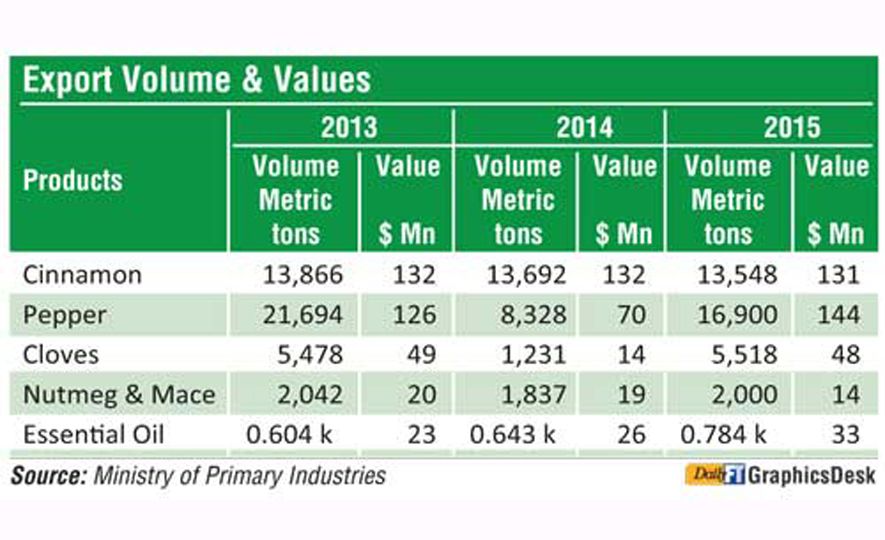 2016-12-19
The Government is preparing to revamp entreport schemes for re-exporting key spices from Sri Lanka including pepper, cloves, nutmeg and mace to protect Sri Lanka's reputation for quality while banning cinnamon imports.

The proposal spearheaded by the Primary Industries Ministry has already received Cabinet approval and aims to put in place several fresh policies to ensure that spices re-exported from Colombo port are not diluted or incorrectly labelled as originating from Sri Lanka.

In 2015 spices earned $ 370 million with the largest share contributed by cinnamon and pepper. Other than tea, cinnamon is the only agriculture export from Sri Lanka carrying the Pure Ceylon label approved by the Government.

Earlier this year Customs detected four cinnamon containers that were imported and re-exported to Madagascar under entreport trade, which industry experts warned would impact Sri Lanka's reputation as the world's largest exporter of pure cinnamon. Instances of areca nut imported to Sri Lanka from Indonesia being re-exported to India had also been detected, according to the authorities.

Such re-export attempts have increased due to India raising import duty on imports of areca nut from other countries including the largest producer Indonesia. Under the Indo-Lanka Free Trade Agreement (FTA) areca nut exported from Sri Lanka has preferential access.

Local spice exporters have repeatedly warned that spices grown in other countries could be imported and re-exported from Colombo either mixed with Sri Lankan spices or falsely labelled as originating from Sri Lanka to be sold in other countries. They have also called for the re-export process to be more transparent and said it could harm the recognition of the Sri Lankan spice industry. It could also undermine the Government's target of earning $ 1 billion from spice exports by 2020.

Under the Cabinet approval a new committee comprising secretaries of heads of institutions who are responsible for the implementation of Temporary Importation for Export Processing (TIEP) and entrepoint schemes are to amend the operational mechanisms as appropriate.

The Cabinet paper also sets in motion Government efforts to "list cinnamon as a banned commodity to import to Sri Lanka from any other part of the world" and "establish bonded processing facilities for all the re-export of spices through Sri Lankan ports by the Primary Industries Ministry."

Spices and allied products make up 56% of Sri Lanka's total agricultural exports with $ 235 million recorded in 2014 and $ 339 million in 2015.