First multilateral biz delegation to arrive in Colombo is from C'wealth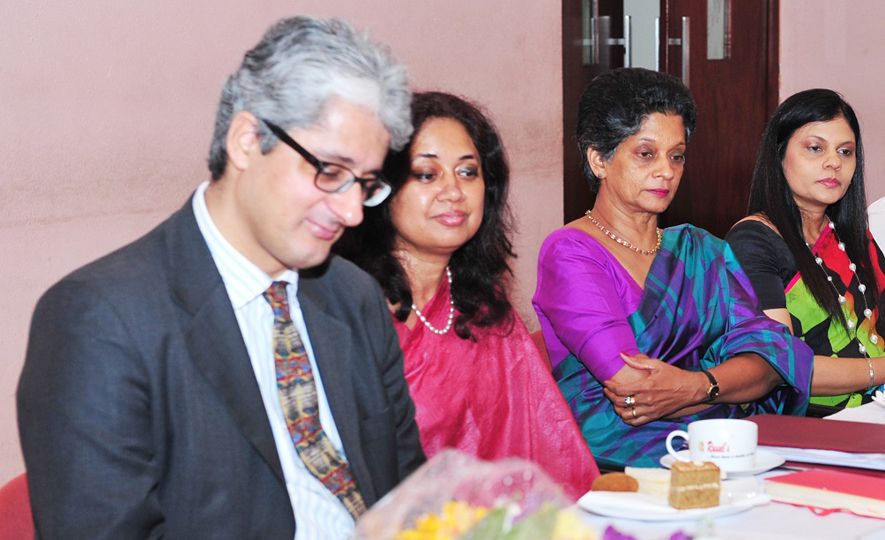 2016-03-10
The first ever multilateral biz delegation to arrive in Sri Lanka is marshalled by the Commonwealth of Nations-and the nine-member pioneering team from the Commonwealth Businesswomen's Network (CBN) that ar n women owned businesses. "This is the first time such a multilateral trade mission has come to Sri Lanka.

The C'wealth takes great pleasure in its pioneering endeavor to Sri Lanka and similar future missions to other C'wealth members are in offing" revealed Commonwealth Businesswomen's Network (CBN) Executive Director Arif Zaman on 08 March in Colombo.

CBN's Zaman was addressing the "Inclusiveness and International Growth" themed session organized by the SLEDB in commemoration of International Women's Day on 8 March in Colombo. The pioneering Commonwealth Business Women's Multilateral Trade Delegation (CBWMTD) to Sri Lanka is led by Farzana Varachia (CEO of Xanopia Women's Business Group, South Africa), and joined by Rasila Hamzah (CEO of the RUSS Group of Companies, Malaysia), Stella Tan (Project Manager of M&A Fund for One Belt One Road and AFC -Hong Kong), Arif Zaman (Executive Director, Commonwealth Businesswomen's Network -CBW), Thana Sivasambu (a Sri Lankan expatriate in UK and founder of Spectra Skills-UK), Magdalena Rakuoane (President , Federation of Lesotho Women Entrepreneurs), Ravindi Walisinghe Project Manager (Sri Lanka and Australia Chamber of Commerce in Australia), Jane Ochieng (Kenya) and Dr. Francois Joubert (CEO- Industrial Steel Fibres (ISF), South Africa).

The delegation was joining the International Women's Day event organised by SLEDB on 8 March in collaboration with the Women's Chamber of Industry and Commerce (WCIC) on 08 March at DHPL Auditorium, Colombo. Joining the session were Indira Malwatte (EDB Chairperson & CEO), WCIC Chairperson Ms Rifa Mustapha and Grant Group Chairperson Neela Marikkar who has recently been honored by World Women Leadership Congress (WWLC).

"EDB has a crucial role as one of the lead stakeholders in government's export and international trade. EDB's role is pivotal in this. We began this process with EDB when Sri Lanka chaired the CHOGM last year, and today's event is a direct result of it. We are picking up from where CHOGM left, in Colombo, especially CHOGM's B2B sessions. This is the first time such a multilateral trade mission has come to Sri Lanka. The Commonwealth of Nations takes great pleasure in its pioneering endeavor to Sri Lanka. All the participants are women either entrepreneurs or from corporate sector from CW member countries. When CW countries do business with each other, there is a 19% cost saving –reduced costs-in comparison to them doing business with non-CW countries due to similarities in legal, business, and mutual recognition of standards among them. This was confirmed during 2015 November's summit in Malta. In this delegation women entrepreneurs from Lesotho, South Africa, Malaysia, UK, Australia and we are looking to get a stronger set of opportunities for Sri Lanka. This delegation wants to do business with Sri Lankan businesses, and link with women chambers. This pioneering multilateral women's delegation to Sri Lanka has set another trend-we shall be doing similar missions to other countries in future -every quarter, in fact. Next June, the delegation will go to South Africa, in September to Samoa and in December to Pakistan. The variety of countries in CBWMTD delegation and prospective international business opportunities with business systems in other countries that are similar to Sri Lanka, are the key attractions for Lankan businesses here" said CBN's Zaman.

"Women's businesses are about change" said the CBWMTD delegation leader South African Xanopia Women's Business Group's CEO Varachia, and added: "Women in business need to be trained to overcome cultural issues, work life balance and other differences 'is situ' so that business for them takes place in a background of gender equality. The support we at CBN give the women, should be practical. This is the difference we are trying to make."

"This is a day of reflection for women entrepreneurs" said EDB Chairperson Malwatte, and added: "I thank our Acting DG Himali Jinadasa for facilitating this event with passion and helping Lankan women entrepreneurs. A woman to be successful need to balance both her work and family lives."


The CBWMTD delegation is to continue their networking efforts further during the coming days of their stay in Colombo.

CBN believes that over $1 trillion in trade will be achieved between the 53 country member C'wealth grouping by 2020.