Dutch biz in town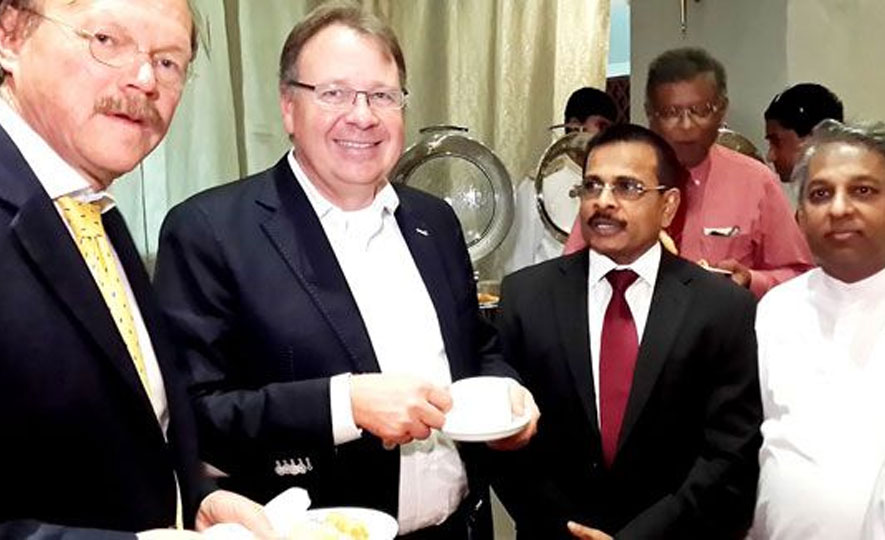 2013-09-06
Dutch biz are bullish on Sri Lanka's emergent prospects. "Sri Lanka's historic links with the Netherlands have entered a new era. This strong business and investment delegation is the latest sign" said an upbeat Buddhi Athauda (Ambassador of Sri Lanka to the Netherlands) on 04 September in Mt. Lavinia.
Ambassador Athauda was addressing the inaugural event of the visiting Netherlands business and trade delegation to Sri Lanka on 04 September held at Mt Lavinia Hotel, Mt Lavinia. The delegation, which is on a week-long tour in Sri Lanka, and which arrived on same day (04 September) in Colombo, consisted of reps from such leading Dutch firms as JIMPP Media, Abos, Defteq International BV, Beursgenoten, Fleurons & Prins, Velema Holdings, and Zonel Energy Systems.
EDB facilitated presentations from various Lankan private sector firms-including Ceylon Tea, and Tourism- were made to the visiting delegation on 04 September at the Mt. Lavinia Hotel, followed by a successful B2B session between Dutch and Lankan biz that continued throughout the afternoon. Jimpp Media BV, a business programme producer is also part of the delegation. Ron Abdoelhafiezkhan, a well-known Dutch talk show host and a TV producer as well as JIMPP's leading producer Ms Juliette Iperen with her TV crew are also in the delegation. The JIMPP TV crew is scheduled to start shooting for two half hour segments on Sri Lanka's new developments, to be televised in Netherlands.
According to the BoI, currently 30 Netherland investment projects are in operation in Sri Lanka to a total investment value of $ 437 Mn. These projects have been on-going from way back in 1978 (to to-date). Among the well-known Dutch brands operating in Sri Lanka are Holcim (cement) and Northwest Fisheries.
According to the Department of Commerce of Sri Lanka, Sri Lanka's total trade with the Netherlands has fluctuated during the last 14 years but balance of trade has continuously in favour of Sri Lanka recording the highest value of US $ 303.6 million in 2010. In 2012, the total bilateral trade between the two countries stood at $ 237.5 Mn. Tobacco, tea, fish products, solid rubber tyres, coconut products were Sri Lanka's leading exports to Netherlands which totalled $ 158.6 Mn in 2012 while the country imported chocolates, orthopaedic appliances, ethyl alcohol, medicaments, tubes, pipes and hoses, and fittings from Netherlands last year.
"Netherlans famous logistics, agro sector and financials offer strong promise for Sri Lankan businesses in such sectors, looking to partner with Dutch biz" said (HE) Athauda. "Sri Lanka can focus on such well known sectors to synergise with Netherlands biz" he added.
"Sri Lanka is very interesting for us" said Alexander OP van den Bos, Director of Abos Ultimate Vending, the high-end coffee brand in the Netherlands. "Your economy is growing very fast and offers good prospects to the global investors like us. We are looking for joint ventures with matching partner firms from Sri Lanka" Bos added. Bos' Faityrade and ATZ certified 'Café Primero' brand of high end coffee and coffee processing machineries trade grossed $ 53 Mn turnover in 2012.
"Diplomatic relations between Netherlands and Sri Lanka go back to more than 60 years" said Dr Yousuf Maraikkar (Executive Director-EDB), addressing the event, and added: "The Dutch influence still lingers in many areas our national life. Their great architecture vividly recalls us their presence in Sri Lanka. In 2012, the total bilateral trade between the two countries stood at $ 237.5 Mn. Sri Lanka is hosting the CHOGM and the Commonwealth Business Forum in November and parallel to this is the large scale exhibition by the EDB and I invite you to actively take part in it."