Dutch Push For Lanka's Hi-tech Exports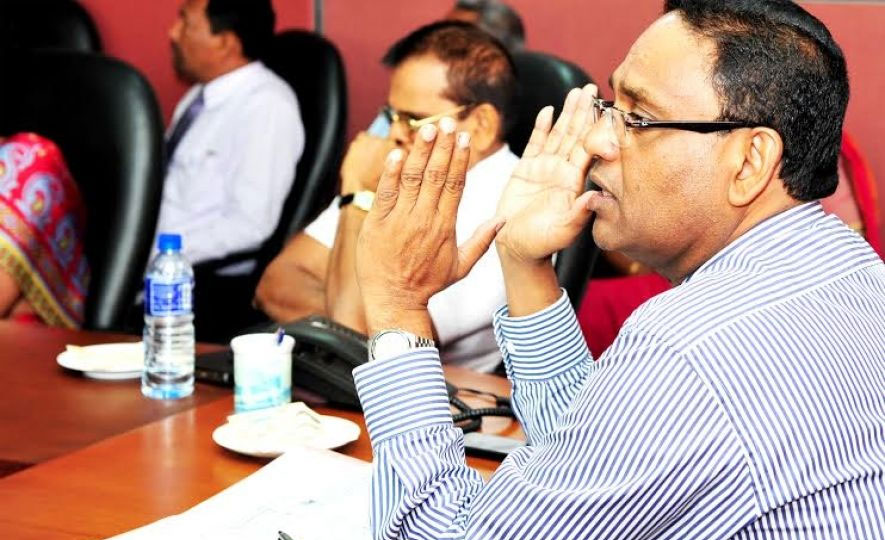 2014-06-23
Sri Lanka is leveraging ICT exports to achieve its $20 B goal of 2020. And a new support initiative by the Netherlands is set to elevate Lankan software exporters to latest tech developments. "The government is highly focused on ICT sector as a forex earner and export driver. We cannot ignore ICT if we are to achieve any progress" said Bandula Egodage (Chairman/CEO of EDB)on 19 June in Colombo.
Chairman Egodage was addressing the two day-hands on interactive session "Website Enhancement and Online Marketing ITO/BPO" organised by the EDB for Sri Lankan software manufacturing and export firms. The first ever such hands-on initiative moved by EDB was facilitated by Netherlands' CBI (Centre for the Promotion of Imports from developing countries)-an agency of the Ministry of Foreign Affairs of the Netherlands. Joost vander Kooij and Onno Roukens, the two CBI professional consultants who specially arrived from the Netherlands to train the companies in the session helped the more than 25 Lankan participants of the session on a one-to-one basis. Among the ICT giants taking part were John Keells Computer Services, hSenid Business Solutions, 99X Technologies, Cyber Concepts, SewEasy, E-Nowave, InfoMate, Calcey Technologies, Pyxle, Allion Technologies, Dinota Information Technologies, Sanje, i-Context Content Convergence, Four Corners, Akio Information Technologies, Data Management Systems, Lanka Communication Services, E Marketing Eye, and Perfect Business Solution Services.
"We earned $ 719 Mn from this sector in 2013. The government is highly focused on ICT sector as a forex earner and driver of exports" said Chairman Egodage and added: "Even Mahinda Chinthana stresses the importance of ICT for our way forward in exports, specially as we work towards $ 20 Bn exports goal by 2020. We cannot ignore ICT if we are to achieve any progress. Communication as well as ICT/BPO sectors are cross cutting and are always evolving. In Sri Lanka, we have all plus points to develop ICT sector –most importantly, brilliant brains and pools of knowledge. Today's initiative by EDB involving no less than international support is part of our strategy to maintain software sector in par with international standards."
According EDB, Sri Lanka recorded $ 719 Mn of communication and computer exports in 2013 -a growth of 6.8% over its 2012 exports of same. The share of Communication and Computer exports was 6.4% of 2013's total exports which stood at $ 11.1 Bn.
"CBI is currently working in 20 emerging markets helping them in many areas-including IT outsourcing and market intelligence" said CBI's Onno Roukens, and added: "Some non-IT sectors helped by CBI are agro sector such as cut flowers and foliage to natural ingredients for pharmaceuticals, consumer products such as apparel, domestic furniture and household utensils, industrial products such as automotive parts, electronic components and medical devices. IT support is part of our services such as IT outsourcing, BPO and tourism."
"Instead of providing financial support to other countries, CBI provides training instead" said CBI facilitator Joost vander Kooij, and added: "We have understood that Sri Lanka software professionals to be well skilled in what they do. Our training and info on the dynamics of global marketplace will help them considerably."