EDB Assists Export Oriented Small and Medium Scale Entrepreneurs at "Shilpa Sena" Science and Technology Exhibition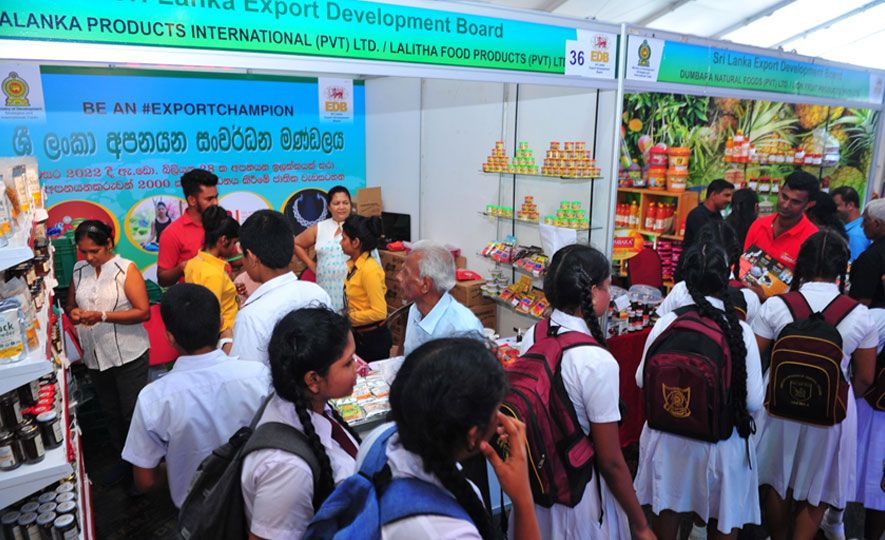 2019-08-16
The Sri Lanka Export Development Board (EDB) has launched a national program to nurture 2,000 new entrepreneurs to be exporters during the period 2017 - 2022, at regional level. The main objective of the program is to encourage domestic enterprises to invest in export industries to achieve the overall export target of US $ 28 billion in 2022. Simultaneously, new entrants have gained opportunities in local and international marketing experience. Accordingly 2000 non-exporter entrepreneurs are planned to be transformed into exporters through capacity, product and market development programmes.
"Shilpa Sena" Science and Technology Exhibition was successfully held by the Ministry of Science, Technology and Research at the BMICH on 18th, 19th, 20th and 21st July, 2019.
The exhibition was attended over 400 public and private sector organizations including the Sri Lanka Export Development Board. The exhibition has provided a competitive platform for local entrepreneurs to sell their products and strengthen business relationships and also find new opportunities in the local market.
The Regional Development Division of the EDB organized a pavilion of 10 stalls for 20 selected SMEs under the 2000 New Entrepreneurs Development Programme who represented handicrafts and gifts, footwear and leather goods, apparel, processed food and beverages, Ayurvedic products, batik and handloom fabrics sectors. According to the evaluation done after the event, more than 50 potential trade inquiries were received by the exhibitors. Over Rs.1million spot sales were recorded during the event.
During the exhibition, the Trade Facilitation & Trade Information Division of the EDB organized the EDB booth and provided information to potential exporters and existing local businessmen in order to encourage them to get into the export market. The EDB officials also educated the visitors about the EDB's 2000-Exporter Development Programme which was launched in 2017 to convert 2000 non-exporting enterprises to become export enterprises by 2020 in addition to making them aware of packaging and quality standards needed to be complied to capture the international market. Furthermore, the visitors were briefed about the numerous products and services offered by the EDB to the exporter community in terms of organizing delegations to international trade fairs, conducting training and capacity development programmes, and providing information services.