EDB Chief wants export boom to be everyone's priority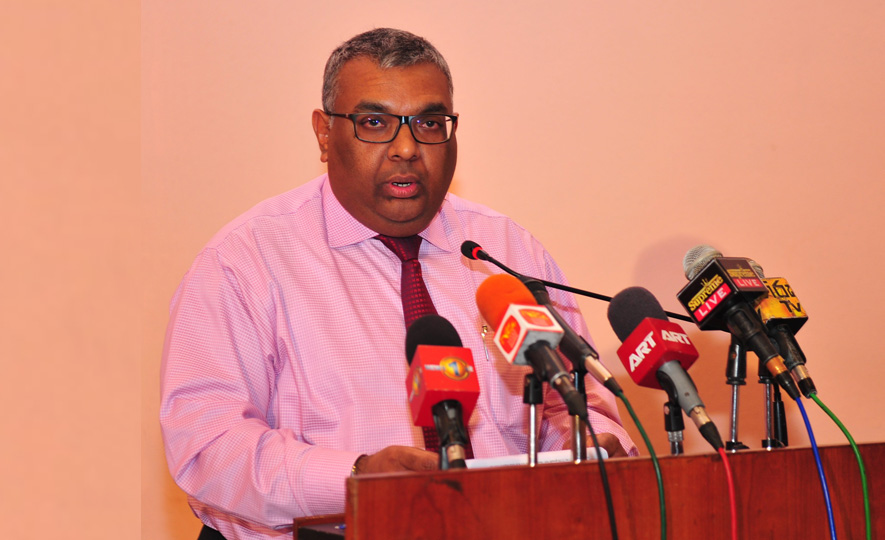 2020-01-31
Sets $ 18.5 b merchandise and service exports target for 2020, up 15% from $ 16.1 b last year
Modest growth for exports in 2019
Insists Sri Lanka needs to make exports national priority
Urges all State institutions to support exporters to boost foreign exchange earnings
EDB announces six other initiatives to increase exports whilst continuing with National Export Strategy adopted in 2018
Export Development Board (EDB) Chairman Prabhash Subasinghe yesterday urged that boosting exports must be everyone's priority, as the key agency set an ambitious yet achievable target of $ 18.5 billion this year, up by 15% from 2019. EDB revealed that as per provisional data, last year Sri Lanka's total merchandise and service exports amounted to $ 16.14 billion up by 1.44% from 2018. The composition was merchandise exports were $ 11.9 billion, up 0.13% and service exports were $ 4.2 billion, up by 5.3% from 2018. EDB originally targeted $ 18.5 billion exports for 2019, and the estimated performance reflects achievement of 87% of the goal.
The target set for 2020 is $ 13.5 billion in merchandise exports, up by 13.4% and $ 5 billion for services exports, up by 18.2% from 2019.
Subasinghe, who is one of the successful exporters of solid tyres and seafood, said export earnings as a percentage of GDP was 22%, whereas for Vietnam it was 105%, Thailand 67%, and Singapore 176%. "Ideally we should look at increasing this to 30% in the medium," he added.
The regional peers' export value makes Sri Lanka's performance insignificant. He said Vietnam exports were $ 242 billion, for Thailand it was $ 249 billion, Singapore was $ 441 billion and India was $ 323 billion.
"Sri Lanka needs to make exports a national priority. We can't grow as a country without exports. So boosting exports must be everyone's priority, not just EDB's and all state agencies must support," said Subasinghe, adding that President Gotabaya Rajapaksa is passionate about export development and all Government employees need to align accordingly.
Apart from continuing with the broader National Export Strategy (NES) which was implemented two years ago, the EDB Chief announced six short-to-medium initiatives to bolster exports. The NES focuses on strategically important sectors such as ICT/BPM, boat building, electrical and electronics, spices and concentrates, processed food and beverages, and wellness tourism.
One is continuing to support existing exporters. Since assuming office early this month, Subasinghe has met representatives of various sectors. "They have so many unresolved issues which have not been heard and dealt with for years. I have taken on the responsibility that EDB as the lead agency will act to resolve these issues, and for this we need cooperation of all Government agencies," he stressed.
Other strategies include diversifying the export basket, which Subasinghe said had remained more or less the same for 40 years, and developing new exporters.
EDB together with the Board of Investment is planning to bring in anchor investors to set up manufacturing and boost exports. "We need knowledge and capital to build export diversification. The catalyst in Vietnam was Samsung, why not Sri Lanka," Subasinghe queried.
Maximising existing Free Trade Agreements (FTAs) with India and Pakistan is another strategy. The EDB Chief expressed hope that the FTA with China can be finalised within the next 12-18 months as it is a very crucial market. In the long-term, Sri Lanka needs to work towards joining the ASEAN trade agreement, he added. EDB will work with Foreign Affairs Ministry and Sri Lanka Missions abroad to further make inroads to existing and untapped markets.
EU is the largest region for Sri Lankan exports, accounting for 30% share. Exports share to USA is 26%, followed by 9% to South Asia. Subasinghe said Sri Lanka needs to increase exports to Asia, the growth engine of the world.
Subasinghe also said that in 2020, the EDB will work to achieve the new Government vision for a prosperous nation. "We will carry out a number of aligned activities in this direction and EDB initiatives will mainly align to three key policies of the Government – friendly and non-aligned foreign policy; technology based society and people centric economic development," he said. "Additionally the EDB will focus on SME development and value addition as well," he added.
Source at: Daily FT