EDB cuts 2020 export target by $ 7.75 b on COVID-19 worries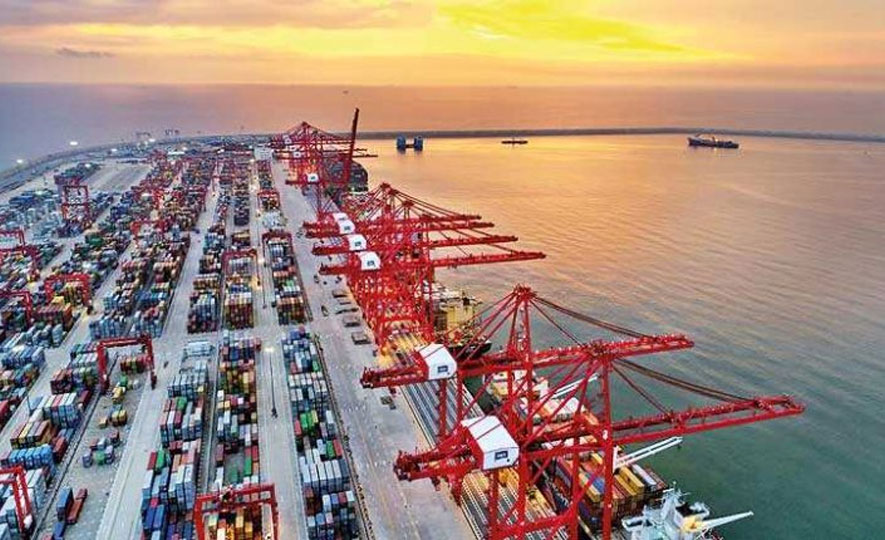 2020-04-06
Original target was $ 18.5 b in 2020
Revised target $ 10.75 b as COVID-19 bites
But confident exports will bounce back faster than remittances and tourism
New space for apparel, pharmaceuticals, agriculture due to virus
Fresh areas need to boost forex revenue
Considering the unprecedented disruption to the global economy and trade due to the COVID-19 pandemic, the Export Development Board has revised its 2020 exports forecast by a hefty 42% to $10.75 billion.
Originally the EDB set a target of $18.5 billion for 2020, up from $ 16.14 billion achieved in 2019.
"Given the current global situation we have decided to revise down the export forecast for the year to $10.75 billion. This will mean a drop in our export earnings of about $ 7.75 billion compared to 2020 original forecast and also $ 5.39 billion from the actual exports of last year," EDB Chairman Prabhash Subasinghe told Daily FT.
As per the revised target EDB forecasts $ 7.53 billion in merchandise exports and $ 3.21 billion from service exports in 2020.
The Chairman noted that the new estimate was arrived at after considering several aspects of supply and demand, as the COVID-19 pandemic affects both sides. However, despite the revised forecast, Subasinghe expressed confidence that the export sector would be the first to recover as tourism and worker remittances would take time to bounce back.
He said tea, rubber (surgical gloves, tyres), coconut, spices, food and beverage, seafood and fruits would do well during this year given the pandemic globally, while major export sectors such as apparel, rubber-based products (except industrial, surgical gloves and Agri tyres), diamonds, gems and jewellery, electronic and electrical components, ornamental fish, and boat building sectors would perform marginally or poorly.
"The Government has categorically identified agriculture, rubber, seafood and coconut as essential services," Subasinghe added.
The EDB Chief also pointed out that the crisis situation had opened up new opportunities in the areas of apparel, particularly to manufacture face masks, medical wear, personal protection gear, ventilators, hospital beds and medical bed linen, peripheral equipment for ventilators, soap, sanitiser, disinfectant and pharmaceutical exports.
"We have to now focus on these new areas to push exports. Every additional dollar that the export sector can earn at this crucial time can save the Sri Lankan economy," Subasinghe stressed.
Even before the coronavirus began to spread and impacted the global economy, Sri Lanka's merchandised exports in January were down by 7.4% to $ 961 million. Early this year, the EDB set an ambitious yet achievable target of $ 13.5 billion worth of merchandise exports for 2020, up by 13.4% from 2019 achievement of $ 11.9 billion.
"The situation will impact all of Sri Lanka's major export markets. Importing companies in foreign markets such as the US and Europe are now taking precautions. They are imposing travel bans and cancelling trade events and trade visits, which will affect the order placing and business generation for our companies," he added.
Sri Lanka's single largest export market is the US, which accounted for 27% of total merchandise exports last year, while Europe accounted for 30%.
Source at: Daily FT