EDB awarded as the Runner-up at World Trade Promotion Awards 2022 for inclusive and sustainable trade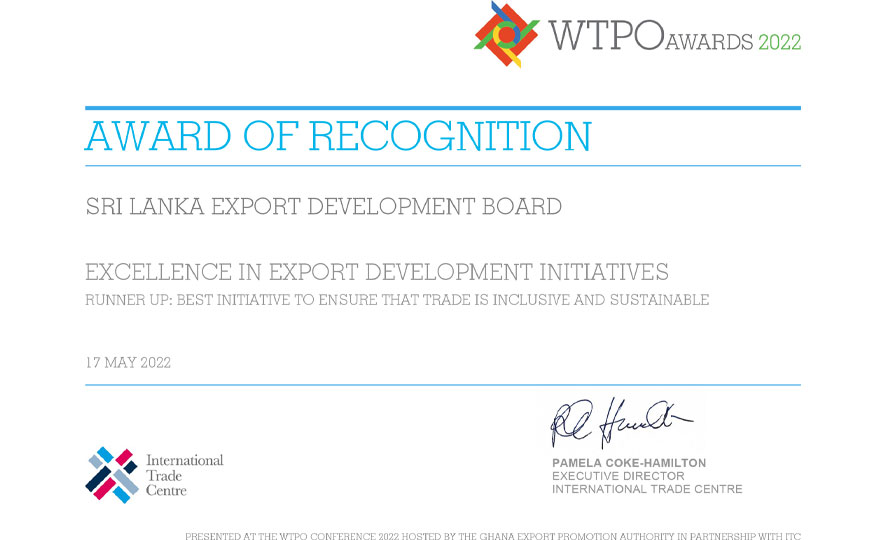 2022-05-20
Demonstrating its competency and excellence internationally, the Sri Lanka Export Development Board (EDB) accomplished another valued achievement by becoming Runner-up at the World Trade Promotion Awards - 2022 under the category of Best initiative for inclusive and sustainable trade for its SME Export Coaching programme which was conducted in late 2021. The 2022 World Trade Promotion Awards were announced at the World Trade Promotion Organizations Conference and Awards in Accra, Ghana, on 17th May.
This year's award ceremony recognized innovative programmes launched by trade promotion organisations which helped small firms to benefit from opportunities in the international trade at a time of uncertainty. The organizations had to demonstrate that their initiatives assisted micro, small and medium-sized enterprises to become competitive in international markets. The EDB was became the runner-up under the "Best initiative to ensure that trade is inclusive and sustainable" category after going through three highly competitive rounds of selection. Other trade promotion organizations that got nominated under the same category for the final round were from South Korea, the Netherlands, Zambia and Zimbabwe. Zimtrade – Zimbabwe was judged as the winner.
The award-winning SME Export Coaching programme was implemented during last year by EDB – Regional Development division for twenty-five (25) selected, export-ready SMEs that were registered under the EDB – New Exporter Development Programme in order to aid them to develop their capacities to enter the export market. Under this initiative, individual coaching sessions on Export Marketing Planning were conducted by 11 EDB officers. The SMEs were then guided by the EDB officers to develop their Export Marketing which were evaluated by an external evaluation panel with details of their funding requirements to obtain the services that are identified as key to expand their businesses internationally. The panel selected the 10 best Export Marketing plans and the winners were granted financial assistance by the EDB to implement their next stages of development according to their proposed Export Marketing Plans. Following this programme, SMEs identified export market entry requirements and the programme improved rural development, with farmer clusters getting developed as a supply base. It also brought opportunities to women and youth in rural areas
The World Trade Promotion Awards, open to all national trade promotion organizations is organized by the International Trade Centre (ITC) as a bi-annual event to recognize outstanding trade promotion organizations that excel in export development initiatives. The ITC is the joint agency of the World Trade Organization and the United Nations.