EDB hits China gold with first mainland MoU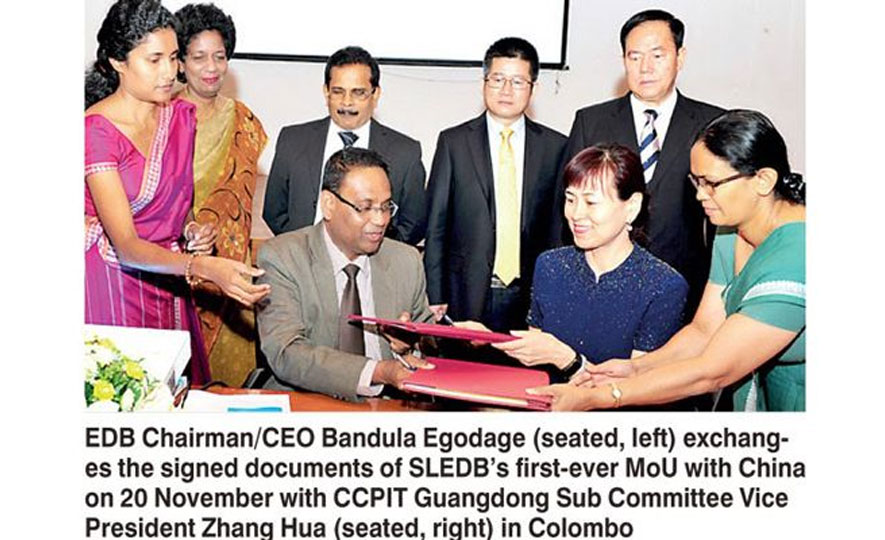 2014-11-25
Sri Lankan exports broke fresh ground on 20 November, as a pioneering MoU between the country's apex exports facilitator EDB and China was entered into in Colombo. With the commencement of FTA talks, bilateral relations have also further deepened.
"During President Xi Jinping's recent visit to Sri Lanka this September, he and President Mahinda Rajapaksa reached consensus to deepen the strategic partnership and joint construction of 21 Century Maritime Silk Road. Now the countries have officially started the bilateral FTA negotiations and we believe that the bilateral cooperation would be further deepened in future," said Zhang Hua, Vice President of CCPIT Guangdong Sub Committee.
Hua was addressing the first MoU signing event between EDB and China Council for the Promotion of International Trade of Guangdong (CCPIT – Guangdon) held on 20 November at EDB, Colombo.
Reps from 19 leading Guangdong firms and Government enterprises, including Guangdong Guangye Asset Management (mineral resources), Guangzou Dajunmei Electric (consumer electronics), Landrent Investment Ltd. (enterprise management), Qinyuang Takson (tea), Qinyuang Silver Field (tin and scrap metal processing), Qinyuang Shengli Copper Materials (copper processing), and First Rare Materials Co (producer of high purity metals including selenium, tellurium, cadmium), were present for B2Bs with more than 20 Lankan firms such as D. Samson Industries, Akbar Bros, Mt. Lavinia Hotel, Robert Agencies, Abans PLC, Oviklo International and Agility Logistics.
Guangdong (formerly Canton) is China's largest provincial economy producing more than 10% of China's GDP, with 104 m population and hosting some of the largest global multinationals such as Shell (the Petrochemical giant) and Du Pont (chemicals).
Guangdong also hosts China's largest international annual expo, the Canton Fair.
Addressing the event, Hua said: "CCPIT Guangdong has maintained good cooperation, relations with Consulate General of Sri Lanka in Guangzhou, organised several business meetings to further promote bilateral communications. In fact, we have just organised a business meeting last month with the Consulate General of Sri Lanka in Guangzhou for the entrepreneurial delegation led by EDB. We hope that today's MoU with EDB will further promote bilateral business communications between Guangdong and Sri Lanka." China is Sri Lanka's second largest import country with a value of $ 3 billion, accounting for 17% of total imports in 2013. Total trade with China was $ 3,081 m in 2013.
EDB Chairman/CEO Bandula Egodage addressing the event said: "This is the reciprocal event for the visit of the entrepreneurial delegation led by EDB to Guangdong. We thank you for giving us the opportunity to access Guangdong. The EDB team has played a considerable work to coordinate this MoU. The MoU is a commitment that shows the interest of both parties to engage in bilateral trade."
EDB ED Dr. Yousuf Maraikkar, addressing the event, said: "China was the 18th export destination for Sri Lanka with an export value of $ 121 m, contributing 1.2% of total export earnings in 2013. Sri Lanka's exports to China have grown over the past five years increasing from $ 59 m in 2009 to $ 121 m in 2013. The EDB has organised participation of 27 Sri Lankan companies at the 11th China International Small and Medium Enterprises Fair held in Guangzhou, China in October this year. Today's MOU aims to exchange market information and relevant publications, exchange of official visits between two countries and support to participate at trade exhibitions and other trade events with the overall objective of developing trade between two countries."
EDB Director General Sujatha Weerakoon led the Sri Lanka trade delegation to the 11th China International Small and Medium Enterprises Fair held in Guangzhou and during a meeting with the CCPIT Guangdong Province she invited CCPIT to organise a delegation from Guangdong, China to Sri Lanka.