EDB Implements Capacity Building Programme for SME Jewellery Manufactures - Design, Product and Market Development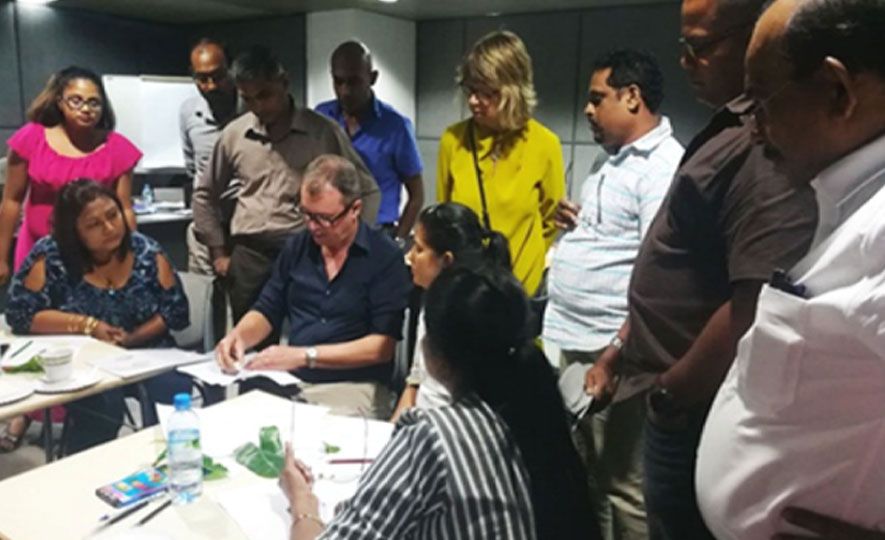 2019-07-10
The SME Jewellery Manufacturers play an important role in the Gem & Jewellery sector. However their contribution to exports is minimal due to a number of reasons. The two major factors which hinder the progress of the SMEs are the lack of awareness on the benefits of using design as a differentiator in the international market and lack of designers who are capable of producing exquisite designs to attract the high end segment in the international market.
Considering the importance of using design as a differentiator in the international market to increase export earnings and developing products, design capabilities of the SME jewellery manufactures to be in par with the international market, EDB has implemented several product and design development programmes. Although the SME jewellery manufacturers are talented and creative, they need to be guided appropriately to use their capabilities to cater to the rapidly changing market needs. They have to be educated on the importance of conceptualizing and turning their concept to designs that attract the consumers in the international market. SME's also need to be provided with knowledge on the latest technology on jewellery manufacturing and the demands of new markets.
In order to enhance the capabilities of the SME jewellery manufacturing companies, EDB launched an Integrated Design / Product and Market Development programme in 2019 for a selected group of 10 SME jewellery manufactures for a period of 3 years.
The main objectives of this programme is to upgrade design and manufacturing capabilities of selected SME entrepreneurs, upgrade and introduce new techniques / technology and to enhance the awareness on latest marketing strategies used internationally.
The programme commenced on 27th March 2019 by obtaining the service of International and Local Experts which consists of 3 phases namely Design Development Phase, Product Development Phase (Manufacturing Techniques / Packaging & Display) and Market Development Phase.
Design Development Phase
During the Design Development Phase 3 workshops were conducted and design experts mentored each participant individually to adopt and improve their existing designs and assisted to develop new designs.
During the practical sessions, participants were trained to improve their inspirational drawing, technical drawing, rendering skills and conceptual thinking together with an inspirational visits to National Museum and Urban Island Showroom. Participants were given the opportunity to develop sketches, mood boards and a concept for their jewellery collection to be presented at the upcoming FACETS International Gem & Jewellery Show 2019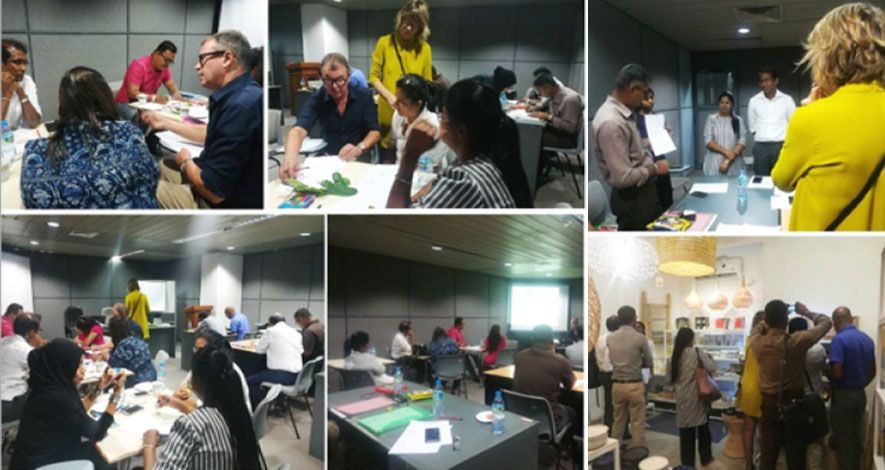 Product Development (Manufacturing Techniques / Packaging & Display) Phase
2 workshops were conducted covering the areas of metal crafting and enameling at a fully fledged jewellery workshop of the Gem & Jewellery Research and Training Institute (GJRTI) at Kaduwela.
The participants were given practical sessions on metal crafting, enameling and finishing techniques which are crucial elements in catering to the international markets. In addition, a one day workshop on branding and packaging was also held in order to adapt new and creative packaging and provided with knowhow to create own brand, various packaging techniques etc. The participants were individually reviewed and assisted to develop their own brand for each participant for their newly developed collections.

Market Development Phase
The Market Development Phase will continue for 3 years and at the initial stage the selected participants will be given the opportunity to display their newly created jewellery collection at the EDB Pavilion at FACETS International Gem & Jewellery Show 2019. EDB will explore the possibility of providing international market exposure for this group and organize participation at local and overseas trade events based on their performance during the programme. In addition providing online trading facility through EDB web portal for them to promote and sell their products online will also be facilitated.