EDB in new push for Japanese IT market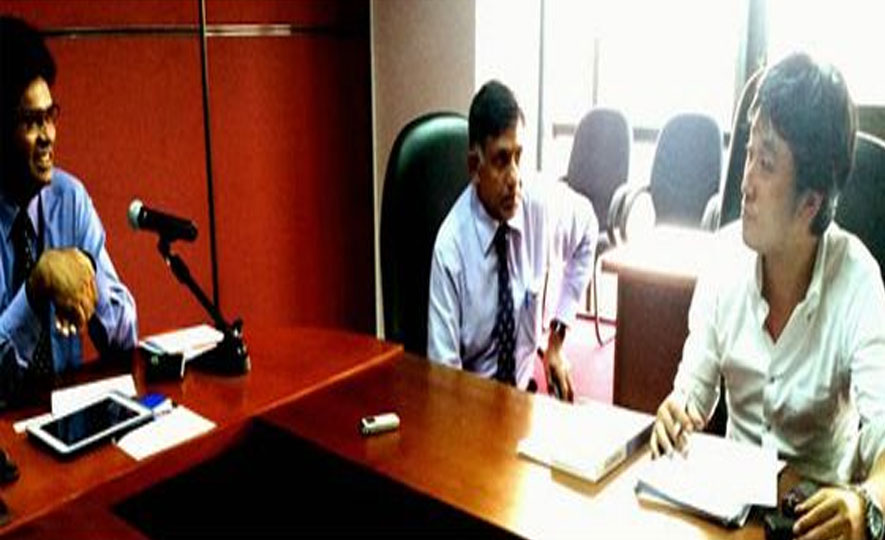 2014-09-13
As Sri Lanka's IT exports topped $ 719 m, a business journalist from world's fourth largest selling newspaper was taken by surprise by the country's inroads into one of the most demanding niche software markets in the world. "I am really surprised by your ability in our platforms. This is news!" exclaimed Yuichi Kiriyama, business journalist of Japanese language Mainichi Shimbun, the world's fourth largest selling newspaper.
Yuichi was addressing a special gathering of the software interest group for the Japanese market held on 5 September in Colombo facilitated by the The Export Development Board (EDB).
Led by ,EDB ICT Sector Director M.K.S.K. Maldeni the session was attended by reps from leading industry players such as Seneru Information Technologies Ltd., MaxSolPro Ltd., 99x Technologies, OpenArc System Mgmt Ltd., Orion Development Ltd., hSenid Software and Information and Communication Technology Agency of Sri Lanka (ICTA).
The 5 September session was an outcome of the EDB's successful May 2014 IT delegation to Tokyo.
To further boost Sri Lankan IT&BPM presence in Japan, last May, EDB's Assistant Director R. Swarnapali accompanied a team of Sri Lankan IT&BPM firms to world's second largest trade show on Information Technology (IT) called 'Japan IT Week' held at Tokyo Big Site international exhibition centre.
Among the Lankan companies taking part in Tokyo were Tellida Ltd., Sulva Sutra Concepts Ltd., Orion Development Ltd. and Openarc Systems Management Ltd. the Sri Lankan Embassy in Japan had also arranged meetings for the delegation with institutions such as Japan Information Technology Service Industry Association (JISA), Tokyo Chamber of Commerce and Industry (TCCI), Japan Users Association of Information Systems (JUAS), Fujitsu and Cannon IT Solutions Inc and JETRO Japan.
The 5 September session with Japanese media rep was a follow-up of the May '14 delegation to Japan in which the progress of the visit was reviewed and Sri Lanka's capacity was introduced to Japanese media.
To compete successfully in the Japanese software market, the software interface needs to be in Japanese, which is demanding since it is spread across no less than three alphabets totalling 8,092 characters.
Yuichi was surprised by the software capabilities showcased by Lankan software maker MaxSolPro Ltd. for Japanese platforms.
MaxSolPro CEO M. Gazzaly said: "We are totally Sri Lankan-owned firm. Japan is a specialised software market and you need high standards. For example, our Golvi Voice Navi, the voice navigator for golf players in thousands of Japanese golf courses, has been received well in Japan. We developed it with Digitalvox. It is a GPS-driven high-tech hand-held gadget that speaks to you and gives you exact directions to the tees, fairways and location of holes, etc., in all top golf courses in Japan. It first identifies the golf course automatically and loads the full profile at start. While playing, the player wearing voice navi does not need to worry about where to turn next! We are also into many other apps in Japanese language, such as the widely used jpTravel app."
In 2013, Sri Lanka's IT and Business Process Management (BPM) exports stood at $ 719 m, surging 237% from 2007; 77% of 2013 exports were BPM. Sri Lanka has set a target of $ 5 b IT&BPM exports by 2022, of which it expects 62% to be BPM while also creating 200,000 jobs and 1,000 start-ups by the target year.
To support the growth targets, in its National Budget 2014 the Government proposed a five-year half tax holiday for new partnerships or firms engaging in international services in the field of accountancy, commerce, finance, law, IT, engineering and architecture.
"Sri Lanka's software industry is not widely known in Japan," said Yuichi. "But now we are getting to know about it." He also learnt in-depth about the Sri Lankan IT industry's progress directly from EDB and industry officials present on the occasion.
Mainichi Shimbun is the world's fourth largest selling newspaper with a reported readership of 12 million in Japan (within Japan itself, it's the third largest; topmost is Yomiyuri Shimbun and secondly, Asahi Shimbun).