EDB Open Day on 15th June 2023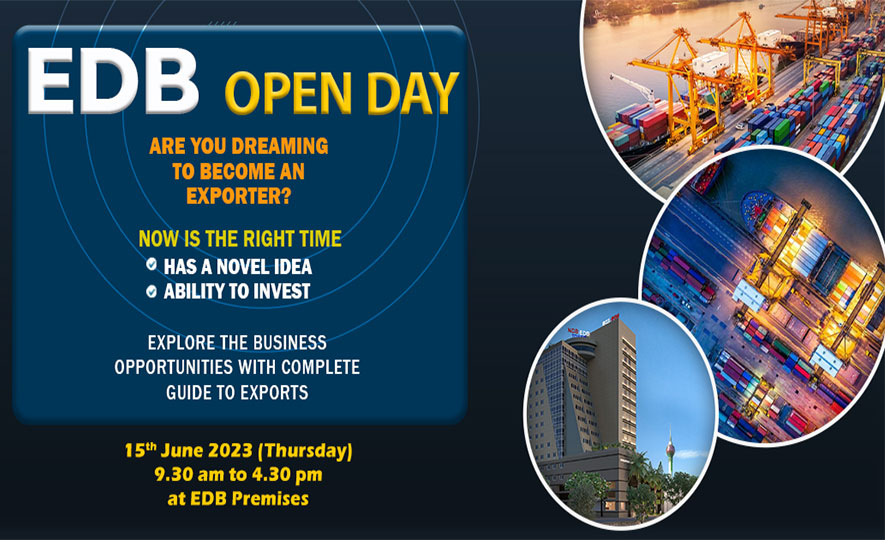 2023-05-31
The Sri Lanka Export Development Board (EDB) is excited to announce the upcoming "EDB Open Day" event - a one-day program – which will take place on Thursday, 15th June, 2023, from 9:30 am to 4:30 pm at the EDB, No 42, Nawam Mawatha, Colombo 02. The event will provide a valuable platform for potential exporters, small and medium-scale entrepreneurs, Start-ups and innovative thinkers to explore the opportunities in the export field and know the services offered by the EDB.
The "EDB Open Day" will feature a diverse range of activities and services tailored to meet the specific needs of the participants such as getting to know export procedure, about agricultural products, industrial products, and export services, product improvement, market identification and export Connections. The potential exporters will receive guidance and support to enhance their products and meet international standards. The EDB will facilitate connections with established exporters, paving the way for fruitful collaborations; Awareness Sessions on export procedure, e-marketing and packaging will be covered as breakout sessions throughout the day. Further finding buyers and potential markets, organic registration, Pure Ceylon Cinnamon logo utilization, and access to the relevant stakeholder agencies will be available.
Registration for EDB Programmes: the interested individuals can register for the EDB's programmes on New Exporter Development, Women Entrepreneurship Development and the Exporters' Directory. This ensures continuous support and assistance beyond the "EDB Open Day" event.
The one-day event promises to be a dynamic and enriching event, bringing together potential exporters, and the EDB officers for collaboration, knowledge sharing, and fostering economic growth.
We welcome and invite all potential exporters and SME to experience this day on 15th June.
For more information and pre-registration, please visit the EDB website at https://www.srilankabusiness.com/edb/about-us/open-day.html or contact the EDB directly: Erandi 0777238299/ Chaturi 0778281052/ Nipuni 0718810987