EDB organises seminar and matchmaking program on Canadian market in Colombo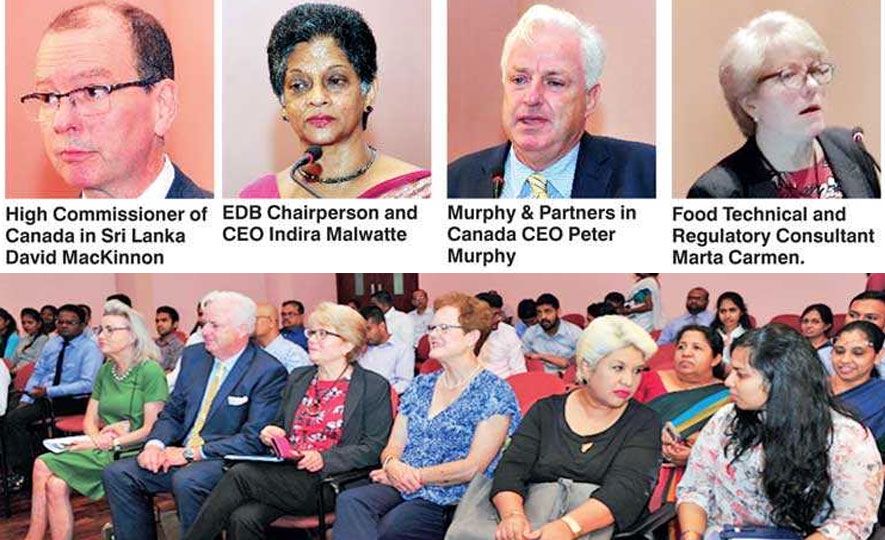 2018-07-26/ http://www.ft.lk/business/EDB-organises-seminar-and-matchmaking-program-on-Canadian-market-in-Colombo/34-659773
The Sri Lanka Export Development Board (EDB) organised a seminar and matchmaking program with the services of two Canadian marketing experts. The objective of the program is to increase awareness among Sri Lankan exporters on the Canadian market and to develop business linkages between Sri Lankan companies and buyers in Canada for increasing exports to Canada.
The program was held from 16 to 18 July at the EDB in Colombo with the participation of 75 private sector Sri Lankan participants, as a continuation of the work carried out in the Canada market under the letter of Agreement EDB has entered into with Trade Facilitation Office (TFO) Canada in 2014 for promoting trade and economic cooperation between Sri Lanka and Canada. TFO Canada is a trade facilitation organisation in Canada which is the primary provider of information, advice and contact services for exporters in developing and emerging countries.
The seminar was mainly focused on food and beverages and spices and concentrates, which are two focus sectors under National Export Strategy (NES) and considering opportunities in the Canadian market for the sectors.
High Commissioner of Canada in Sri Lanka David MacKinnon who attended the seminar remarked that Canada was a longstanding partner of Sri Lanka, with strong economic and people-to-people ties. The High Commissioner said that the economic links should expand considerably further for benefits of both countries and the Canadian Trade Commissioner Service is happy to assist Sri Lankan industrialists to build business in Canada and support in networking with Canada.
EDB Chairperson and CEO Indira Malwatte outlined the EDB initiatives carried out in last few years to develop the Canadian market, such as Sri Lanka's participation at SIAL Canada from 2016 to 2018 in Canada with 18 companies. Further she said that the growing number of immigrants from Asia and the Middle East in Canada were a good opportunity for expanding exports to the market.
The seminar's technical presentations were made by the two experts from Canada. 'Retail Formats, Canadian Market Landscape, Demographic Trends, Market Share and Distribution, Consumer Trends, Role of the Distributor, Broker & Importer, and the Role of Private Label' was conducted by Peter Murphy, CEO of Murphy & Partners in Canada. He has more than 35 years of experience in the Canadian food sales industry, well-known brands and private labels dealing with all major Canadian retail chains.
'Overview of Canadian Food Regulations & Product Labelling' was done by Marta Carmen, Food Technical and Regulatory Consultant.
In addition to the technical seminar on the Canadian market for food and beverages and spices and concentrates, a matchmaking program was conducted for shortlisted applicants by the experts to select 10 Sri Lankan new export companies to the market. Factory visits were also undertaken to further analyse the new companies. EDB will work with the selected companies wish to organise a market entry program in Canada in 2019 in view of increasing exports to Canada. Sri Lanka's exports to Canadian market has increased consistently in the last five years from $ 151 m from 2013 to $ 209 m in 2017. Major exports to Canada are apparel, coconut products including oil, fibre, coconut cream, coconut water, chips, rubber products including tyres, tubes and gloves, edible fish products including frozen chilled and fresh, tea, spices and essential oils.
Source at: Daily FT