EDB organising Inward Buyer Delegation from Japan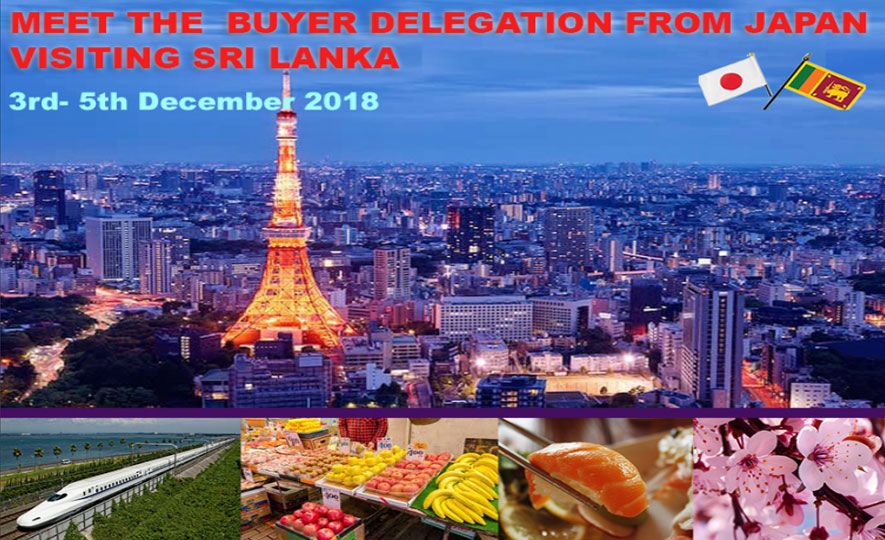 2018-11-21/ http://www.ft.lk/business/EDB-organising-Inward-Buyer-Delegation-from-Japan/34-667280
The Sri Lanka Export Development Board (EDB) in collaboration with the Sri Lanka Embassy in Japan is organising an Inward Buyer Delegation from Japan, from 3-5 December with the objective of developing business linkages between Sri Lankan companies and the Japanese buyers and to increase awareness among Sri Lankan exporters on the Japanese market.
Japan is the 13th export destination for Sri Lanka. Total export value from Sri Lanka to Japan was $ 207 million in 2017 and total imports from Japan to Sri Lanka for the same period were $ 1038.5 million. In 2017, Sri Lanka's major exports to Japan were apparel, tea, fisheries products, coir textile fibre products, insulated cables, table and kitchenware. In 2017, Sri Lanka's imports from Japan are mainly comprised of motor vehicles and transport equipment, electrical and electronic products and products of base metal.
Arrangements are being made by the EDB for the Sri Lankan companies to meet the visiting buyer delegation. A Business Forum and Business to Business (B2B) Meeting Program for the Sri Lankan business community with the Japanese buyer delegation will be held on Monday, 3 December from 9 a.m. to 4 p.m. at the Sri Lanka Export Development Board, Colombo 02.
The Commercial Counsellor in Sri Lanka Embassy in Japan will deliver a presentation on 'Trade Opportunities in Japan' during the Business Program.
The Japanese delegation is interested to meet the Sri Lankan business community mainly engaging in product sectors viz. apparel, handloom products, spices and concentrates, tea, organic products, processed food, healthcare and cosmetic products, fruits and vegetables, coconut based products, natural rubber gloves, super foods, vanilla beans and cashew nuts, etc.
The interactions with this buyer delegation will be a great opportunity for the Sri Lankan export oriented companies and for potential exporters in Sri Lanka to enhance knowledge on Japanese market and to develop and extend business network. Interested companies for this Business Forum and the B2B Meeting are requested to contact Apsara Arampath, Assistant Director of EDB: [email protected], 0112300705-11 (ext. 271) or 011-2300721/22 for more details.
Source at: Daily FT