EDB organized 2023 first ICT outward mission: Sri Lankan IT Innovations Fly High at Japan IT Week Osaka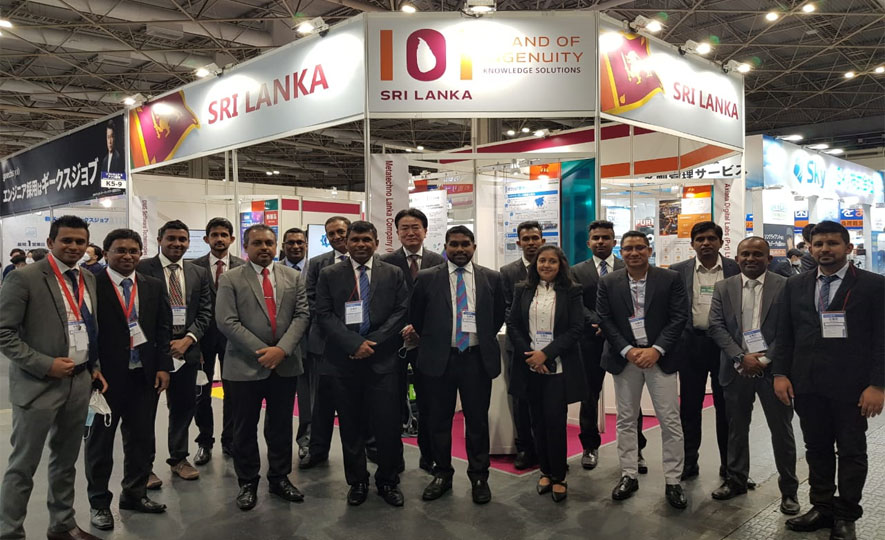 2023-02-03
Sri Lanka is well known for its technology enabled services. Despite being a small country in South Asia, the tech innovations of the country is chosen by many global clients as their technology partner or offshore service delivery destination. Along with the global reputation of being the "Island of Ingenuity" and with the enormous opportunities created by the brand image, Sri Lankan ICT/BPM companies are expanding their horizons in global marketplace.
Sri Lanka is familiar to Japan through traditional exports and had many trade related platforms created between the two countries. However, the Sri Lankan tech talent was concealed to Japan until the EDB organized the first ever ICT sector delegation to Tokyo in 2014. Subsequently several delegations showcased their tech talents at the Japan IT Week Tokyo events since 2015. By identifying the vacuum and the enormous demand amongst the Japanese clients for Sri Lankan tech talent, EDB further decided to explore the opportunities in Western and Central Japan by Organizing Japan IT Week Osaka 2023 from 18th to 20th January.
Japan IT Week Osaka is considered as the largest IT trade show in Western Japan covering a wide range of IT verticals with 10 specialized exhibition areas for Embedded & Edge Computing, IoT & 5G Solutions, Information Security, Cloud & BPR, Web & Digital Marketing, AI & Business Automation, Advanced E-Commerce & Retail, Sales Automation & CRM, Software & Apps Development and Automated System Operations.
Among the many exhibitors, the only 'country pavilion' was from Sri Lanka. The 8 company delegation encompassed C-Level representatives from hSenid Software Lanka (Pvt) Ltd, Axiata Digital Labs (Pvt) Ltd, LOLC Technologies Limited, Metatechno Lanka Company (Pvt) Ltd, DMS Software Technologies (Pvt) Ltd, Zincat Technology (Pvt) Ltd, Evensel-IT (Pvt) Ltd and Entgra (Pvt) Ltd. The companies showcased their competencies with an array of technology products and services. Prior to the event EDB organized a pre fair market intelligence transferring session for the delegation and the Sri Lanka Embassy in Tokyo facilitated the Business matchmaking meetings in Tokyo and Osaka.
The Embassy of Sri Lanka in Japan and UNIDO ITPO Tokyo co-organized a business matching event on 16 January 2023 in Tokyo for the Sri Lanka ICT/BPO companies. This was held at the Shin Open Lab in Minato-ku Tokyo and 30 Japanese Companies attended the event and approximately 50 B2B meetings were held. The business matchmaking session was graced by H.E. Mr. E. Rodney M. Perera, Ambassador for Sri Lanka in Japan, by delivering the opening remarks and introducing the business activities of all the participating companies from Sri Lanka.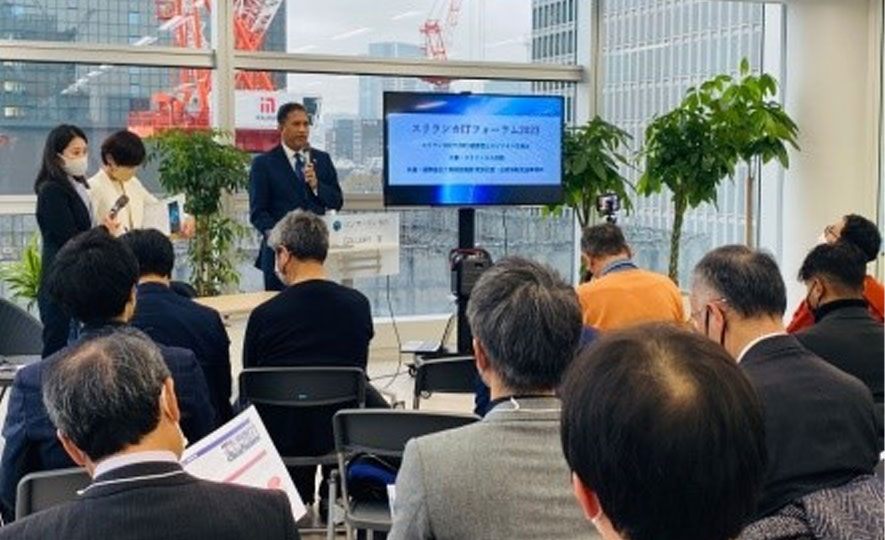 His Excellency delivering the opening remarks
A similar business matchmaking meetings were organized by the Honorary Consulate in Osaka for the 8 companies with the support of the Osaka Chamber of Commerce, on 18th January, 2023. Mr. Udaya Aluthgamage, Honorary Consul for Sri Lanka in Osaka led the event.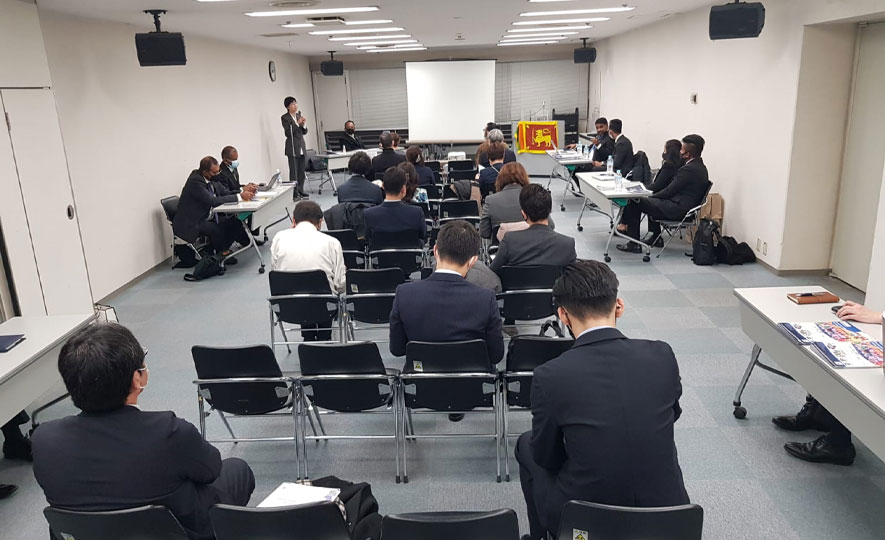 Business meetings organized in Osaka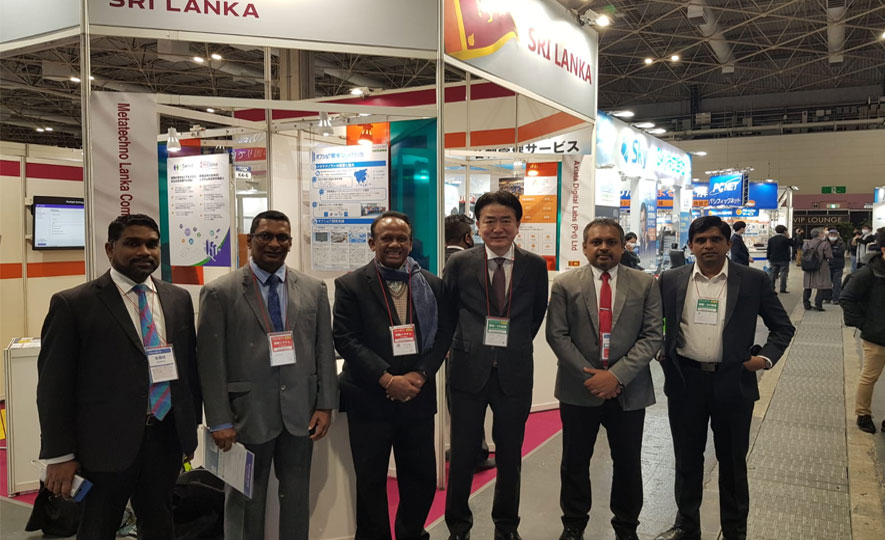 Visit of Honorary Consul to Sri Lanka Pavilion at JITW 2023
"There were many interest from Japanese companies based in Osaka area for Sri Lankan IT products and services , Sri Lanka was the only country pavilion at Japan IT week in Osaka"

Mr. Dinesh Saparamadu - Founder and Chairman of hSenid Group of Companies
"As a participant, I must say that IT Week Osaka was a very successful event and we got several good contacts through the exhibition which we will be following up. Apart from the Exhibition, the two business matchmaking sessions were very successful. At the Tokyo session we met with several good Japanese companies, and the meetings with Osaka Chamber of Commerce provided us with new connections."

Mr. Jeewana Waidyaratne - General Manager of Metatechno Lanka Company (Pvt.) Ltd
Through this mission, it is expected to generate more businesses and joint ventures with Japanese Companies in the ICT/BPM sector in near future. In line with the continuous efforts of the Sri Lankan government to drive the economy through exports, the Export Development Board design market development programmes to assist new exporters to explore potential markets and existing exporters to strengthen their client network.
EDB looks forward to strengthen and continue the business corporation between Sri Lanka and Japan to bring in the much needed foreign exchange to the country at this crucial juncture.