EDB promotes Sri Lanka in Central Europe under GSP Plus facility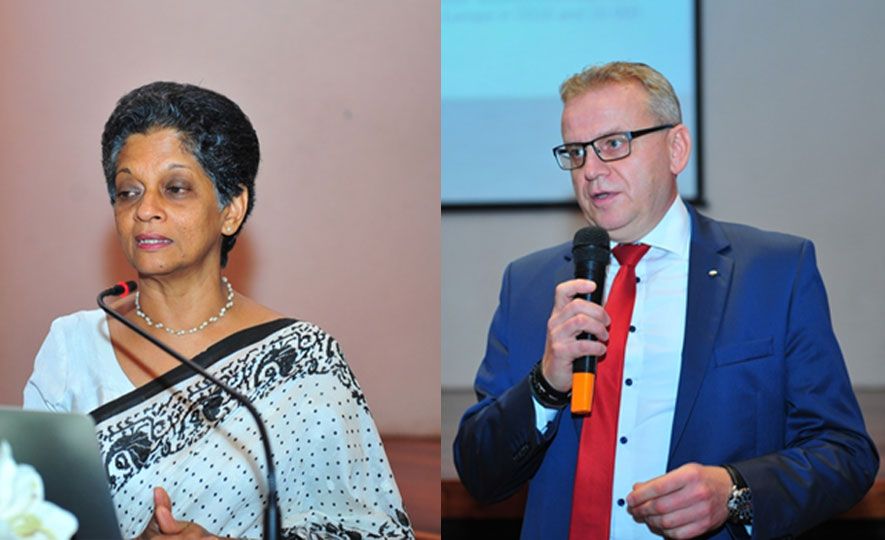 2019-11-05
The Sri Lanka Export Development Board (EDB) organised a business seminar recently with the objective of increasing awareness among Sri Lankan exporters on the Central European market and to create business linkages with the supermarkets, retailers and buying agents in Poland.
With the regaining of the European Union (EU) GSP Plus concession by Sri Lanka, the EU importers are exempted from paying import duty for more than 7000 product lines exported from Sri Lanka to the EU and that has widened the avenues for Sri Lankan exporters to reach European markets by offering competitive prices for our products.
In line with Sri Lanka's National Export Strategy, Sri Lanka should adapt the market diversification strategies by exploring the opportunities in the untapped markets like Central Europe. Although the Sri Lankan exports to Central and Eastern Europe have increased by 32 percent from 2016 to 2018, with the advantage of the GSP Plus concession, there is a huge potential in further promoting Sri Lankan exports in that region.
Addressing the gathering, EDB Chairperson and Chief Executive Indira Malwatte emphasised the importance for Sri Lankan exporters entering into the Central Europe market as 94 percent of the Sri Lankan exports to Europe are concentrating only on five Western European countries.
She also expressed her appreciation to Polish Chamber of Commerce, Polish business community and Poland Foreign Affairs Ministry for arranging a business forum in April 2019 and having confidence on Sri Lanka although it was just after the unfortunate Easter Sunday attack.
Moreover, she mentioned the arrival of LOT Polish Airline inaugural flight from Warsaw to Colombo on November 4, 2019 and highlighted the benefits of establishment of a new route Warsaw-colombo, which will undoubtedly contribute to business development with the Europe market.
Welcoming Polish Consultant Jaceck Czauderna, she appreciated his service being extended to the EDB free of charge and expressed her gratefulness for the contribution of his knowledge and assistance to promote Sri Lankan exports.
Czauderna is currently General Manager - Hello Coffee - Jacobs Douwe Egberts and he was Past President of the Polish Vending Association and Past Board Member of Nestle Poland S.A.
This seminar covered the topics such as market behaviour, market access requirements, trends and potential available for Sri Lanka's products in Poland and Central Europe, information on supermarket chains, distributors and buying agents in Poland and provided information on ways to link with these buyers.
The seminar was attended by over 100 participants of the tea, food and beverages, coconut kernel products, spices and essential oil and wellness tourism sectors.