EDB promotes women in exports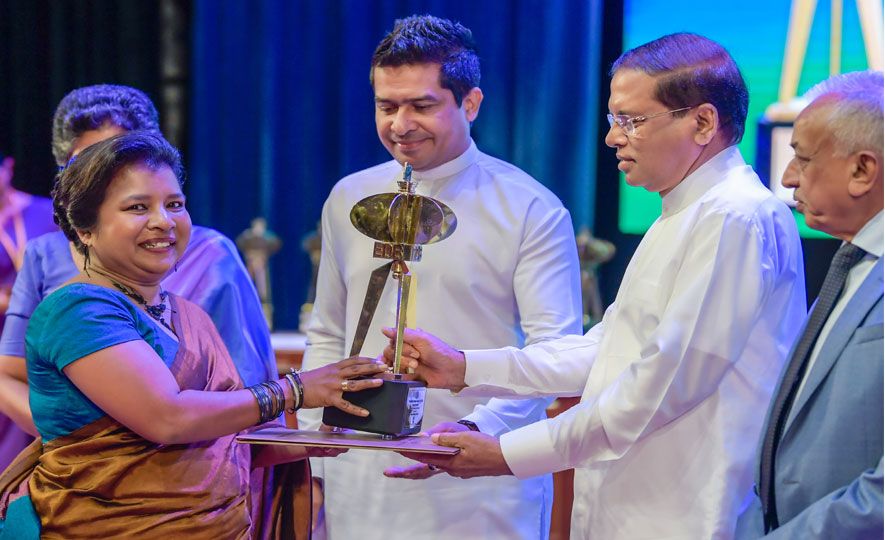 2019-09-18
The EDB's endeavour of promoting women in exports took a new turn when it established a dedicated Women-Entrepreneur Call in 2017. Over 800 women entrepreneurs across the country are registered with the Women-Entrepreneur Call of the EDB and either export directly or contribute to the supply chain of exports.
However, the EDB identified a number of factors constraining the growth of women entrepreneurs and initiated a series of programs to address the issues. One such initiative was to encourage and inspire women in the field of exports by introducing the Presidential Export Award for the Woman Exporter of the Year in 2016/2017. Nayana Ranatunga is only the second woman to be honoured with this prestigious title.
In this interview, Senikma Holdings Ltd. CEO Nayana Ranathunga – who won the best Woman Exporter Award last year – speaks about her journey as a successful businesswoman. Following are excerpts:
Q: How did you come into this career?
Actually, from the beginning I wanted to pursue a career in management and was preparing my background for that. I did my Bachelor's degree in mathematics, as I wanted to improve my analytical skills and I did my chartered accountancy exams parallel to that. Also, I was lecturing in a computer institute as I wanted to keep hands on technological movements too.
Whilst I was preparing my background for a career in management immediately after my final year exams, I saw a paper advertisement from one of the multinational conglomerates for 'Management Trainees' and applied for that. They were planning to recruit five management trainees for some vacancies that had been there in subsidiary companies. Out of the shortlisted candidates, the corresponding managing directors fulfilled their requirements. Actually, none of the managing directors selected me for their vacancies, but one of the executive directors decided to recruit me for another subsidiary which was not having a vacancy. We knew they had recruited one in excess, but we did not know who it was.
I was assigned to a subsidiary of the group as other management trainees after a six-month training period. Since I was recruited without having a vacancy, I was assigned different tasks which I was able to complete successfully, saving millions of rupees to the company. Suddenly, a person in International Sales and Marketing division resigned, and I got the opportunity to serve in that division. That was the beginning of my international sales and marketing career.
Q: What was the turning point in your life?
Taking the decision to resign from the conglomerate which I worked for where I enjoyed many perks and a substantial salary.
Q: Who supported you to come into this field?
My special gratitude goes to P.S.P.S. Perera who recruited me to the multinational conglomerate when I was just an undergraduate having completed the final-year examination. If not for his selection at that time, I would not have come this far. He, also allowed me to complete my MBA during the early years of my career.
Q: What is your business and how did you become the best woman entrepreneur, which you won last year?
We are a quality focus export company exporting coconut kernel products such as desiccated coconut, virgin coconut oil, coconut flour, etc. As a result of our stringent quality procedures we have been able to win a reasonable market share in overseas markets year-on-year base. I believe this growth factor and the foreign exchange earning year-on-year basis would have been resulted in myself ending up as the best women exporter of the year.
Q: What do you think about the Presidential Export Award you won last year?
It is the most prestigious award a company can win. I highly admire the fact that this award was presented without any biasness. Special thanks must go to EDB Chairperson Indira Malwatte for her guidance. These awards are presented to the right company solely based on an individual company's performance. This is certainly a great boost for the individual company to drive their organisation to move in the right direction.
Q: Can you please tell us about your current business status?
Our company is growing on a year-on-year basis, and we are working towards bringing back the coconut industry to the level where it was when coconut was our major export product.
Q: How important is this award to your business?
As a new entrant to the industry, this award helped us in many ways to be acknowledged in the global market place. Further, this award gave us the strength required to present ourselves in the global market place as a recognised player.
Q: The EDB has continuously promoted women in exports, what do you think about it?
Exports play an important role in the Sri Lankan economy, influencing the level of economic growth, employment and the balance of payments. In Sri Lanka, male/female ratio is approximately 0.96% according to the 2011 estimates. Thus, women have to play a vital role in the economy. Promoting women in exports boosts overall exports and thus the Sri Lankan economy.
Q: What is your message to new women entrepreneurs?
When you do things right, you cannot stop results coming your way.
Source at: Daily FT