EDB promoting exports of ICT services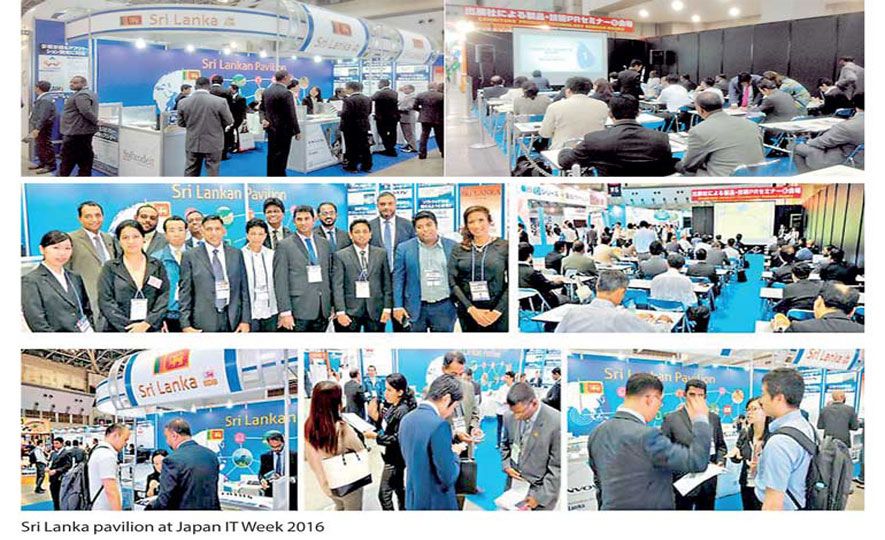 2017-05-03/ http://www.ft.lk/article/612670/EDB-promoting-exports-of-ICT-services
Sri Lanka Export Development Board of Sri Lanka (EDB) with the assistance of Sri Lanka Embassy in Japan External Trade Organization (JETRO), Japan Information Technology Services Industry Association (JISA) is organising a seminar on Sri Lanka IT in Tokyo on 9 May and participating at Japan IT Week 2017 from 10-12 May at Tokyo big sight, Japan.
The Sri Lankan ICT delegation team includes eight leading IT companies in Sri Lanka; zMessenger Ltd., Brandix i3 Ltd., Eyepax IT Consulting Ltd., hSenid Software International Ltd., Pixel Clear Ltd., Synergen Technology Labs Ltd., S.A. Knowledge Services Ltd., and Talliance Ltd.
More than 20 Japanese companies have already obtained registrations for the Sri Lanka IT seminar and registrations are catching up according to services of JISA and JETRO.
Japan IT Week is Japan's largest ICT trade show where you can experience latest ICT technologies/solutions. This makes a platform to collaborate to a great number of information systems managers, management executives, sales managers, system integrators and managers from IT sector. Thus, Japan IT Week is the absolute meeting point for both IoT solution providers and IT system managers. It is expected to attract 91,000 visitors and to meet around 1,600 exhibitors around the world.
Japan being identified as one of the most innovative and rapidly changing nations in ICT industry, EDB focuses to build a healthy pipeline of business with them by attracting more Japanese investors in Sri Lankan ICT industry. EDB has already facilitated several country promotions, B2B meetings and trade fair participations since 2014 in association with Sri Lankan Embassy in Japan, Japan Information Technology Service Industry Association (JISA), Tokyo Chamber of Commerce and Industry (TCCI), Japan Users Association of Information Systems (JUAS), Japan External Trade Organization (JETRO) in order to groom Sri Lankan ICT sector and to unleash the ICT skills and capabilities to Japanese investors.
As a result of those initiatives several Sri Lankan IT companies have started new business ventures and provide software, mobile, big data solutions for leading Japanese companies such as Hitachi, FUJITSU, CANNON IT Solutions Inc. Those lines of businesses have generated considerable contribution for the export earnings of the Sri Lankan ICT sector and are expected to inject more revenue to the country. ICT exports are now close to Rs. 1 billion and targeted to reach Rs. 5 billion in 2022 with 200,000 ICT professional employees.
These events will give all the Sri Lankan ICT participants a great exposure to the cutting edge technology and will create an effective platform to showcase their expertise to prospective Japanese companies.
Source at: www.dailyft.lk