EDB, Sri Lanka Embassy in Thailand organize Technical Exposure, Capacity Building Programme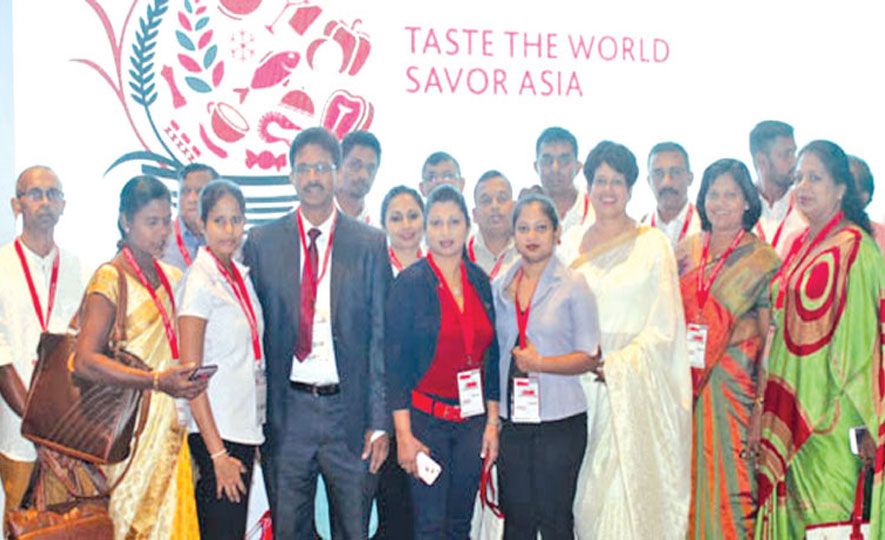 2018-06-29
The Sri Lanka Export Development Board (EDB) in collaboration with the Sri Lanka Embassy in Thailand organized a Technical Exposure and Capacity Building Programme for 13 export ready SMEs identified under 2000 New Exporters Development Programme including Women Entrepreneurs, coinciding with the "THAIFEX - World of Food Asia-2018" from May 28 to June 2, 2018 in Thailand.
Keeping in line with the "Economic Vision of the Government to transform Sri Lanka into a vibrant and prosperous nation through export led growth", the EDB implements a programme to develop 2000 entrepreneurs to become exporters by 2020 at regional level.
The main objective of this programme is to encourage domestic enterprises to invest in export industries to achieve the overall export target US$ 22 billion in 2020.
Under the 2000 New Exporter Development Programme, around 100 SME companies engaged in the food and beverage sector including women entrepreneurs from all regions have been identified to develop as exporters in the first phase. Accordingly, the EDB has initiated integrated product and market development programmes for these selected group of companies covering the areas of product & system certification, technical programmes on packaging and labeling, awareness seminars on e-commerce and cross border procedures, exposure programs to international markets, match making with visiting overseas buyer delegations etc.
The SME companies engaged in the food and beverage export industry are facing numerous challenges to be competitive in the international market.
Management of food chain requires cross-disciplinary competencies in the supply chain and continuous up-gradation of products are equally essential to maintain the sustainability.
SME food manufacturers also need to constantly update their knowledge on consumer preferences and trends in the global market for new products such as organic, gluten free, Halal, vegetarian, vegan, health and functional foods.
They should also be aware of product quality, standards, packaging, pricing and technical capabilities to compete in the international market.
Under the proposed Memorandum of Understanding (MoU) on Strategic Economic Partnership between the Sri Lanka and Thailand, it is envisaged to cooperate on priority economic cooperation areas of trade and investment and development of agro industry product sector i.e, processing food, rubber products, horticulture, flori-culture products and agricultural machinery is proposed to be promoted. SME development is one of the areas of cooperation to develop and promote under the proposed MoU. The participants for the programme were able to study on value-added food products, food preservation techniques, including design and packaging.
This programme consisted of exposure visit to THAIFEX – World of Food Asia, factory visits, one day training programme at Thai Packaging center. It aimed to share with the participants Thailand's approach and experience concerning the development of its food and beverage sector and create a platform for discussion and exchange of knowledge between the participants, Thai professionals and Farmer Associations. During the visit to THAIFEX, companies were able to negotiate with exhibitors who participated from China, Canada, Germany, Sweden, UK, USA etc. at the Exhibition. The companies who participated were able to gain knowledge on latest technology to upgrade their production facilities, develop new products, improve packaging and source equipment required for increasing productivity and most of them have been successful in entering into export markets.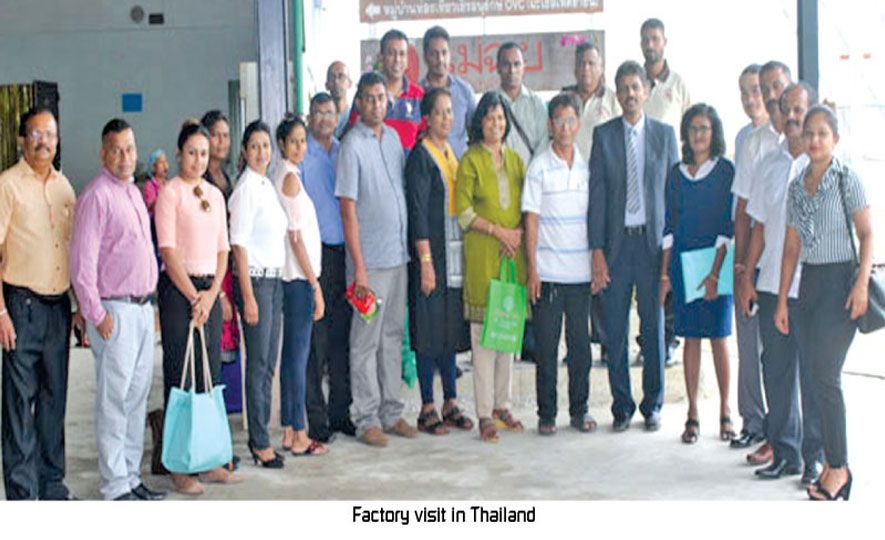 Source at: www.dailynews.lk