EDB Starts Work On Latest Global Market Fair Trade Call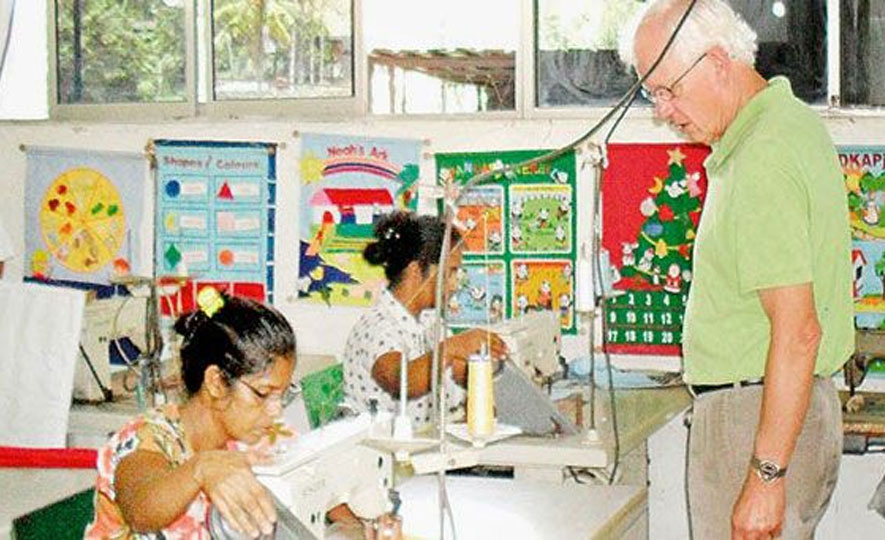 2014-06-25
As Fair trade becomes the latest sales driver in international markets, Sri Lanka has stepped up its efforts to meet the new standard. A promising Lankan export niche has become the successful testing ground for Sri Lanka's entry into global Fair trade certification regime – and the EDB, which leads the initiative, has received encouraging feedback from many – including a global consultant on Fair trade.
"I am impressed of Sri Lanka's craft makers and exporters. Their products are of high quality," said a satisfied Paul Myers, the visiting USAID/VEGA Fair trade Expert on 19 June at EDB, Colombo.
Fairtrade Expert Myers was making his concluding remarks on his three weeks' long consultation visit to Sri Lanka to assist EDB's first Fair trade initiative. The first ever national initiative on Fair trade in the country, the programme aims to introduce and implement Fair trade concepts for the craft sector in Sri Lanka for a period of 2-3 years. The first stage of the three stage program was already concluded in 2013.
Nine firms, Midaya Ceramic, Kandygs Handlooms, Island Craft, Suntex Weaving Industries, Earth Bound Creations, Trickledown, Maximus, Selective Designs, and Pung Craft have succeeded in clinching EDB's support to apply for Fairtrade certifications in this first initiative.
The Fairtrade Certification has been identified as one of the tools for the sustainable economic development of the world and defined as an alternative approach for conventional international trade. Fair trade certification mark now appears in thousands of products in international markets, and in Germany, where more and more consumers insist on fair trade certifications, revenues of such products increased by 22% in 2013. In UK, Fairtrade products saw a 19% increase on sales in 2012.
"I have visited several craft makers in Sri Lanka including some handloom makers. I am impressed of the craft makers and exporters whom I met. Their products are of high quality and in par with international standards. Also, the initial preparatory work on Fair Trade of most participating companies in this project too has been highly encouraging," Myers said on 19 June.
According to the EDB, the total lifestyle and craft exports that stood at $ 78 million in 2011, has increased to $ 97.3 million, a 25% growth. EDB believes that this niche export sector to be promising when it comes to the premium end of global accessories and lifestyle markets.
Craft sector in Sri Lanka is mainly a cottage based industry and comprised of small and medium entrepreneurs. The crafts of Sri Lanka are a combination of the traditional skills and modern technology.
This industry directly contributes to the social development in the rural communities and assists them for better income and more importantly, is instrumental in absorbing the rural talents and capabilities to the export mainstream.
According to the EDB, the Sri Lankan craft products are manufactured targeting the niche export market where mass production is not required. Sri Lanka is also a signatory to all International Labour Conventions under the International Labour Organisation (ILO) in this context the EDB believes that introducing Fair Trade concept to the Sri Lanka craft sector will enable manufacturers to market their products to the demanding niche markets and receive a premium price.
With a view to promote Fair Trade as a marketing tool among identified craft manufacturers in Sri Lanka and facilitate them to export their products under Fair Trade label targeting the niche export market, EDB commenced the implementation of a programme to introduce and implement Fair Trade for Sri Lanka's craft sector starting 2013. EDB has also successfully concluded its Fairtrade awareness session in Batticaloa with 45 participants-which included even deserving widows in the area working on handlooms and crafts.
Many beneficiaries of EDB's Fairtrade support were upbeat of the prospects. Midaya Ceramic Managing Director Anura Warnakulasooriya said: "This is a good initiative. This certification gives us an extra advantage and helps us to look better – it differentiates us from other manufacturers. But we need to look at costs – if we can get government's support on the cost of getting and maintaining the certification, it will be very helpful." Midaya Ceramic is Sri Lanka's oldest ceramicware firm. The only company with such a large speciality ceramic portfolio in the country, its exports are in the markets of demand in the UK, Holland, Germany, France, Belgium, Norway and USA.