EFL bags Best Exporter for Logistics Services at Presidential Export Awards 2018/19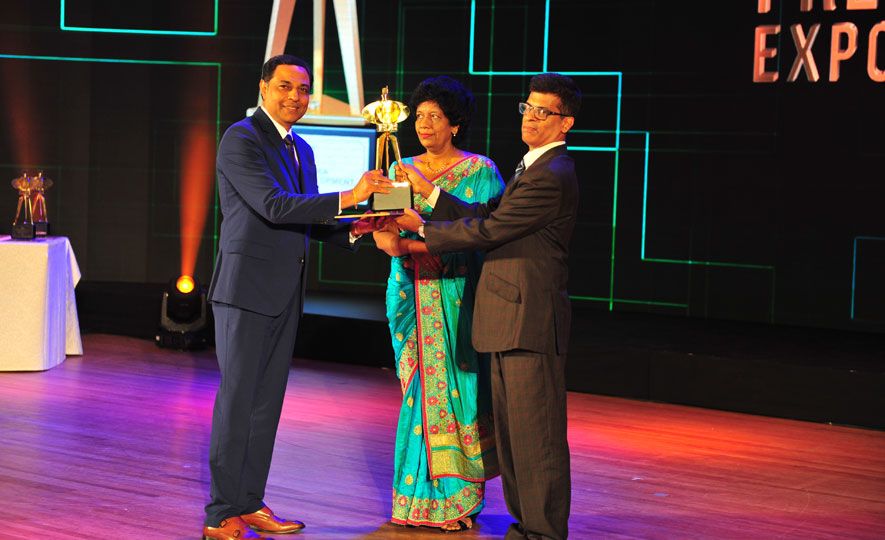 2019-10-14
Expolanka Freight Ltd. (EFL), a pioneer provider of global logistics, took home the award for Best Exporter of Logistics Services, at the Presidential Export Awards (PEA) 2018/19, held on 19 September at the BMICH.
Now in its 23rd consecutive year, the PEA is held to recognise exporters who have excelled in the Sri Lankan export sector, particularly in non-traditional products and services. It is awarded by the President at a prestigious annual event organised by the Sri Lanka Export Development Board (EDB), spearheaded by EDB Chairperson and Chief Executive Indira Malwatte.
Awards are presented across a wide spectrum of categories, to both small and large exporters, for their exceptional contribution to the national economy. The selection criteria has been expanded beyond export turnover, to also take into consideration factors such as growth rate for the PEA year, market diversification, the number of employment opportunities provided, and value addition.
Ranked among the top five logistics solutions providers in the Indian sub-continent, EFL is also one of the most respected freight forwarders in Sri Lanka and internationally. EFL provides the most advanced logistics services, over 500,000 sq.ft of warehousing space, sea-air freight services, end to end solutions with 3PL and fleet management, door-to-door, a dedicated finished goods facility with in-house customs verification, last mile services, and 24/7 watch tower and freeport operations, to name a few.
"We are honoured to have been recognised by the EDB for our contribution to the export industry and logistic services in Sri Lanka. As a leading global corporation, our priority has always been to ensure the highest possible standards in freight forwarding and logistic services. At EFL, we are in constant pursuit of perfection, and we are determined to not stop short of achieving it. We take great pride in having received this coveted accolade, emblematic of our continued commitment to developing and strengthening the export industry, both at home and internationally. I extend my deepest appreciation to the EFL team and stakeholders – our most valuable assets, without whom we would not be able to maintain our high standards and precise delivery," said EFL Sri Lanka CEO and Sri Lanka Freight Forwarders Association (SLFFA) Immediate Past President Jagath Pathirana, regarding their win.
This year, a total of 89 awards were presented to exporters at the PEA awards – including 14 Overall Awards, 42 Sectoral Awards for services and products and 13 Merit Awards for talented individuals. Award selections follow strict evaluation criteria, deliberated on by a distinguished panel, led by a retired Judge of the Supreme Court.
Source at: Daily FT