Exhibitions will put Sri Lanka on the map swiftly: Swaminathan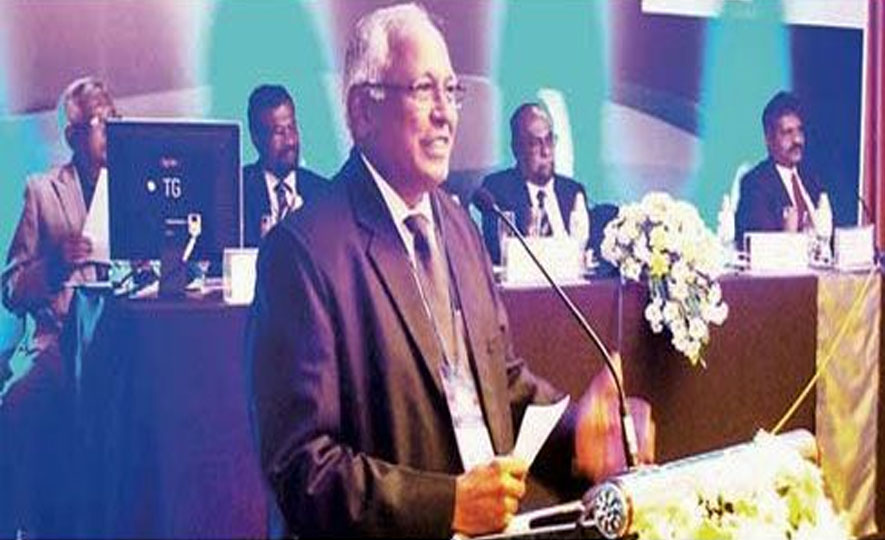 2014-08-13
Plastics and Rubber Institute of Sri Lanka (PRISL), together with Enterprising Fair India will conduct the 2nd edition of SRILANKA PLAST – a Plastics Expo and the 1st Edition of RUBEXPO – a Rubber Expo on 14, 15 and 16 August 2014 at BMICH, Colombo. Below are the excerpts of an interview conducted with Enterprising Fairs India Ltd Managing Director B. Swaminathan in light of the exhibition.
Q: Why exhibitions?
A: Exhibitions are one of the most effective mediums for establishing and maintaining customer relations. In an increasingly digital age, they are the only media where buyer, seller and product physically come together – a potent force for business. Enterprising Fairs India Ltd, believes that exhibitions act as a catalyst for the growth of business in a given vertical, be it plastics, packaging, solar, food, logistics, electrical and electronics, etc. in countries like India, Kenya, Sri Lanka, Vietnam and Myanmar with a developing economy. You can reach a large proportion of the market in a short span of time. Whether you are looking to raise your company profile, change market perceptions or generate sales leads, you can achieve more in four days at an exhibition than you might otherwise achieve in months.
Exhibitions are also one of the quickest and most cost-effective means of exploring and entering new export markets. Exhibitions combine the mass-reach of advertising, the targeting of direct mail, the persuasive power of face-to-face selling, and the networking benefits of the Internet, to create a unique environment in which a wide range of sales and marketing objectives can be pursued, either singly, or side by side.
Exhibitions are key drivers of any industry. They play a catalytic role in the growth of the sector itself as they showcase current developments both in machines and materials related to the sector. They also facilitate the adoption of new and appropriate technologies at affordable investments. They accelerate the growth of the sector and thereby create new entrepreneurs and new employment opportunities
Q: What are the advantages of an exhibition?
A: Exhibitions are an influential, flexible and highly cost-effective business tool – as well as being significant wealth generators in their own right. In established economies they are a vital part of the marketing mix, alongside direct selling, advertising, direct mail and the Internet. In new and emerging markets they are a major stimulus for industrial and commercial development including, Driving industrial development and technology transfer, boosting regional and national industry and stimulating foreign investment in industry and infrastructure. Hence I firmly believe that it reaches out to the exact buyer, consumer of another country, attracting his interest to another geography, which without a doubt puts Sri Lanka in the World map for other than the commodities it has to offer the world. Exhibitions also have a major impact on local and national economies
Q: Would you be able to share some information about Sri Lanka PLAST and RUBEXPO?
A: Enterprising Fairs India Private Limited, a B2B Exhibition company from India, has collaborated with The Plastics and Rubber Institute of Sri Lanka (PRISL), to conduct the 2nd edition of SRILANKA PLAST – a Plastics Expo and the 1st Edition of RUBEXPO – a Rubber Expo (www.rubexpo.com) on 14, 15 and 16 August 2014 at BMICH, Colombo. The Ministry of Industry and Commerce (MOIC), Export Development Board (EDB), Industrial Development Board (IDB), Rubber Research Institute of Sri Lanka (RRISL) and Central Institute of Plastics and Engineering Technology, a government body of India (CIPET) have also extended their support to these B2B exhibitions. The plastics and rubber expos are B2B exhibitions bringing over 150 exhibitors from 10 different countries, including Sri Lanka, India, China, Taiwan, Japan, Italy, Philippines etc. showcasing their, machinery and technology available.
There will also be a guidance booth for young and aspiring entrepreneurs who can get direction on how to start a business in the Plastics and Rubber Industry. This expo is set to attract over 20,000 visitors over the three days according to the organisers. As a developing nation Sri Lanka is opening up with its economy and infrastructural advantages, there is no better time than this to open up the country and inviting international businesses to experience its riches.