Exploring new opportunities under Pakistan-SL FTA at Expo Pakistan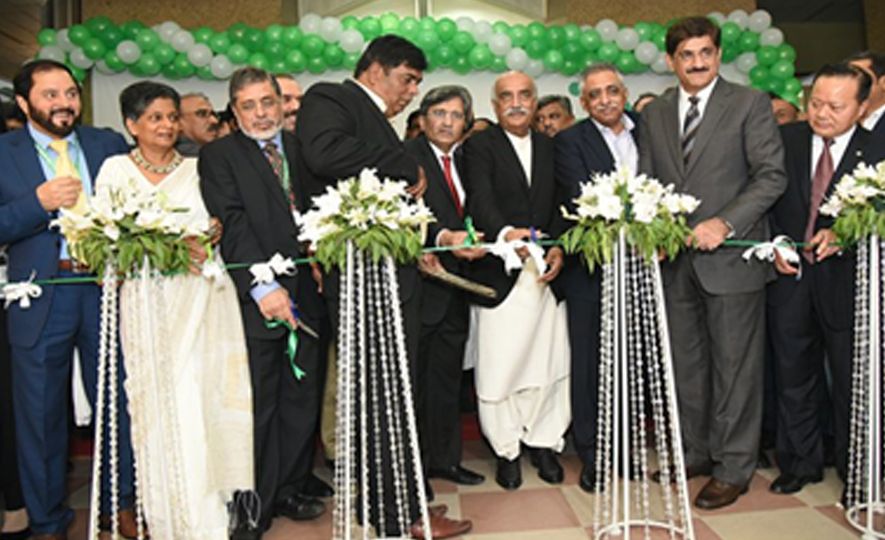 2017-12-05
The Trade Development Authority functioning under the purview of Ministry of Commerce of Pakistan organised the 10th Expo Pakistan from 7 to 9 November at Karachi Expo Centre, Pakistan.
The Expo Pakistan 2017 was jointly inaugurated by Pervaiz Malik, Federal Minister for Commerce and n. Khurshid Shah, Leader of Opposition in the National Assembly, Muhammad Zubair, Governor Sindh and Murad Ali Shah, Chief Minister Sindh. Mohammad Younus Dagha, Secretary Commerce of Pakistan, Inam Ullah Khan, Secretary, TDAP and Indira Malwatte, Chairperson and Chief Executive of EDB.
The Sri Lanka Export Development Board (EDB) in association with the Sri Lanka Consulate General, Karachi organised an exporters' outward business delegation to Pakistan related to this renowned event. The delegation comprised 14 exporters from non-traditional sectors such as chemicals (of enzymes and auxiliary chemicals, high build epoxy floor coatings) value added charcoal products (of face masks, city mask, industrial regular, air purifier), herbal cosmetics, beauty products, furniture, polished granite marble slabs, rubber products of therapeutic resistance products, porcelain and table ware, Ceylon Tea, palmyrah handicrafts, coconut based products and batik garments.
Sri Lankan companies attended the Expo Pakistan Exhibition and Sri Lanka Business Forum concluding with a B2B networking session in Pakistan. The Sri Lanka country Pavilion was a main attraction showcasing many products from A.S. Agri Exports Ltd., Olive Stone Ltd., Multichemi Exports Ltd., Aatralarasi, Vadalikal Palmira Production, Akbar Brothers Ltd., Akarsha Furniture, Textrip Ltd., Prasanna Batiks, Hemas Manufacturing Ltd., Midaya Ceramic Company Ltd., Ferrow Chemicals Ltd., Dankotuwa Porcelain PLC, and Puritas Ltd.
This year's exhibition catered to 775 foreign buyers/importers from 70 countries. Sri Lankan companies participating at this program had the opportunity to meet buyers from Pakistan as well as the countries such as Kuwait, Malaysia, Iran, Korea, USA, UK, Fiji Island, Russia, Cambia, Senegal, Qatar, China, etc. They have received positive inquiries from buyers and some orders are under negotiation. Negotiations for few joint ventures have also taken place during the exhibition.
The Business Forum and B2B networking session comprised a large number of businessmen, traders, importers, buyers, chairmen and presidents of leading organisations based in Karachi. The High Commissioner of Sri Lanka in Islamabad was the Chief Guest of the Forum. Chairperson and Chief Executive of EDB, Director General – Sri Lanka Tea Board and the Chairman of National Gem & Jewellery Authority of Sri Lanka, Commercial Secretary of Pakistan High Commission in Colombo and President of the Sri Lanka-Pakistan Business Council participated while presenting on the respective subjects to the Pakistani audience. The Sri Lankan delegation made fruitful contacts with their Pakistani counterparts and the feedback confirms that the participation of the delegation was a great success.
The Chairperson and CEO of the EDB and the Director General, Sri Lanka Tea Board had discussions with the Secretary and higher officials of the TDAP to look into the avenues for Sri Lanka to regain the lost tea market in Pakistan. Other potential areas for mutual collaboration such as construction industry, gems and jewellery, and textile were also discussed to reach the goal of $ 1 billion trade between the two countries.
Another meeting was also held between the Sri Lankan Government delegation including Chairman, National Gems & Jewellery Authority and the Presidents and higher officials of Pakistan Gems Jewellery Development Company where the discussions were focused on skill development, technology transfers, quality and marketing of the products between the countries and the mutual collaboration for cutting edge technology and sourcing of products. The signing of an MOU between the National Gem & Jewellery Authority of Sri Lanka and the Pakistan Gems & Jewellery Development Company was also discussed during this meeting.
This outward delegation to the Expo Pakistan Exhibition is one focused activity to promote Sri Lanka's exports to Pakistan. The exploration of the Pakistani market was initiated with the 'Export Opportunities in the Pakistan Market' seminar organised by the EDB for Sri Lankan exporters in July this year followed with a market study on potential Sri Lankan products in Pakistan. The comprehensive report on this study is expected this month and information dissemination seminar will also be organised by the EDB for the benefit of the Sri Lankan exporters.
It is important to explore market opportunities by testing non-traditional products as done at the Expo this year in these neighbouring markets where similar kind of product basket is available for export with common resources. Non-competing products enjoy duty concessions under FTAs between the countries and have less trade restrictions than for the competing products.