Exports grow 11.4% in first half of 2019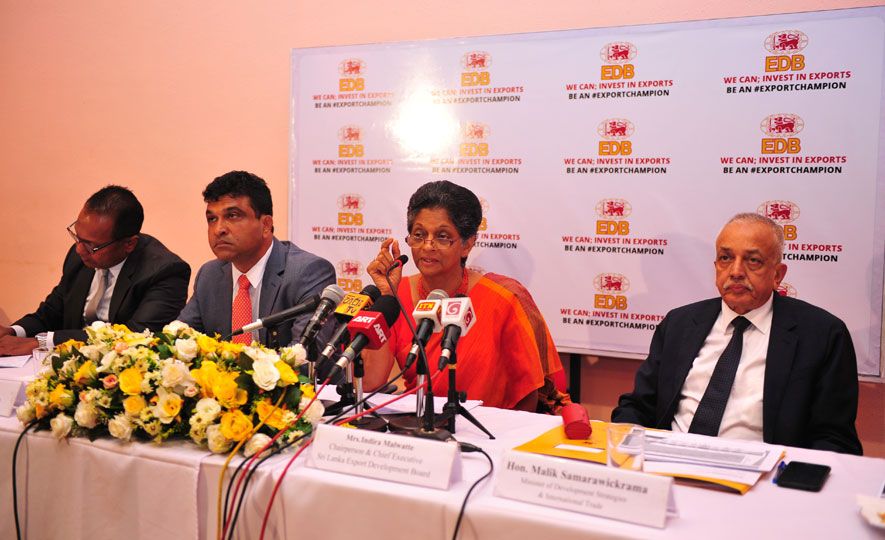 2019-07-24/ Source at: Daily FT
Malik says growth amidst challenges is commendable, assures more support
Merchandise exports cross $ 1 b mark in three months for first time
Services exports grow higher by 27% to $ 2.5 b in first half
Despite global and local challenges, Sri Lanka's merchandised and service exports have risen by 11.4% to $ 8.5 billion in the first half of this year, prompting the Government to attribute it to a series of development efforts and assure further support. Releasing the latest yet provisional data, Development Strategies and International Trade Minister Malik Samarawickrama said yesterday that export sector performance was commendable, though he admitted there is significant scope for higher value. "The 11.4% growth, despite the impact of the October 2018 undemocratic constitutional coup, and the Easter Sunday tragedy, as well as global challenges, is very satisfactory. For the first time, three months of first half of 2019 - January, March and June - have produced over $ 1 billion worth of merchandised exports. We had originally set an ambitious $ 20 billion target for 2019, but we may miss it and end up at around $ 18.5 billion, which will be still higher than the $ 16 billion achieved last year," Samarawickrama said.
He noted that compared with $ 13.9 billion combined exports in 2016, the estimated figure for 2019 will reflect a 33% growth.
"The previous regime didn't give much emphasis for exports, but focused on the domestic development, forcing exports to languish at 11% of GDP. With the current Government's efforts, this year it is estimated to rise to 18-20%. Ideally, exports need to move to $ 28 billion by 2022, and $ 35 billion in the medium-term, and we have taken a host of initiatives towards this," Samarawickrama added, speaking at the briefing along with Deputy Minister Nalin Bandara, EDB Chairperson and Chief Executive Indira Malwatte, National Chamber of Exporters CEO Shiham Marikar, and Sri Lanka Shippers Council Chairman Chrisso de Mel.
"Sri Lanka needs to boost exports and Foreign Direct Investments, to get out of the debt trap triggered off by the previous regime. We cannot go on borrowing to pay our debt," the Minister emphasised, adding that the liberal market-oriented policies of the current Government will accelerate the development process, and open new vistas for investment, exports and business opportunities.
He said that broadening and deepening of the current Free Trade Agreements (FTAs), and the new FTAs with developing Asian nations, will enable access to a market of over 3 billion people. These FTAs can increase Sri Lanka's competitiveness, and the private sector must strongly support these initiatives.
"The Government is also actively engaged in reviewing the existing ecosystem in doing business in Sri Lanka, with a view to facilitating local entrepreneurship through the implementation of the Ease of Doing Business, the National Export Strategy (NES), and the Export Market Access Program," he said.
Samarawickrama said that the NES, developed via multi-stakeholder input and support from the European Union and the International Trade Centre (ITC), Geneva, is focused on enhancing the performance of sectors such as boat-building, electrical and electronic components, processed food and beverages, IT/BPM, and wellness tourism.
EDB Chief Malwatte said that despite external and domestic challenges, the export community was undeterred and the first half performance was a good testimony. "The export performance is benefitting from greater public-private sector collaboration, resolution of issues via the Exporters Forum, as well as support from the weekly Development Secretaries deliberations," she added.
By Nisthar Cassim
Source at: Daily FT