Falling exports due to global downturn: EDB Chairperson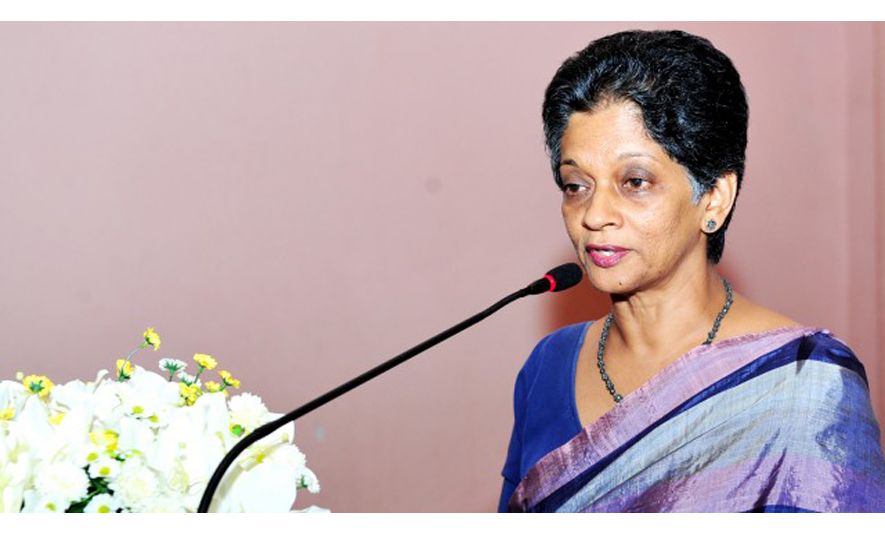 2015-11-06
Sri Lanka's present exports lull is due to many reasons but chiefly a throwback from the global market fall-and achieving national export targets is not a journey of a sole institution but requires a collaborative, cross-sectoral push, as stressed by the new Chairperson of Exports Development Board on 05 November. "Exports are coming down due to various reasons, but chiefly since the global markets have come down-it's not EDB alone. The Council of Ministers was a beautiful mechanism" announced Indira Malwatte (new Chairperson of EDB) on 05 November.

SLEDB new Chairperson Malwatte was addressing the rank and file of EDB during her first official appearance as the Chairperson on the morning of 05 November at DHPL Auditorium of EDB-NDB building.

"Exports are coming down due to various reasons, chiefly because the global markets have come down-it's not EDB alone, which I had the privilege to explain to the President Maithripala Sirisena on 04 November evening-and I stressed him the need for collaborative, multi sectoral approach in the planned development efforts to lift our exports. I urged HE the President to give prominence to exports and called for his help to enlist all the sectoral ministries and institutions to meet national targets.

The Export Development Council of Ministers (EDCM) was a beautiful mechanism where Ministers from sectors that directly linked to exports sat and formulated targets themselves" said Chairperson Malwatte and added: "Today's event is like coming home for me. My break from EDB for ten years is, I think, a blessing in disguise. Before I left the EDB previously, as an EDB official I was instructing exporters what they should be doing to export but when I left EDB and started to successfully export fresh Lankan strawberries to the multinational retailer Marks & Spencer, a benchmark achievement, I experienced the user side of exports-sending such a perishable is a very difficult task to a (quality conscious) market like the UK. As an exporter, I saw the problems faced by the exporters including the bureaucracy, and my ten years away from EDB but exposure in the private sector gave me the needed understanding to come back to lead the EDB. I am here to bring back the glory of EDB and our exports. I am pleased that I have a good, motivated team here."

According to the EDB mandate, the EDB Chairman is supported by sixteen members, including the Secretaries of Ministries represented in the Export Development Council of Ministers (EDCM).

OECD reported that the biggest YoY decline in exports of Emerging Markets (EM) since 2008/09 crisis was recorded this March -where EM exports crashed by 13.5%.