First ever business delegation from Finland due in December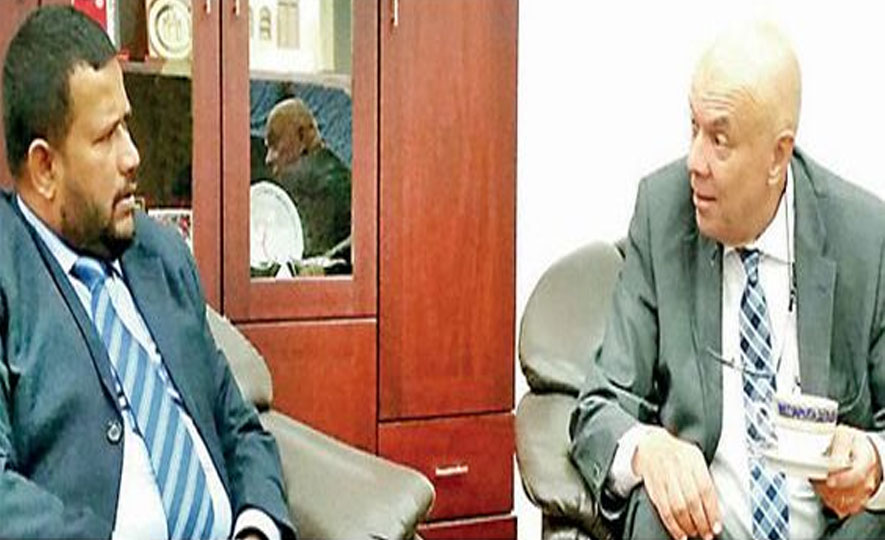 2014-09-10
LThe first-ever high level trade and business delegation to Sri Lanka from the world's ICT leader is now mulled for early December. "I have been able to encourage my Government to renew trade cooperation with Sri Lanka. I have been highly encouraged by the rapid development seen in Sri Lanka. The first-ever Finnish business and investment delegation is now being scheduled for the first week of December 2014," announced Finland's Roving Ambassador for Bhutan, Maldives, Pakistan and Sri Lanka Rauli Suikkanen on 4 September in Colombo.
Suikkanen was addressing Minister of Industry and Commerce Rishad Bathiudeen during a courtesy call on Bathiudeen. Also present was EDB Chairman and CEO Bandula Egodage .
"I am very happy two Finnish firms are already successfully operating here in water and power sectors. Finland is world reputed for shipbuilding, telecom such as Nokia which used to be Finnish, ICT and even clean technologies. I see a lot of potential in Sri Lanka and Finnish businesspersons want to come here and find out the latest developments status in Sri Lanka," Suikkanen said
"I congratulate Sri Lanka on its strong growth. I am very proud to be the Finnish Ambassador to Sri Lanka, especially since we are celebrating 50 years of diplomatic relations this year. We have lots of high tech which could support Sri Lanka's education development as well. Finland's IT leadership in the world is well known. We have not finalised the delegation yet but the Finnish Government's promotion agency FINPRO is organising the business sectors reps to Sri Lanka. Their reps in New Delhi are now working on this. The Finnish development finance firm FinnFund is also involved, and more importantly 'Finnpartnership,' whose mission is to increase commercial cooperation and promote business partnerships between companies in Finland and in developing countries, will also be partnering with business feasibility studies and in linking matching firms at both sides. The first-ever Finnish business and investment delegation is now being scheduled for the first week of December 2014."
The Nordic powerhouse Finland is the lead producer and user of information and communication technology (ICT) in the world and ranks No. 1 in the Legatum Prosperity Index. It is also the birthplace of global brands such as Nokia, and Nokia Siemens Networks, Neste Oil, Finnair, F-Secure (IT sector), and Viking Line (shipping).
Bathiudeen said: "Thanks to the committed leadership of President Mahinda Rajapaksa, we have seen rapid growth and expect GDP growth this year at 7.8%. This is the time to invest in Sri Lanka for keen Finnish investors. We are very pleased to welcome a leading business delegation from Finland and are ready to give our fullest support in this regard. The EDB can facilitate B2B sessions. I also observe that bilateral trade volume was at a low $ 28 m in 2013, which shows both countries are promising virgin markets to each other. Therefore for both countries this is breaking of new ground."
According to the Department of Commerce, Sri Lanka's trade with Finland has been fluctuating for the last few years and reported $ 28 m in 2013, with exports comprising $ 16.05 m. Tea is the main item exported to Finland (55% in 2013) followed by apparel.
The leading import from Finland, mobile cellular phones, saw their peak in 2010 and from 2011 was overtaken by marine propulsion engines and electric generating set imports followed by paper and cinema cameras. Sri Lanka is a GSP Beneficiary Country under the EU GSP Scheme, which gives an added advantage for Sri Lankan exports to Finland.
Bathiudeen and Suikkanen also emphasised on the progress of other forms of bilateral cooperation between both countries