First-ever on-water Boat Show a success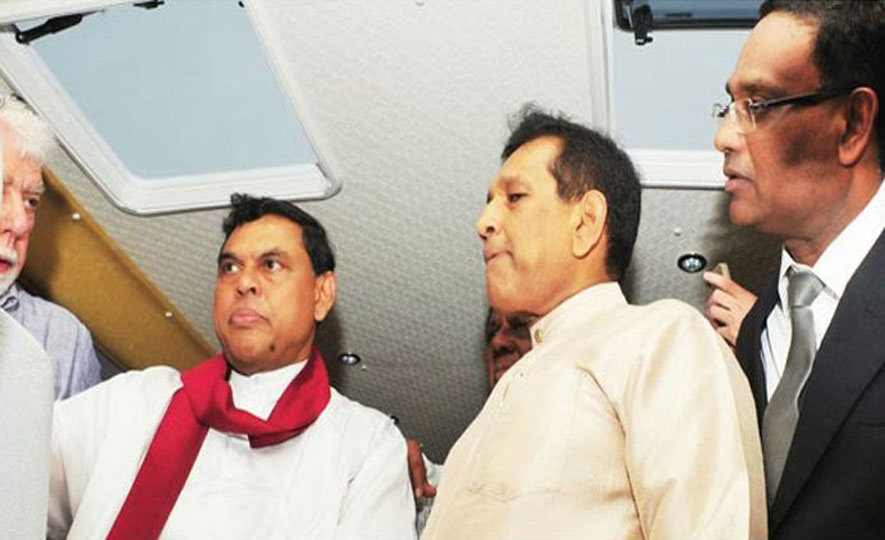 2014-10-18
Colombo's latest international boat show, which featured an on-water boat display for the first time, concluded successfully after a three-day run on 12 October.
"We have been talking about five hubs. Today there are two major milestones taking place at this event – the promotion of the maritime hub as well as our tourism," said EDB Chairman and CEO Bandula Egodage, addressing the inauguration event of Boatshow 2014 on 10 October at Dickowita Harbour, Wattala.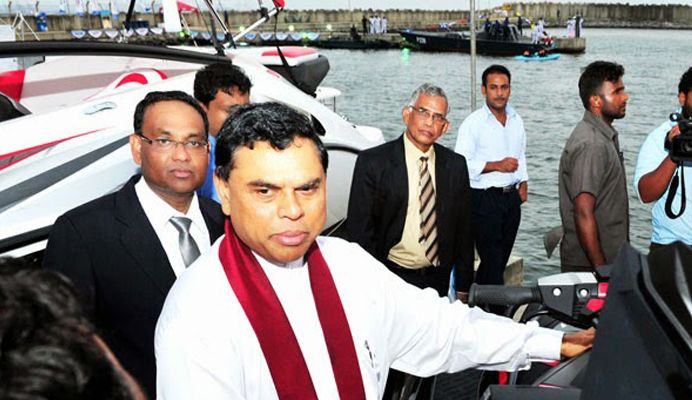 Taking part in the opening session were Minister of Fisheries and Aquatic Resources Development Rajitha Senaratne, EDB ED Dr. Yousuf Maraikkar, Boat Building Technology Improvement Institute Chairman Neil Fernando, Boat Building Technology Improvement Institute Managing Director Gamini B. Herath, local and international delegates of International Council of Marine Industry Associations, ICOMIA Marinas Group Chairman Roberto Perochchio, ICOMIA Marinas Group Secretary Peter Jansen, local and international exhibitors at Boatshow2014 and buyers and boat experts from S. Korea, Bangladesh, Maldives, and Seychelles.
Minister of Economic Development Basil Rajapaksa toured the Boatshow '14 on 10 October. The one-day 'Industry Conference on Marina Development and Marine Tourism in Sri Lanka' was held on 12 October and that too concluded successfully.
"We have been talking about five hubs. Today there are two major milestones taking place at this event-promotion of the maritime hub as well as our tourism" said Bandula Egodage (Chairman & CEO of EDB), addressing the event, and added:
Egodage added: "Fishery contains tourism. This is the link between the Boatshow and ICOMIA effort. Non-traditional exports are the future. By doing this event, we hope to increase exports. Not just imports or exports but an increase in bilateral trade. Boat building is a value-added business, bilaterally. You are the experts and we need your help."
Sri Lanka's boat exports that stood at $ 56 m in 2012 increased by a strong 46% in 2013 to $ 82 m. In 2013, a market diversification study by the EDB identified that ships and boat exports were a "winning export category" in a growing global market. In this analysis "boat exports" also achieved the top slot among several such other promising exports of Sri Lanka.
"This event would facilitate manufacturers and fisheries suppliers to promote their products and services to a target audience in the international market," said Minister of Fisheries Senaratne.
He added: "This would undoubtedly help to promote Sri Lanka as a main boating hub in South Asia while helping to develop this market by showcasing the latest products, technology, and services in this industry. Following Boatshow 2008, 2010 and 2102, I believe this show has further improved its standards with the participation of Bangladesh, Maldives, Seychelles, South Korea, Belgium, Netherlands and Norway.
Suppliers of leisure, pleasure, commercial and industrial and fishing vessels, materials, repairs, training and other service provision. A trend is evolving in the Western market to turn towards developing Fibre Enforced Plastic (FEP), especially for hull construction, which is mainly due to cost saving factor. I hope this Boatshow will be very helpful to meet this challenge."
In Sri Lanka, more than 100 establishments are engaged in boat manufacturing; 15 of them are large scale, while 35 are medium to large scale companies. This sector also provides around 12,000 direct and indirect employment opportunities to Sri Lankans. More importantly, global ship and boat manufacturing is a promising exports sector.