FITIS' Infotel 2019 in November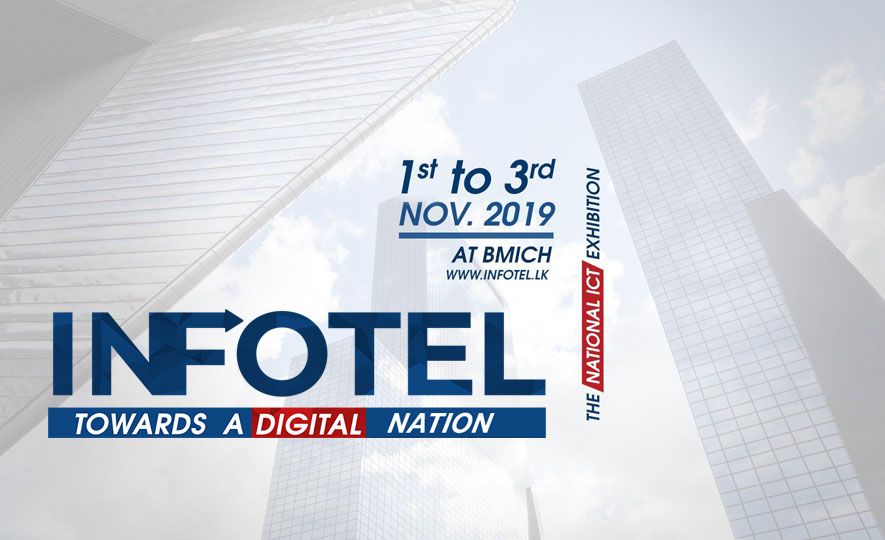 2019-08-29/ http://www.ft.lk/it-telecom-tech/FITIS-Infotel-2019-in-November/50-684743
The Federation of Information Technology Industry Sri Lanka (FITIS), the apex body of the ICT industry, will host INFOTEL 2019, the national ICT exhibition, for the 27th consecutive year with the presence of Minister of Digital Infrastructure and Information Technology and INFOTEL Steering Committee 2019 Chairman Ajith P. Perera, at the Ministry of Digital Infrastructure and Information Technology.
This year's INFOTEL will be held from 1 to 3 November at the BMICH.
Inaugurated in 1992, INFOTEL is the largest and the oldest ICT exhibition in Sri Lanka, organised by the Federation of IT Industry Sri Lanka (FITIS). This exhibition is patronised by the key decision makers of leading organisations in both public and private sectors, policy makers, professionals, entrepreneurs, educationalists, educational institutions, university and school communities and feature the widest range of ICT solutions, services and provides a lucrative platform for new business opportunities in the digital domain.
Minister Perera as Chairman of the INFOTEL Steering Committee wholeheartedly supported this project and he wished all the success for this endeavour. He welcomed the active contribution of industry and professional organizations such as FITIS to bring technologies closer to the citizens and to leverage socio-economic development.
FITIS Chairman Abbas Kamurdeen explained that this year's INFOTEL themed as 'Towards a Digital Nation' aimed at building a holistic nation that thrives on digital technology. This would enable citizens of all sectors and the Government to synchronise all economic activities around technology for growth and development. Sri Lanka has already recognised the importance of a digital economy to face future economic and social challenges, however, to achieve this target, as a nation it is important to integrate ourselves into digital technology.
As we live in a rapidly-changing world, digital technologies have the potential to transform the country to one of the most prosperous digital nation as we are a small sized nation. Change and adaptability across the country is possible, where implementation and investment on digital infrastructure is conceivable so long as it is a shared and deliberate effort from Sri Lanka's digital community.
INFOTEL Committee Chairman Fazloon Sheriff said: "To build an inclusive digital government, digital culture and digital business, it is important to engage in this conversation that would bring together all stakeholders to one place."
Hence, INFOTEL 2019 aims to provide this landscape to showcase and feature digitalisation initiatives and innovations whilst ensuring accessibility to all stakeholders.
INFOTEL 2019 will highlight segments in digital emerging areas ranging from digital lifestyle, smart city concept, digital service platforms, digital enterprises, IoT, robotics, startups, e-marketing, e-government, e-health, fin tech digital banking, carrier guidance and higher education.
FITIS CEO Aruna Alwis stated that this year's INFOTEL would kick off on 1 November with the Digital Leadership Forum where deliberations will take place on the theme of towards a digital nation by an international expert with business leaders in the private sector and in the afternoon forum will focus on the public sector.
The leaders who would be attending this session will have an opportunity to experience digital solutions which can be implement in their organisations and conduct business to business meetings.
INFOTEL 2019 will attract over 150 trade stalls and 10,000 students, 8,000 teachers, and over 50,000 members of the public are expected to participate.
While the Ministry of Digital Infrastructure and Information Technology has been sponsoring the Digital Government Pavilion of INFOTEL for the past three years, FITIS is also receiving the support of several other Ministries such as Defence, Education, Finance and Planning, Irrigation, Tourism and Agriculture.
With the patronage of the Ministry of Digital Infrastructure and Information Technology, the National Partners of INFOTEL are the Information and Communication Technology Agency (ICTA) and Export Development Board (EDB) while the Computer Society of Sri Lanka, BCS Sri Lankan section, ISACA, ICT Skills Council and SLASSCOM are Industry Partners.
Source at: Daily FT