International footwear and leather exhibition from Feb 5-7EDB, Rishad join forces for Lanka exports' next big hit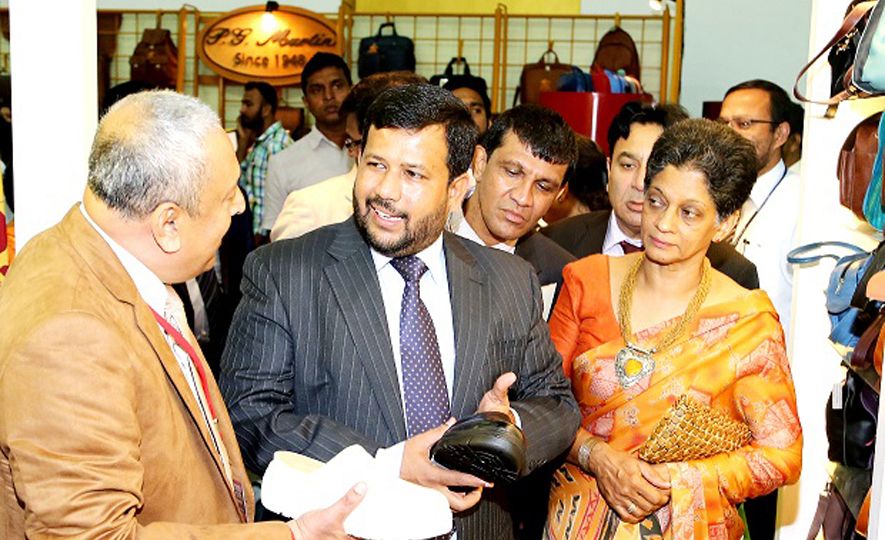 2016-02-08
A top Cabinet Minister and Sri Lanka's apex exports facilitator EDB joined forces on 05 February to create Sri Lanka exports' next big win-and the bulk of Lankan footwear and leather exports are footwear, rather than leather.

"It is a great pleasure to see this series of exhibitions initiated by the Ministry of Industry and Commerce in 2007, has today grown to an international level exhibition thanks to the commitment of my Ministry officials, the Exports Development Board, the IDB, and the footwear and leather sector of Sri Lanka" said Minister of Industry and Commerce Rishad Bathiudeen on 05 February in Colombo.

Minister Bathiudeen was addressing the inauguration event of 8th Footwear and Leather exhibition at BMICH, Colombo. The Footwear and Leather Fair 2016 which opened on 05 February morning at BMICH packed 106 local companies. A joint effort of Ministry of Development Strategies and International Trade, Sri Lanka Export Development Board (EDB), the Ministry of Industry and Commerce, the Industrial Development Board and Sri Lanka Footwear and Leather Products Manufacturers Association, the 8th exhibition has 230 display stalls. EDB successfully facilitated no less than 30 international delegates from five countries-India, Kenya, Oman, Swededn & UAE- for this event. IDB joined in promoting the design competition and awards.

Apparels, Sri Lanka's biggest export win, contributed 45% of total exports in 2015. Though the footwear and leather (F&L) exports are comparatively lower, the industry mirrors several aspects of apparel industry, and the apparel experience could be adopted well in F&L sector, whose exports have been steadily growing. The total exports at $36 Mn in 2011 surged by 300% in 2015 to $110 Mn-and 78% of 2015's total exports were footwear.

Minister Bathiudeen, whose Ministry collaboratively initiated the exhibition series way back in 2007, said the IDB under his Ministry has initiated several new ventures to support this sector, specially footwear-the reason being the great export promise in footwear. "It is a great pleasure to see this series of exhibitions initiated by the Ministry of Industry and Commerce in 2007, has today grown to an international level exhibition. Our footwear and leather exports in 2015 increased to $110 Million showing strong growth trends and EDB's efforts. What we need to understand in this is that almost 80 percent of these were footwear exports. The global footwear market is expected to exceed $ 370 billion by 2020. World's largest footwear market is Europe. With the increase of middle income population and female workforce, it is clear that the demand for designer footwear too would rise rapidly. Even though Casual footwear are leading the growth at present, with more and more people entering an active sports lifestyle, demand for athletic and sports footwear too are driving this growth. Specially athletic footwear manufacturing is attractive due to the higher profit margins that it offers. Since levels and finish of raw material for athletic footwear is lower than fashion shoes their manufacturing costs are lower, they offer bigger margins in the global market-as much as 45% . Therefore I believe that Sri Lankan manufacturers and exporters should pay closer attention to this sector."

Addressing the event, Chairperson and CEO of EDB Indira Malwatte said that the footwear and leather has the potential to grow as a promising exports sector if all the stakeholders collaborate in a concerted manner –and expressed confidence that the sector can take forward this exhibition on its own in future. "At present the industry employs 40000 directly and indirectly producing a diverse range of shoes. The leather industry produces gloves, wallets etc. The EDB identified the footwear sector potential many years ago along with the development of apparel sector. In many countries, the apparel sector development is followed by the footwear sector. EDB initiated a number of product and design development programs since we were confident that the footwear sector would forge ahead. Therefore the trade, together with the relevant association, the Ministry of Industry and Commerce, and EDB, felt that this is a potential sector provided we give it the correct status required. I am proud to say that although in small quantities, Sri Lanka exports footwear to a number of international brands, indicating our potential. We have a committed private sector who have been engaging in this industry. We are confident the footwear and leather industry graduated to a point where from now, they can take this show forward by themselves. EDB will continue to support this sector."

Among the EDB facilitated global buyers at the 05 February event were Executive Secretary of Kenya's Leather Articles Entrepreneurs Association, Ms Beatrice Mwasi. "Lankan product range is exciting to us. There is clearly a market for these exports in Kenya" said Mwasi and added: "I am going to make some factory visits in Sri Lanka in the coming days and talk with Lankan suppliers as well." Leader of Oman buyer delegation AQA Balushi said that Sri Lankan footwear offer promise. "I am pleased to lead the largest international buyer delegation to this year's footwear and leather show. Some of our delegation members are thinking about joint venture partnerships with Lankan manufacturers."

The Design Competition, held in parallel to the fair, aims to encourage upcoming designers and to give due recognition to their work.