EDB clinches global foundry giant's nod to boost Lankan industry nucleus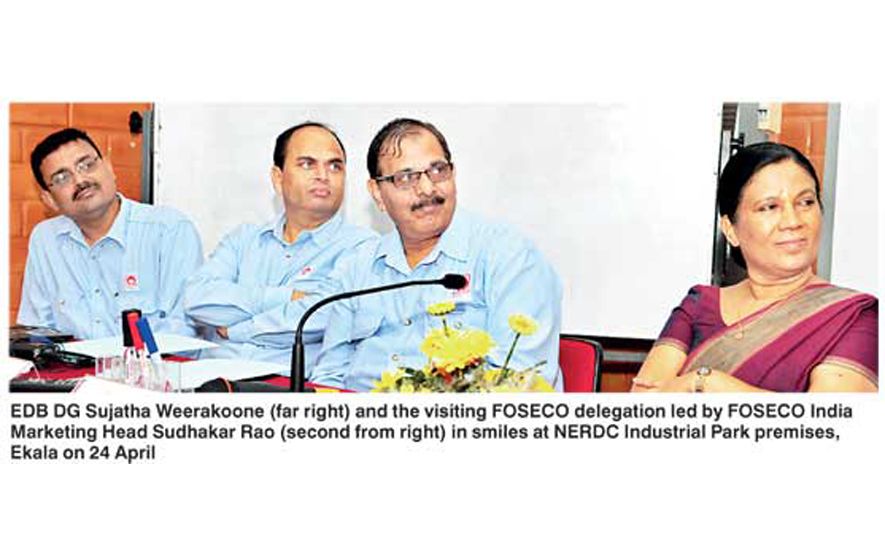 2015-04-28
Sri Lanka's metal manufacturing and exports have clinched a sudden breakthrough, thanks to a global foundry giant whose historic roots extend back to 1930s Birmingham. The adoption of international best practices can increase revenues of overall Lankan foundry sector by a substantial 30%.
"Despite many constraints, our light engineering sector has been bringing increased export revenues to Sri Lanka. A study has been done and it pointed to tech and skill gaps prevalent in the industry – and fixing them are crucial," said EDB Director General Sujatha Weerakoone on 24 April at the Industrial Park, Ekala.
Weerakoone was addressing the inauguration of its pioneering session 'The Usage of Foundry Chemicals to Improve the Quality of Castings in Sri Lanka' organised with National Engineering Research Development Centre (NERDC) and held at IDB Industrial Estate, Ekala.
The sessions packed in-depth presentations by the first ever visiting three member international expert team – the foundry industry delegation from Indian offices of FOSECO (the listed Foundry Technologies Division of London headquartered Vesuvius Group Plc, which reported $ 1.5 billion revenues in FY2014).
FOSECO is a world leader in the supply of consumable products, solutions and associated services related to the foundry industry. The session was attended by 40 reps from 30 Lankan foundry working institutions such as SR Metal (Sri Lanka's topmost metal exports firm) as well as Heyleys Agrotechnica, Alumex, Jinasena, Solex Engineering, Bopitiya Auto, Oscar Engineering, Milwa, Lakru, IDB, NERD, and even the Government Workshop.
The visiting FOSECO team was led by FOSECO India Marketing Head Sudhakar Rao and joined by FOSECO India Solutions MANAGER, Non Ferrous Foundry, India and ASEAN Shrikant Bhat and FOSECO India MANAGER Ravi Gondhalekar. Also joining the session was Foundry Development Services Institute of Sri Lanka Chairman Melvin Samarasinghe.
"Foundry is a feeder industry to many other export industries and therefore it is vital that we get this fundamental sector right, so that we can increase our exports – in that, increase our overall export target as well as GDP to exports share," said Weerakoone, addressing the session.
"Despite many constraints our light engineering sector has been bringing increased export revenues to Sri Lanka. A study has been done and it pointed to tech and skill gaps prevalent in the industry and fixing them are crucial for the development of the sector. "It is time that we start strengthening this sector. In the Lankan foundry industry, we find certain drawbacks in comparison to Indian sector which is far developed and from which, we can resource necessary development support to bridge the tech gap. We welcome the direct support by global foundry leader FOSECO's experts today so that we start taking our foundry capacities to the much needed international levels."
The Sri Lankan foundry sector is the base for Light Engineering Industries (LEI)/Light Metal Industries (LMI), which in turn is considered as the mother of construction, agriculture, food and service sectors.
"We directly work with foundry aspects such as various molten metals, ferrous and non-ferrous metals, alloys and castings. Foundry is the mother industry of all other industries, including metal based. ," said Sudhakar Rao.
"Looking at the Lankan foundry sector, we believe we can share our knowledge and experiences on. We can see that Sri Lankan foundry sector is 'somewhat developed' in comparison to 'highly developed' places such as Japan. The local foundry sector is presently at the stage where new technological advancements could be introduced and we see an opportunity for Sri Lanka. In our view the foundry based labour supply in Sri Lanka is very cost effective, there is good scope here for foundry products at internationally competitive prices-especially for import substitution industries.
"Making a foundry casting is not difficult but making of a perfect and durable foundry casting is. Sri Lanka can advance to this level with appropriate foundry best practices we are here to show. W we believe that by adopting best practices and increasing efficiency, overall Sri Lankan foundry industry can reduce their costs and more importantly, increase revenue by more than 30%, even to 40%."
Sri Lanka's LEI exports mostly exit as part of other export products, rather than as a standalone export item. Exports of 'base metal products' – the sole identifiable metal export line – totalled $ 62 million in 2014, rising by 6% from 2013's $ 59 million. "FOSECO is such a giant in global foundry industry," said Melvin Samarasinghe and added: "FOSECO also agreed to help Sri Lankan foundry sector to visit highly developed Indian casting sector which is the hub of casting in Asia. FOSECO has the total range and technology in foundry. I had the opportunity to work with FOSECO when I started thirty five years ago. I still carry the FOSECO Handbook, the bible of the industry since then. On behalf of our industry, we thank EDB and FOSECO for this level of support so that we can bridge the identified gaps."