Global Rubber Conference 2014 kicks off in Colombo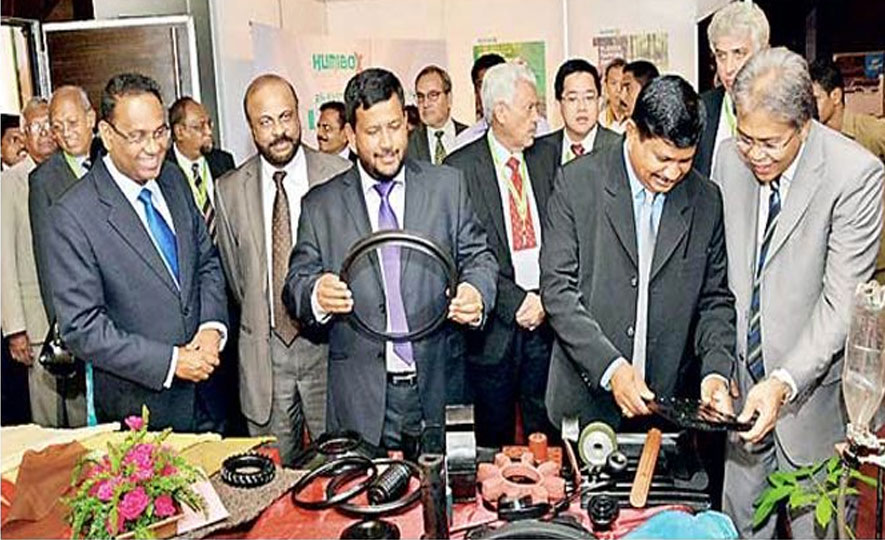 2014-10-29
The local rubber industry received much emphasis yesterday with the Global Rubber Conference (GRC) 2014 kicking off in Colombo.

The four-day event, which started on 27 October, is taking place for the fourth consecutive year.
The GRC is recognised to be one of the world's leading conferences on natural rubber and NR-based products and is held on an annual basis rotating in different rubber-producing countries.

Organised by the Sri Lanka Export Development Board (SLEDB) and Confexhub with the support from the Ministry of Plantation Industries and the Ministry of Industry and Commerce, the event saw about 250 delegates from over 25 countries come together to discuss and get updated on the pertinent issues affecting the global rubber industry.
The conference aimed to fulfill five key objectives which are, to bring together regulatory authorities and commercial players of the rubber industry to provide updates on current trends and future challenges faced by NR industry, to facilitate the exchange of information and subsequently open up new turfs of business opportunities and expansion, to promote industry-wide investment opportunities in Pan Asia countries in general and the host country specific, to provide a platform for policymakers and association heads to discuss determining factors within the industry and to enable industry experts to communicate the latest R&D innovations.

While GRC 2014 was officially opened yesterday, on 27 October a pre-conference study tour was arranged to visit Lankem Crepe Rubber Processing Plant and Sloe Crepe Production Centre at Padukka Estate, Kotagala Rubber and Tea Plantations at Rayigam Estate and the Sri Lanka Rubber Research Institute, the oldest in the world.

The technical sessions that will come to a close today included two keynote addresses on 'Global Economic Growth Prospects and Commodity Markets' by The World Bank (WB), USA, Senior Economist Dr. John Baffes and 'Sri Lankan Government's Policy on the Development of Rubber Based Product Manufacturing Industries' by Ministry of Industry and Commerce Secretary Anura Siriwardena, along with technical sessions highlighting six key areas.

The six areas comprehensively deliberated were, 'Global Rubber Situation and Prospects: Supply, Demand and Price Forecast for 2015', 'Defining Sustainability: The Game Changer for the Natural Rubber Sector', 'Enhancing Quality of Rubber Materials', 'New Dir3ections and Strategies for Sustainable Rubber Supply', Tyre Industry: Market Outlook and Strategic Direction for Sustainable Development' and 'Directions of World Economic Forces on Dipped Goods Sector'. On 30 October the visiting delegates will be given the opportunity to visit the Rubber Auction Market which is the only one in the world. The GRC was incepted in 2005 as ASEAN Rubber Conference and was renamed in 2011 as the Global Rubber Conference. It has been held in seven ASEAN countries including Thailand, Vietnam, Cambodia, Philippines, Laos PDR, and Malaysia and the last was held in Indonesia.