Sri Lanka to apply for GSP Plus end of this year: Harsha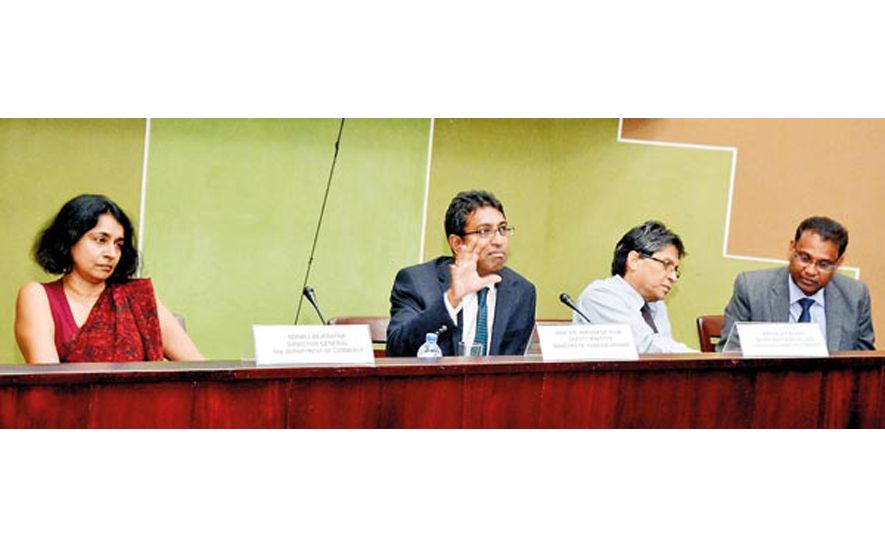 2015-10-06
Deputy Foreign Minister Dr. Harsha de Silva said that the government would be forwarding the formal application to regain the GSP Plus preferential trade facility from the European Union (EU) by the end of this year in the backdrop of recent international developments. "After the resolution in Geneva passed, we wrote to the EU. Before the end of the year, we will be making the formal application, and hopefully by middle next year we will be able to bring in GSP Plus," he said.

He said that the government is now working to improve the issues, which were prerequisites of the GSP Plus facility. GSP Plus is largely dependent on the country following international conventions relating to human and labour rights, environment and good governance. "I personally signed the letter on October 1 that was sent out to the High Representative of the EU stating that we are working on the issues that were raised in the letter in June 2010," he said.

He noted that the past government had not taken any action regarding the matter and stressed that the country's economic policy and foreign policy must be aligned. "How can we have an export-oriented economic policy and a foreign policy which say 'who cares about the EU?' Unless we align our economic policies and foreign policies, we can say bye-bye to our export revenue," he said. Over 31 percent of Sri Lanka's exports go to the EU, with apparel being the main export. Many garment factories closed down after the GSP Plus facility was revoked in 2010.

Dr. de Silva also highlighted the findings recorded in 'Garment Industry in Sri Lanka and the Removal of GSP Plus by EU'—an article that appeared in the September issue of the academic journal 'World Economy'. "The loss of GSP Plus had a huge negative impact on the people of this country. Poverty reduction targets couldn't be met, gross domestic product (GDP) growth fell and obviously, exports fell," he said. Therefore, he said that the non-economic measures taken against the past regime by the EU and other parties resulted in an economic impact for Sri Lankan citizens.

"Human rights are not a Western construct. We've had human rights in this country for centuries. Let's not hide behind imaginary enemies and protect the people of this country," he said. Hub status—a question of to be or not to be Sri Lanka should become a hub, which caters to the economic needs of the region, and the country must take a final decision to that effect soon, Foreign Affairs Deputy Minister Dr. Harsha de Silva said. "It's impossible to compete with China in terms of production. With the diplomacy we have with our neighbours, it is practical to come up with a hub to service the area in the coming years. I think we should take a hub route, and I think many others are with me on that," he said. He was speaking at an Economic Diplomacy forum organised by the Ceylon Chamber of Commerce. Responding to a question from the audience on whether Sri Lanka should manufacture or facilitate trade, Dr. de Silva noted that though this debate has not arisen recently, it has been a mainstay in the past, and a resolution must be made soon to take the country's economy forward. "The discussion must be restarted, and all the stakeholders must once and for all agree if we are going to do it or not. And the decision must not change because a minister changed and he has a different opinion. It must be based on scientific evidence and not politics. We have enough and more universities and think tanks to do research," he added. Dr. de Silva noted that the previous regime's Mahinda Chinthana strategy, which envisioned a 5+1 hub, was not economically unsound, but said that the implementation was flawed, with investments made into bad assets and procedures. When Export Development Board Chairman Bandula Egodage interrupted to say that a balance must be stricken between manufacturing and trade, Dr. de Silva disagreed, saying that competitive advantages must prevail. "I don't believe in this balance. You can't balance, because it has to go down to the basic economic principles. We're better at something, and somebody else is better at something else, whether it is because of the location, climate, etc.," he said. He stressed that this debate must reach across all industries including tea. A hub involves a congregation of material from supply chains across the world for manufacturing and distribution to certain geographical regions. Singapore, Hong Kong and the UK have become successful hubs in industries such as transport and finance, while Turkey has become a global giant as a tea hub. Dr. de Silva said that the new government is moving in the direction of creating such hubs. His comments echo past sentiments, which said that Sri Lanka's exports should exceed 100 percent of the gross domestic product (GDP) through trans-shipments and re-exports.