Hatch Colombo marks centre of gravity for all things start-up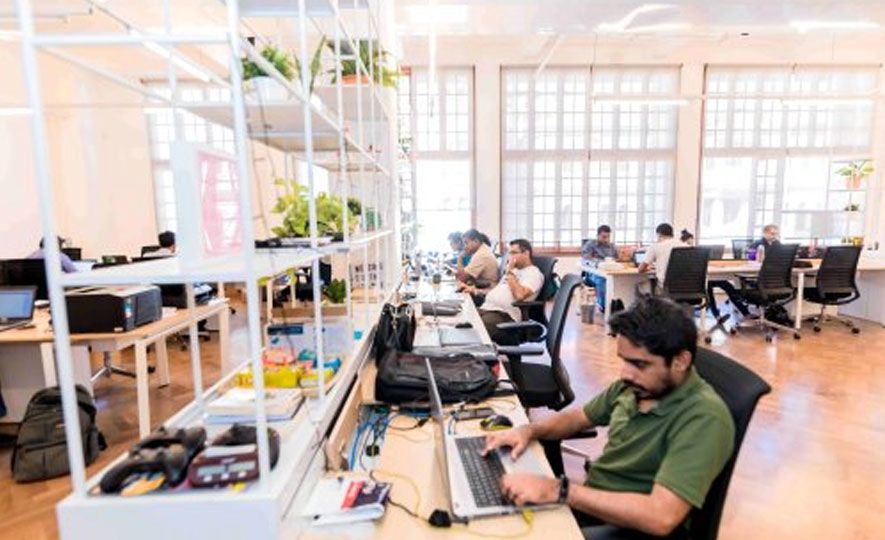 2019-01-28/ http://www.dailymirror.lk/article/Hatch-Colombo-marks-centre-of-gravity-for-all-things-start-up-161633.html
Sri Lanka's largest co-working office space and business incubator, Hatch, was launched amidst much anticipation on Thursday, 24 January 2019. A panel discussion comprising of Sri Lanka's leaders in business and social change marked the first of the action-packed, three-day event – staying true to the space's objective of developing and sustaining the local entrepreneurial ecosystem, with the larger goal of developing a resilient economy.
According to the Ministry of Industry and Commerce, SMEs have become 'the backbone of the economy' accounting for more than 75 percent of total enterprise. Statistics from the Ministry's most recently published annual report indicate that SMEs provide almost half of the country's employment, totaling 52 percent of the GDP. The demand for start-up incubators and membership-based independent working spaces is growing, as observed with other SME-powered economies across the world.
Strategically positioned in bustling Fort, the commercial heart of Colombo, the exterior of Hatch Colombo's HQ reflects a clever fusion of old meets new. Housed within a colonial structure in what was iconically the tallest building in Fort in the early 1900's, the interiors of Sri Lanka's first and most dynamic start-up incubation and acceleration platform is a far cry from its façade. The 60,000 sq. foot facility will house over 1000 people, meeting rooms, auditoriums, event spaces, cafeterias, coffee shops, breakout areas, fully functioning reprographics, video audio facilities, fabrication labs, and even nap rooms.
"There's so much history to the building that I felt I had to do it justice," said Brindha Selvadurai, Director at Hatch. "We restored it back to its original state and it was beautiful, so it didn't need too much work."
Through flexible membership plans, event space can be reserved, shared and dedicated desks can be arranged, and private meeting rooms made available. Individuals have access to areas they need during the day, evenings and even on weekends.
The brainchild of Jeevan Gnanam and Nathan Sivagananathan, Hatch aims to serve as more than just a co-working space however; rather, a hub of all things start-up.
Introducing the concept at the opening event, co-founder of Hatch and former CEO of Orion City, Jeevan Gnanam, explained "Hatch is a curated co-working space, business incubator, and hub for the community that fosters collaboration, promotes innovation, and facilitates progress for all of its members."
"After years of planning, we are excited to finally be able to open our doors -and arms- to welcome you to join the Hatch community," added Nathan Sivagananathan, co-founder of Hatch and former CEO atMAS Holdings. "This tight-knit community of like-minded, impassioned individuals bound by a culture of entrepreneurship is really our core strength and what will truly set us apart."
Working with local universities, established home-grown and international corporations, business leaders, and industry experts, Hatch will provide entrepreneurs and creatives a haven to develop ideas into sustainable, successful businesses. With early stage investments and hatch funds as part of its investment offering, industry specific accelerator programs, networking opportunities for business development through curated community events, logistical support in marketing and PR, IT and reprographics, and local and global mentoring partnerships and workshops, this community-serving organization is just what this promising 'industry' needs.
In addition to its newly opened space in Colombo, Hatch also maintains a presence in Jaffna with Hatch Kalam, the first maker and co-worker space in thenorth and will continue to open locations, both locally and regionally.
Themed 'Celebrating Entrepreneurship,' Hatch's three-day opening orientation featured a feast for the mind.
Following the introduction by Jeevan and Nathan, and an address by Sri Lanka's favourite former cricketer Kumar Sangakkara, was an engaging panel discussion tied to the theme. Moderated by Hatch Co-Founder Nathan, and featuring Expolanka Holdings PLC Founder and CEO, Hanif Yusoof, ODEL PLC Founder and Embark Founder/CEO, Otara Gunewardene, Spa Ceylon Co-Founder/Director, Shalin Balasuriya and Indiegogo CEO and Co-Founder, Slava Rubin, whosestart up has helped fund over $1.5bn for entrepreneurs through a crowdfunding platform. The invitees and ticket-holders left Day One with greater insight into the minds and workings of some of the country's -and world's- most respected thought leaders.
* EDB neither liable nor responsible for any information / contents published in this article
Source at: Daily Mirror