Huawei steps up commitment, growth potential in "innovation hub" SL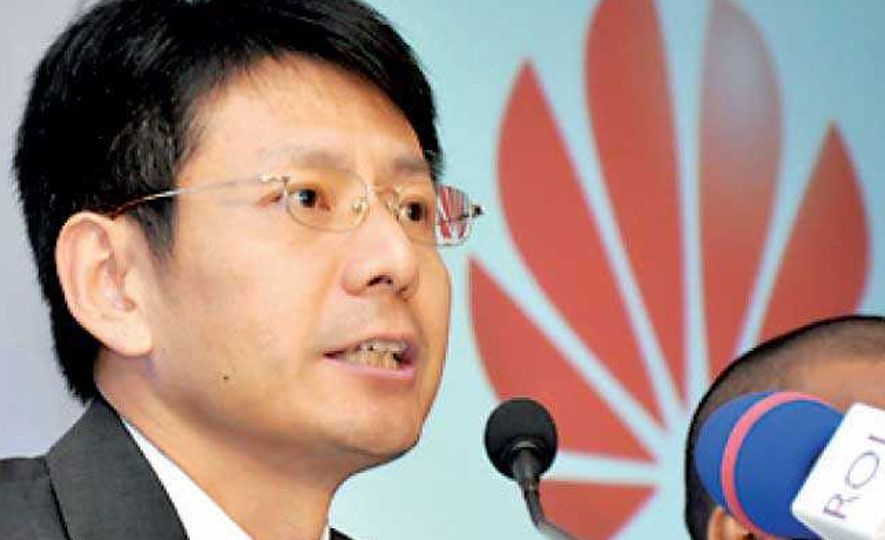 2019-03-19/ http://www.ft.lk/front-page/Huawei-steps-up-commitment--growth-potential-in-%E2%80%9Cinnovation-hub%E2%80%9D-SL/44-674915
Global giant Huawei yesterday (18-03-2019) reiterated its commitment to Sri Lanka, a regional hub for innovation and core business segments delivering good growth with potential for more.
Huawei Technologies Lanka CEI Shunli Wang told journalists yesterday that its telecom carrier business and enterprise solutions had delivered 10% and 20% growth respectively in 2018, whilst the Huawei smartphones are market leaders. "We can grow better as Sri Lanka has great growth potential, with the Government's commitment and enterprises zeal to embrace digitisation," he added.
For Huawei, which posted global revenues $ 102 billion in 2018, Sri Lanka is an innovation hub with quality talent.
Huawei debuted MIMO (multiple input, multiple output) technology for home broadband service via wireless LANs, 3G mobile phone networks, and 4G mobile phone networks, as well as CloudAir, Huawei's innovations in the field of radio air interfaces, a critical technology for mobile broadband networks.
"Following commercial success in Sri Lanka, we have rolled out MIMO and CloudAir in other parts of the world including developed markets," Wang revealed.
Four focus areas for Huawei in 2019 in Sri Lanka are: investment in knowledge transfer and human capital development; roll out latest technologies such as 5G, IOT, AI and Cloud to help widespread digital transformation; share and facilitate global expertise for ICT development; and offer Smart City solutions.
"All of these initiatives will create jobs, improve efficiency, reduce cost for businesses and enhance convenience to people," Wang pointed out.
Whilst Huawei serves 70% of the population in Sri Lanka through the solutions and equipment via telecom operators, it helped Sri Lankan telecom carriers to become the first in South Asia to start commercial operations of 4G-LTE services, after introducing 3G in 2006. In 2018, Sri Lanka emerged as the first South Asian nation to demonstrate a 5th generation mobile telephony with Huawei's technology.
"We are a collaborative, reliable ICT Solutions provider, and an innovative global ICT leader who is an enabler in Sri Lanka in terms of knowledge transfer, helping Sri Lanka to transform in to digitisation as a responsible company," Wang stressed.
"We have been continuously investing in this market, and bringing in the world's leading and innovative technologies. And in Sri Lanka, we have been in operations for over 20 years now, since1998. Sri Lanka is among 170 countries where Huawei Technologies has deployed products and services," Wang said.
"Sri Lanka's Government representatives had affirmed Huawei as a collaborative and reliable global telecom company serving in Sri Lanka," said Wang, adding that recently the government officials of Sri Lanka had appreciated Huawei's role in Sri Lanka's Telecom and ICT Transformation.
He further elaborated that Minister of Digital Infrastructure and Information Technology Ajith P. Perera and Minister of Telecommunication, Foreign Employment and Sports Harin Fernando had endorsed Huawei and confirmed no security concerns on Huawei or Chinese products being used in Sri Lanka.
Wang said switching into 5G technology will encourage Sri Lankans to collaborate and create next generation IoT and ICT innovations, and serve the country's digital footprint, whilst 5G technology alone could account for an increase in the value generation of Sri Lanka's entire GDP in the years to come, and generate more jobs.
He said that Sri Lanka's telecom sector is waiting for the regulatory authorities to identify the relevant bands for 5G, to make sure the country is ready to unleash 5G technology to the end consumer. According to Huawei, 2019 is the year that 5G is on. He said that as the most important national ICT infrastructure, 5G will bring industry opportunities worth $ 1.2 trillion for Southeast Asia, which includes Sri Lanka, in the next five years. He further said that Sri Lanka is an emerging market in South Asia, which is a powerful engine that connects innovation and business in the world.
Wang went onto say that Huawei, as an innovative global ICT leader and an enabler in Sri Lanka in terms of knowledge transfer, signed an MOU with the Government of Sri Lanka for ICT cooperation in 2016. Following the MOU, Huawei has come forward in organising Sri Lanka Carrier Congress and Sri Lanka ICT Congress to help ICT industry partners in 2016-2018, and has already planned to host it for 2019. Further, Huawei has come forward in two National Broadband Forums in Sri Lanka in 2016-2018. The company has also launched the Customer Solution Innovation & Integration Centre (CSIC) in Colombo, enabling industry partners to develop innovative ICT solutions, share Huawei global best practices, and exchange ideas. It serves as a platform that enables joint innovation with customers, based on their demands and business environments. Huawei's flagship CSR program 'Seeds for the Future' had been held for 3 consecutive years from 2016-2018, to serve ICT talent development in Sri Lanka, making it available for University students who seek to develop local ICT talent, and enhance knowledge transfer from Huawei's success.
Source at: Daily FT