Hub is Sri Lanka's USP!' – Powerful Swiss Investment Arm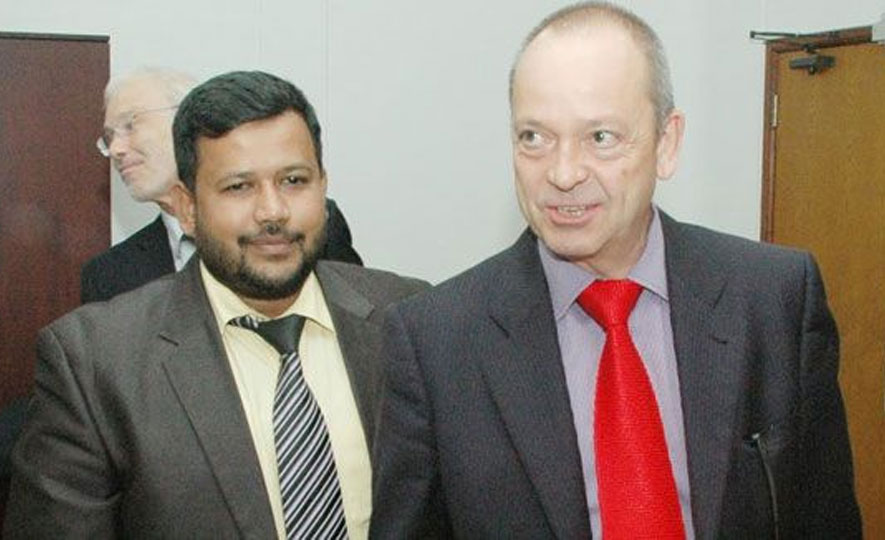 2013-10-05
Sri Lanka's international Unique Selling Proposition (USP) is none other than its hub positioning. "At this moment, many countries in Latin America, Africa and Asia including Sri Lanka have great investment opportunities.
Sri Lanka will have to compete with these countries to leverage foreign investment streams from Switzerland" revealed a very confident Wolfgang Schanzenbach, Regional Director Asia Pacific of Switzerland Global Enterprise (SGE) on 03 October in Colombo.
Director Schanzenbach was addressing Rishad Bathiudeen, Minister of Industry and Commerce of Sri Lanka on 03 October during his courtesy call on Minister Bathiudeen. Also present along with Director Schanzenbach was (HE) Thomas Litscher (Ambassador of Switzerland to Sri Lanka.
According to the Department of Commerce, bilateral trade between Sri Lanka and Switzerland stood at $ 325.76 Mn in 2012. Sri Lanka`s exports to Switzerland have shown a slight growth during the past years except in 2009. Sri Lanka's total exports to Switzerland recorded the highest level of US $ 91.75 million in 2012. Parts of electrical apparatus for switching or protecting electrical circuits has been the main item of exports (32.42% of total) followed by printed circuits (14.44%), Gold, other semi-manufactured forms (9.02%), Precious stones; gem (8.06%), Apparel (6.5%) etc.
Sri Lanka received Foreign Direct Investment (FDI) from Switzerland totalling $ 14.46 Mn in 2012.
Director Schanzenbach's SGE brand, the powerful entity operating under the Swiss government, is Switzerland's center of excellence for internationalisation and it is involved in exports, imports and investments (to Switzerland) and works very closely with Swiss SMEs to achieve these objectives. Director Schanzenbach, currently in Sri Lanka on a fact finding mission, will explore emerging and other investment opportunities here, for Swiss investors.
"Except for Swiss multinationals such as Nestle, Holcim etc, almost 99% of Swiss GDP is driven by the SMEs, which also is the driver of the country's global growth. We at SGE are a strong and trusted partner for our clients, the cantons and the Swiss government, with a global network of experienced advisers and experts. Swiss government initiated investments are very limited. It is the private sector of Switzerland that is leading overseas investments, with the support of Swiss government. Representing the private sector, I am here to discover new opportunities and whether we can place Sri Lanka firmly on Swiss investors' map. At this moment, many countries in Latin America, Africa and Asia including Sri Lanka have great investment opportunities. Sri Lanka will have to compete with these countries to leverage foreign investment streams" said SGE Director Schanzenbach. "I need to identify Sri Lanka's USP after which I can make some initiatives so that Sri Lanka can enter Swiss investment map. But remember, you compete against many others."
Minister Bathiudeen, addressing SGE Director Schanzenbach explained of Sri Lanka's hub positioning and five hub concept in depth. "Our ports and services sectors are rapidly developing. Sri Lanka government's policy is one of encouraging foreign investments. Sri Lanka's labour force is literate and skilled with a strong professional presence. In that, they are highly trainable. These are apart from GSP entitlements we have" Minister Bathiudeen said and added. "Our hub positioning not an isolated structure but is strengthened through the strong Free Trade Agreements we have with the huge Indian Sub continental markets, Pakistan and India. For example, we can export over 4000 items to India under FTA with advantages."
"This is a very strong point for Sri Lanka" responded SGE Director Schanzenbach, who is in charge of SGE's Asia Pacific region, and added: "I see that Sri Lanka's own market is very small but when looking at the hub aspect, I can clearly see that Sri Lanka is usable as an import value addition point from where we can re-export to the huge Indian Sub-Continent. That's really an investment advantage and a USP. Definitely, Sri Lanka's hub positioning is a great advantage in resourcing investment Dollars here!"
Minister Bathiudeen revealed: "For Swiss investors, immediately available opportunities in Sri Lanka based on hub positioning are in mineral sands such as silica and graphite as well as rubber production for which we invest eager Swiss investors."
Also present during the session were advisers to Minister Bathiudeen and officials of NEDA, EDB and Department of Commerce operating under him.