Iconic Sri Lankan Cricketers Mahela and Kumar - Sri Lanka's Brand Ambassadors for Expo 2020 Dubai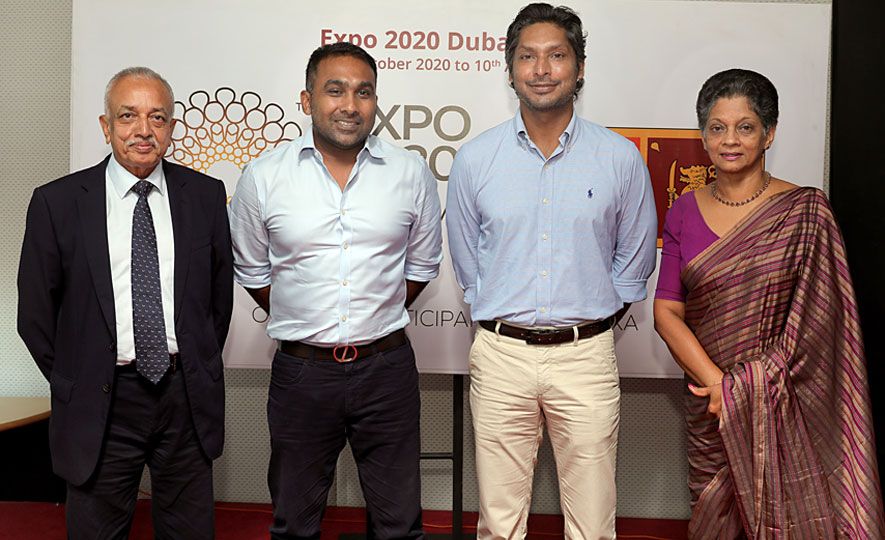 2019-10-14
Mahela Jayawardena and Kumar Sangakkara - two of the most iconic cricketers produced by the country has come on board as Sri Lanka's Brand Ambassadors for Expo 2020 Dubai organized by the Sri Lanka Export Development Board (EDB) as a public private cooperation project .
Both Mahela and Kumar, outstanding cricketers having captained the Sri Lankan team has amply demonstrated their Leadership, team spirit and enterprising qualities beyond the cricket field expanding to the business world. As much as they been stylish with bat and ball in the field, they are equally smart and effective off it. Kumar recently obtained the rare honour of becoming the first non-British President of the Marylebone Cricket Club (MCC), which is the custodian of the Laws of Cricket. Mahela has become a successful Cricket coach, guiding the team Mumbai Indians for two championship titles in the famous Indian Premier League (IPL) tournament.
Cricket in Sri Lanka is no longer just a sport. It is a shared passion that brings all Sri Lankans together; a force for unity. The power of Sri Lanka Cricket as a brand could be used in building Sri Lanka's image internationally.
EXPO 2020 Dubai to be held from 20th October 2020 to 10th April 2021 is a mega trade exposition to be held in the UAE under the theme of 'Connecting minds, Creating the future' with more than 190 participating countries and over 25 million visitors from across the world to create, collaborate and innovate to generate a sustainable future.
Sri Lanka will have its own dedicated pavilion at this 6-month-long mega exposition under the sub theme of "Opportunity", and the pavilion will be branded under the title "Island of Ingenuity". Sri Lanka's pavilion and other related activities during EXPO 2020 will be organised as a Public-Private cooperation project under the theme 'Water', which has been designed by the students of Moratuwa University.
EXPO 2020 Dubai platform will be used to promote and brand Sri Lanka as a country with diverse opportunities in the spheres of tourism, trade and investment. Given the magnitude and the global attention the event will attract, Sri Lanka will make use of world renowned Sri Lankan personalities to promote the Country.
To build on the global recognition already achieved through "Sri Lanka Cricket", Sri Lanka has got Mahela Jayawardena and Kumar Sangakkra to collaborate with Sri Lanka's participation at Expo 2020 Dubai.
Mahela and Kumar has endorsed their commitment to promote Sri Lanka at Expo 2020 Dubai.
Hon. Malik Samarawickrema, said "We are extremely grateful to the two of the world class cricketers produced by Sri Lanka , Mahela Jayawardena and Kumar Sangakkara for assisting the EDB and the private stakeholders to promote Sri Lanka at the Expo 2020 in Dubai."
Commenting, the two legendary Sri Lankan Cricketers expressed their excitement in participating as Brand Ambassadors for their motherland during this keenly anticipated international exposition. "I am excited by the fact that Sri Lanka will be participating at this event and setting up a pavilion which will showcase the very best that our country can offer to the World. Sri Lanka has chosen "Water" as its theme because of its importance to life and also to our economy. We are an island nation and therefore surrounded by water, but also have benefitted from its rivers and our past is in essence a hydraulic civilization where irrigation of the land brought wealth to the country and in the future it reflects our commitment to development whilst protecting the nation's pristine environment", Kumar described the spirit of Sri Lanka's theme for Expo 2020 Dubai. He noted that visitors to the Sri Lankan pavilion will observe the beauty of the island, the richness of its culture, and also opportunities in areas such as tourism, trade, and investments.
Sharing his views, Mahela elaborated that Expo 2020 Dubai will open up great opportunities for Sri Lanka in terms of creating a considerable knowledge about the country to attract trade, tourists, and foreign direct investments. "Sri Lanka is an island nation that radiates beyond its size, and is renowned for its strategic location, scenic beauty high quality of life. We are now an upper middle-income country that enjoys stability and growth. I invite the international delegates, to step in to our Sri Lankan pavilion to experience the country's improving business climate, its high standard of infrastructure and logistics, the know-how that Sri Lankans can offer and its intelligent workforce for emerging industries".
Famous Sri Lankans of an international stature such as Mahela and Kumar as Brand Ambassadors will enrich and add considerable glamour and generate interest in Sri Lanka's participation in Expo 2020 Dubai.