International and local IT trailblazers to steer FITIS National CXO Forum 2019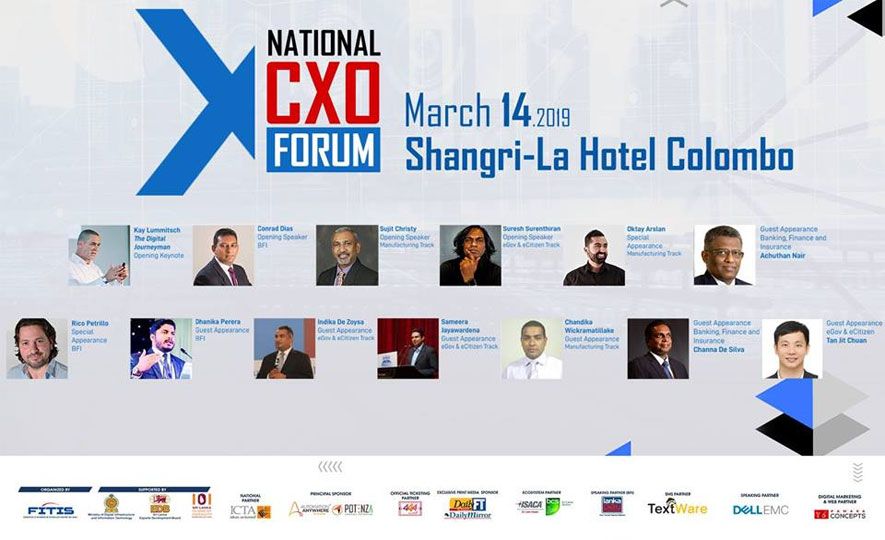 2019-02-26/ http://www.ft.lk/it-telecom-tech/International-and-local-IT-trailblazers-to-steer-FITIS-National-CXO-Forum-2019/50-673519
Four highly sought-after IT trailblazers of international repute who are known for their forward thinking and innovative capabilities will steer the National CXO Forum 2019 organised by the Federation of Information Technology Industry Sri Lanka (FITIS) on 14 March at the Shangri-La Hotel, Colombo.
Global authority on digital transformation, Kay Lummitsch from Switzerland who is a well-known digital catalyst, disruptor, influencer, as well coach and mentor will set the stage for the much awaited forum by delivering the keynote speech at the forum which is set to attract 600 delegates including decision makers spanning a multitude of industries from the private and public sectors in Sri Lanka.
Kay Lummitsch speech will be followed by three other keynote speeches which will be delivered by three speakers who will kick off the Manufacturing track, BFI track and eGovernment track at the forum. Sujit Christy, a well-known governance, risk, compliance and cybersecurity professional will kick off the manufacturing track at the forum by delivering the keynote speech focusing on the sector, while Conrad Dias, Managing Director/Chief Executive Officer of LOLC Technologies Ltd. and Group CIO at LOLC will open the BFI track with his keynote speech. Suresh Surenthiran, Director of Technology, Strategy and Design at DIYROCKETS and President of Appsnology will deliver the keynote speech focusing on the eGovernment track.
The keynote speakers will share their practical strategies and success stories in spearheading business process innovation and automation and the need for businesses across Sri Lanka to also adapt with the technological revolution that the world has become accustomed to. The speakers will also shed important insights on the implementation of artificial intelligence, blockchain, securing organisation, harnessing the latest technologies and fostering innovation which are all relevant in the current context.
Known as 'The Digital Journeyman' Kay Lummitsch commands over 34 years of work experience. He is skilled in catalysing and coordinating digital and API programs for many clients, systemic coach and maintaining a strong network throughout the API/Digital Community. He is known globally as a digital catalyst who helps organisations accelerate their digital journey.
Sujit Christy is a passionate cybersecurity adoption evangelist and a Director with Layers-7 Seguro Consultoria Ltd. Commanding over 20 years of experience, he is also a Certified Information Systems Security Professional (CISSP), Certified Information Systems Auditor (CISA), Certified in Risk and Information System Control (CRISC), and has a Diploma in Cyber Law. He was the winner of the 2013 (ISC) 2 President's award, and Honouree in the Information Security Practitioner Category for Information Security Leadership Achievements (ISLA) in the Asia Pacific Region.
Conrad Dias bring to the table over two decades of experience and is renowned as a seasoned veteran in Information Technology, Software Engineering, Project Management, Strategic and Investment Planning, Finance Management, Corporate Restructuring as well as Unit Trust and Fund Management. Under his leadership and guidance, the ICT Division of the LOLC Group which provides efficient and effective IT solutions to all sectors and businesses within the Group, initiated and implemented several key projects to digitalise the many diversified sectors. He was honoured with the CIO of the Year Award at the ICT Awards in 2016.
Suresh Surenthiran gained much appreciation by the industry for forming a real time broadcast media networks over fibre optic channels. He has over 20 years of experience with broadcasters, media facility companies and educational institutions. His expertise lies in placing technical and operational aspects across production, post production, content management, broadcast engineering and multiplatform distribution and delivery. His special interests includes artificial intelligence, space industry, robotics, cloud computing, smart sensors, intelligent network, nanotechnologies, big data, computing systems and future technologies.
The National CXO Forum is organised for the fourth time by FITIS, which is the apex body of the ICT sector in the country covering all major industry segments including hardware, software, training and education, communication and professional. The supporting partners of the event are the Ministry of Digital Infrastructure and Information Technology, the Export Development Board and Island of Ingenuity.
For more information or to book your seat for the National CXO Forum 2019 visit www.cxo.lk or call Jayarukshi Jayalath on 112 665261 or email [email protected].
Source at: Daily FT