Kenya-Sri Lanka Joint Economic Cooperation talks a success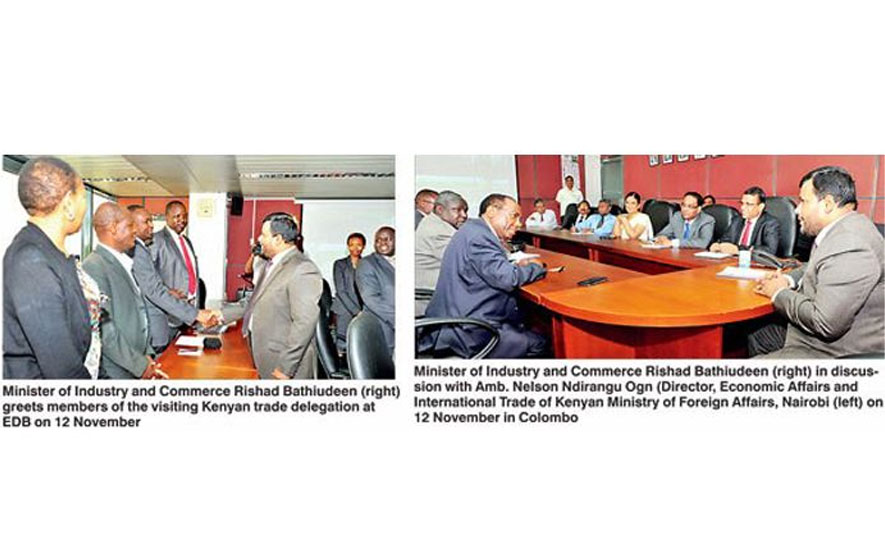 2014-11-18
Kenya, the newest entrant to Africa's top 10 list, called for renewed trade with Sri Lanka and in a display of its commitment towards this end requested three trade pacts with Sri Lanka in one go by 2015.
"We are looking forward to more trade interaction and expecting a delegation to Nairobi from Sri Lanka next year. By the time of your visit to Nairobi we are looking forward to conclude current discussions on three agreements being discussed and to sign them," said Amb. Nelson Ndirangu Ogn (Director, Economic Affairs and International Trade of Kenyan Ministry of Foreign Affairs, Nairobi) on 12 November in Colombo.
Ogn was addressing Minister of Industry and Commerce Rishad Bathiudeen and top officials during his delegation's courtesy call on Bathiudeen at the EDB. Ogn was in Colombo leading a nine-member trade delegation to Sri Lanka. The Kenyan team successfully concluded its Joint Economic Cooperation (JEC) session with Bathiudeen's official delegation on 11 November.
Noting that Kenya is aiming to become a middle income country by 2030, Ogn expressed hope that the agreements – a Bilateral Trade Agreement, an agreement on Avoidance of Double Taxation and an agreement on Promotion and Protection of Bilateral Investments – would be formalised during Sri Lanka's visit there.
"Once we formalise these three instruments at government to government level, the private sectors at both ends can commence their own trade. Even on agriculture cooperation, a draft agreement is now being finalised. Our Minister of Agriculture, Livestock and Fisheries will be coming to Sri Lanka to sign it once it is ready. All these bilateral agreements are for stronger trade between both countries. We also need to have ongoing B2B interactions and forge chamber level interactions. President Mahinda Rajapaksa visited the Nairobi Chamber of Commerce last year and as a result the two chambers entered into a MoU which strengthened bilateral trade. We also saw your Chamber of Commerce in this visit and are impressed by your chamber, which was established way back in 1839. It is now time to expand business-to-business links between the two countries in a significant way."
In 2013, trade between both countries stood at $13.94 m, rising from 2012's $12.78 m. Among Sri Lanka's exports to Kenya in 2013 were natural rubber, tyres, sacks and bags, staple fibre, tea, rice, coconut coir and activated carbon. Trade in January-June 2014 totalled $ 5.86 m.
Kenya discovered oil and gas in 2012 and is now the ninth largest economy in Africa. In its Global Competitiveness Report 2014-'15, the World Economic Forum listed Kenya as the sixth best among the top 10 economic performers of Africa.
"I have been given to understand that 11 November's Joint Commission (JEC) Session discussions were successful and I am pleased," said Bathiudeen. "The JEC also helped to link our fruits and vegetables, construction, ceramics and leather sectors to Kenyan economy. We especially note your keen interest in our leather processing. We thank you for your invitation to us to Kenya's Tea Expo in 2015. If you inform the EDB of the important events in your trade calendar in advance, we would be able to facilitate even greater B2B interactions. I am pleased about the Kenya Export Promotion Council's interest to enter into a MoU with the EDB so that export and trade is facilitated starting from a higher level. Such a MoU can also facilitate joint trade delegations."
Ogn and Bathiudeen also discussed other avenues of bilateral cooperation yesterday (17). Also taking part were Ministry of Industry and Commerce Secretary Anura Siriwardene, EDB Chairman/CEO Bandula Egodage, EDB DG Sujatha Weerakoone and DoC DG R.D.S. Kumararatne.