KOICA and DONG-EUI University conduct capacity development for EDB officers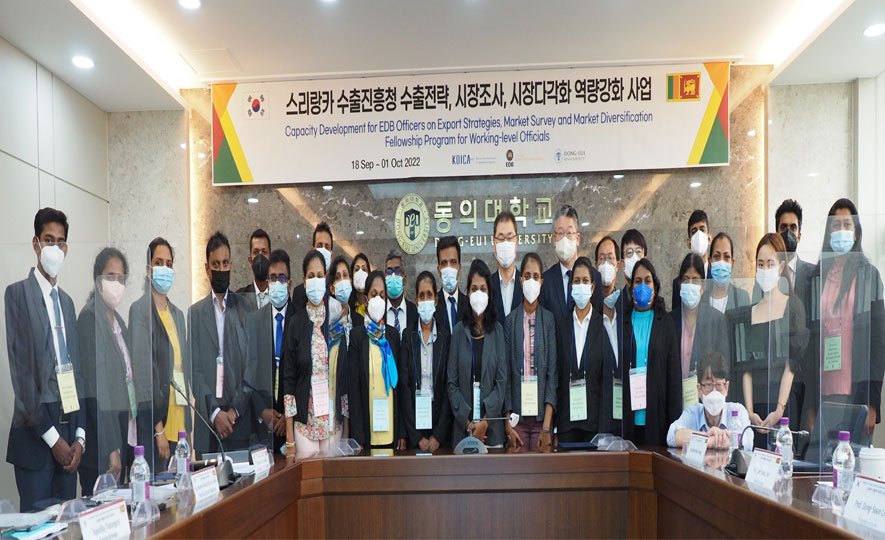 2022-10-21
Korea International Cooperation Agency (KOICA) successfully conducted a training programme in Capacity Development on Export Strategies, Market Survey, and Market Diversification at DONG-EUI University, South Korea, from 18th September to 30th September for twenty-three (23) working-level officers of the Sri Lanka Export Development Board (EDB).
The objectives of the programme were to provide a thorough understanding in policies on trade practices and regulations, ensure participants gain knowledge and insight from South Korea's trade promotion policies, and making the trainees aware of recent trends in trade and technology in international business.
During the training, the participants were given a comprehensive knowledge in global export strategies, global insurance, global marketing strategies, measures to support export companies, global financial issues, environment, trade & sustainable development, business trends and as well as the 4th industrial revolution by academics of DONG EUI University together with external resource persons. Furthermore, the EDB officers were made aware of the transformation of South Korea from a supplier of primary agricultural products to a leading global player in manufacturing exports.
The experience of the participants was enriched with industry tours to Hyundai Motor Company, Busan Port Authority, and Busan Regional Customs as well as cultural tours to Gyeongju Golden City, Haedong Yongkungsa Temple, and Gyeongu Bulguksa Temple.
At the end of the programme, the participants (worked in 4 groups) presented 4 project concept papers related to the advancement of Sri Lanka's export sector. The project concept paper presented on establishment of a facility center for packaging-related research and development was judged as the best project concept paper.
The officers who took part in the training will conduct workshops and presentations to the fellow EDB staff to disseminate the valuable knowledge gathered during the training and thereby improve the EDB's overall capacity in terms of export promotion. Furthermore, the EDB will present project proposals related to the development of Sri Lanka's export sector to be considered for technical and financial assistance by KOICA.
South Korea's transformation from one of the poorest nations in the world to a highly developed economy within a relatively short period of time is known as the Miracle on the Han River. Its progression from an aid recipient to a donor offers many lessons for Sri Lanka to emulate and apply into practice at a time when the nation is undergoing a critical time in its post-independent history.
Both the Government of Sri Lanka and the EDB are grateful to KOICA and DONG-EUI University for the valuable opportunity given to the EDB employees to upgrade their knowledge and skills.