Korea Importers Association delegation looks for Lankan products, partners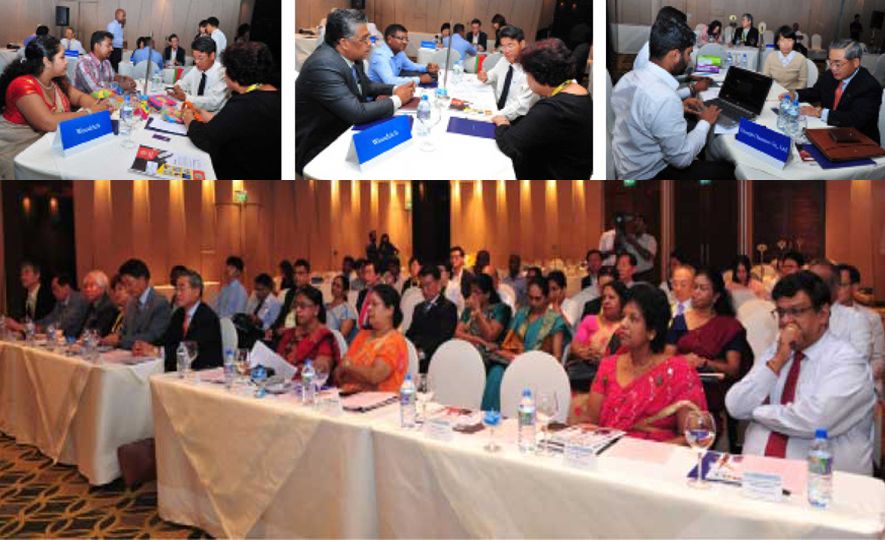 2017-10-02
A 15-member delegation led by Myoung-jin Shin, Chairman and CEO of the Korea Importers Association (KOIMA), visited Sri Lanka earlier this month on the invitation of the Sri Lanka Embassy in South Korea and the Sri Lanka Export Development Board (EDB) to explore business and investment opportunities in diverse areas.
The KOIMA is supported by South Korean Government agencies such as the Ministry of Trade, Industry and Energy, and the Ministry of Foreign Affairs.
In line with the MoU signed between EDB and KOIMA, a business forum was held at the Hilton Colombo with the participation of government institutions such as the Ministry of Development Strategies and International Trade, the Ministry of Industry and Commerce, the Department of Commerce (DOC), Board of Investment (BOI) and the main trade chambers.
MODSIT Secretary Chandani Wijewardana made a keynote speech at the occasion and highlighted the importance of these kinds of trade delegations. She added that participation in each other's trade fairs should be encouraged to explore new areas of mutual cooperation. The BOI and DOC presented the investment and trade opportunities present in Sri Lanka to the visiting delegation.
EDB Chairperson and Chief Executive Indira Malwatte stressed the importance of building trade ties with South Korea and also highlighted the abundant opportunities that are available to South Korean businessmen to develop trade with Sri Lanka.
Subsequently, the delegation had B2B meeting with Sri Lankan exporters to identify business opportunities and establish business links with Sri Lanka.
During their stay in Sri Lanka, the delegation met Minister of Development Strategies and International Trade Malik Samarawickrama. He invited them to get the maximum benefit to build a thriving economy of Sri Lanka from good governance which is compiling with business-friendly policies.
"We came here to create business and investment opportunities in Sri Lanka. The country has changed over the years and we are eager to import from Sri Lanka," said Myoung-jin Shin.
This delegation is expected to pave the way to create more business opportunities, thus increasing exports to the Korean market for focused products from Sri Lanka.