Lanka aiming to be a top 10 apparel exporter by 2020: Minister Rishad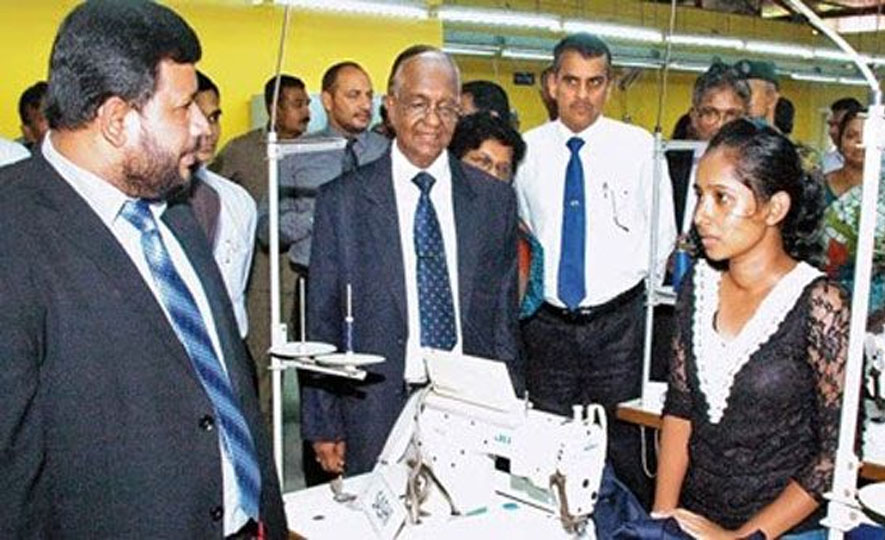 2014-04-01
Daily Finance Times - 01/04/2014
SL starts first modern footwear and leather training centre
2013 apparel exports a record $ 4.3 b: Rishad
SLITAs engineering setup upgraded with hi-tech mechatronics
2013 footwear and leather exports up by 63%: Rishad
New technology from Germany, Japan and Singapore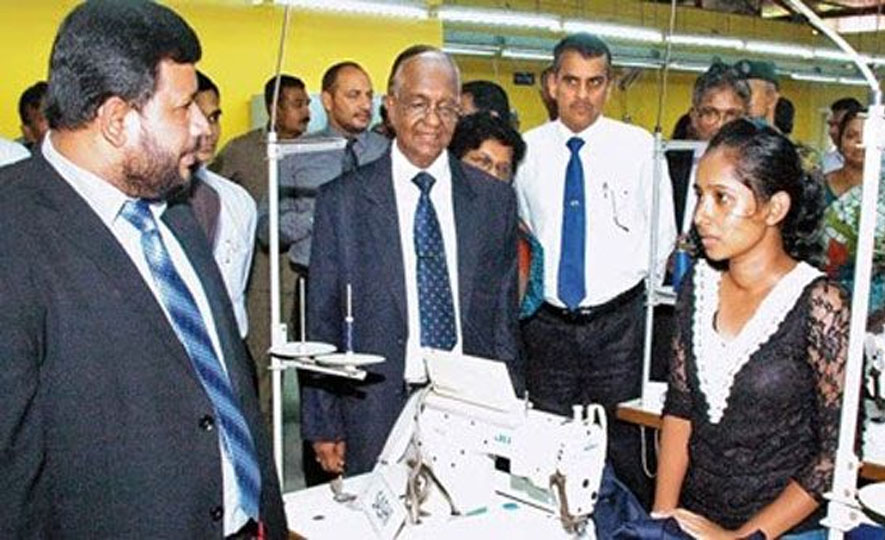 In the aftermath of latest record apparel earnings, Sri Lanka is now entertaining bigger apparel dreams. "Our internationally recognised apparel sector has shown strong performance, and has earned revenues of $ 4.3 billion in 2013. President Mahinda Rajapaksa now wants us to be among the world's top 10 apparel export countries by 2020," said Minister of Industry and Commerce Rishad Bathiudeen on 21 March.
Minister Bathiudeen was addressing the inauguration event of the newly established Leather & Footwear Industry Training Unit and the upgraded Engineering Workshop with mechatronics at the Sri Lanka Institute of Textile and Apparel (SLITA) on 21 March in Ratmalana.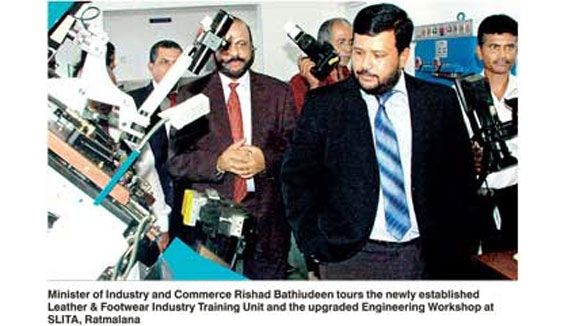 The latest SLITA facilities are constructed exclusively with Treasury funding of $ 153,000 (Rs. 20 million), and are the only such industry training centres in Sri Lanka. The Leather and Footwear Centre will train new student intakes at vocational levels on design and manufacturing. The Engineering Workshop with mechatronics is a high-tech venture, equipped with ultramodern machinery from Germany, Japan and Singapore. Automatic pattern sewing machines, electronic button hole and bar-tag machines, double needle lockstitch machines, electronic pneumatic training kits for motion and sensor trainings are some of the latest tech trainings that the students will undergo at SLITA Engineering Workshop.
In 2013, SLITA recorded highest income at $ 1.05 million, which is an increase of 44%, compared to 2012. 92% of this total income came from training, testing and consultancy services of SLITA. This institution has no less than 185 training programs with a total trainee strength of 3,430. Total training income also increased by 34% compared to 2012. SLITA's 56-strong lecture panel of which 18 are qualified at the Masters level is yet another benchmark in the industry.
Also present on the occasion were Secretary Ministry of Industry and Commerce Anura Siriwardena and SLITA Director General D.N.S. Kuruppumullage
"Today, our Ministry's Sri Lanka Institute of Textile and Apparel is taking a major step, in its on-going, contribution to Sri Lanka apparel sector. We are commencing a footwear and leather unit and the new, engineering building with high tech as a key event of the on-going development efforts of this institution. SLITA, operating under my Ministry caters to the industry in training, testing, consultancy and technical services. We are pleased, to say that SLITA has a world class testing lab which is internationally accredited and is certified with ISO 17025 and 9001 standards," said Minister Bathiudeen, and added: "SLITA is only one example of our government's efforts, to support the apparel industry. Most notably and on behalf of SLITA, I wish to thank the President for the triple deductions provided in the last budget for research and innovation carried out within apparel businesses. This has encouraged the apparel sector greatly for its, strong performance especially in 2013. "Our internationally recognised apparel sector has earned record revenues of $ 4.3 billion in 2013. This is a historic record for us and shows that we are now moving towards the apparel target of $ 10 billion by 2016 as set by President Mahinda Rajapaksa. Our President also wants us to be among the top 10 apparel export countries of the world by 2020. In 2013 our apparel sector has also entered the G4 manufacturing levels for the first time in partnership with a global multinational, the PVH Corporation. I commend our committed apparel sector for leading our exports performance. I am also thankful to the Treasury for the assistance to upgrade our apparel training facilities."
Speaking on Lanka's Footwear and Leather exports, Minister Bathiudeen said: "My Ministry is also in the frontlines of footwear and leather sector development with many initiatives, the latest being this new unit at a cost of $ 153,000 (Rs. 20 million). I am pleased to say that our footwear and leather exports also have shown a record growth trend. In 2012, exports from this sector stood at $ 30 million, and has registered a remarkable 63% increase by 2013, to $ 51 million."