"Lanka capable of producing 15 million pairs annually"-EDB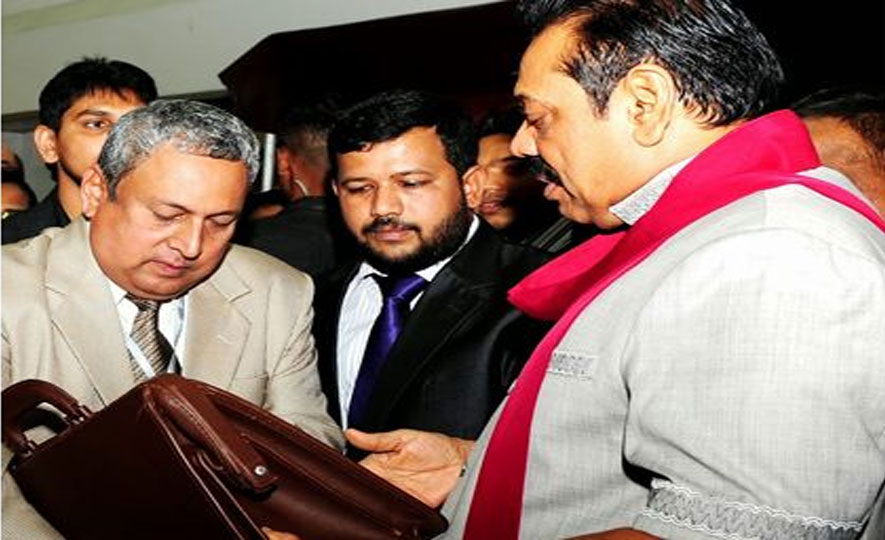 2014-02-01
The Sri Lankan footwear and leather industry is growing at a steady pace-and has developed into a sector catering to international markets. "Forthcoming 6th International Footwear & Leather Fair is a three day event and will move our producers, who now show 45% value addition, to international buyers" said Rishad Bathiudeen, Minister of Industry and Commerce of Sri Lanka on 31 January in Colombo.
Minister Bathiudeen was acknowledging his officials' info on the forthcoming 6th International Footwear & Leather Fair which will commence in Colombo on 07 February. The three day exposition will pack such events as, a Designer Award Ceremony, an exclusive Fashion Show and a stall competition. On display are footwear, raw material, travel goods, chemicals, leather goods, components & accessories as well as machinery. In addition to the general public, Importers, Buying houses, Traders, Designers, Wholesalers & Agents, Brand owners, and Industrialists are expected to grace the expo.
According to the EDB, Sri Lanka is capable of producing up to 15 million pairs annually, excluding rubber thongs which alone is estimated to total between 27 and 30 million pairs annually. The footwear industry at present employs about 20,000 people directly and indirectly includes 10 large export companies, 30 medium scale companies and about 3000 small scale manufacturers. Footwear sector which showed a growth in the past 4 years (2004 – 2007), was badly reflected by global recession in the years of 2008 and 2009. The value of exports of footwear and leather & leather products accounts for US$. 12.24 million and US$. 18.95 million respectively in the year 2012 and US$. 29.27 million and US$ 21.61 million in 2013 shows an increase of exports of footwear and leather products compared to the corresponding year of 2012. It is important to mention that footwear sector was able to obtain a significant growth of 139.13% in the year 2013.
According to the EDB, the footwear industry has significant potential to be a key contributor to Sri Lanka's economy, and already provides high end products to Mark & Spencer, Bata France, H.H. Browns, Clarks, Aerosoles and Nike. A diverse range of shoes including canvas and rubber boots, thongs, sports shoes and leather shoes are produced, using a variety of raw materials. From colourful rubber thongs to genuine leather shoes, Sri Lanka footwear industry has already established as quality conscious and fashionable supplier to well known international brands.
The EDB added: "In just a short space of time the shoe industry in Sri Lanka has adapted itself to the requirements of the world market. Today it is equipped to tackle both functional and fashion requirements of the modern and ever changing market place. The country produces an extremely diverse range of modern shoes in a multitude of materials and finishes. The bulk of the production in the canvas range consists of up market fashion shoes both in cold processed and vulcanized construction. Shoes are produced for well known brand names such as Esprit, Benetton. The rubber boot range consists of children's boots in attractive colours and designs, yachting boots, fishing boots, bean boots and boots for a variety of functional purposes including military. A large volume of rubber flip flops (thongs) are produced both for local and export markets. In recent times the leather shoe sector has emerged as one with good prospects.
"Today, leather shoes accounts for a significant proportion of the footwear exported from Sri Lanka. A variety of dress shoes, boots and casual shoes in stitched down and cemented construction are available for all genders. Sri Lanka is slowly but surely carving out a niche for herself in the world market for leather footwear. Apart from manufacturing processed leather, the leather products industry includes the manufactures of goods such as gloves, wallets, bags, purses, etc. There are approximately 5 large companies, 10 medium scale companies and around 1000 small enterprises. Eleven tanneries in the country produce 25 tons of leather every day, and most of the large companies have their own tanneries.
"Leather product manufacturers also cater to famous international brands like Play Boy, Laurel, Helen Kaminiski, etc. One of the key advantages enjoyed by the footwear industry is the locally available high quality natural resources including rubber and sole crepe. Sri Lanka is the only country which produces and exports sole crepe with value addition. Encouraged by the push for "green" products worldwide, there is a great demand from international markets for unit soles manufactured from Sri Lankan sole crepe.Major export markets for Sri Lanka footwear industry are Italy, UK and France and other European Union countries.
The industry continues to consolidate these existing markets while looking to enter emerging markets. Reliable quality, sustainable volumes and competitive pricing of our footwear have been key factors contributing to the success of the footwear industry in Sri Lanka. Thus, the Footwear & Leather Fair 2014 will strengthen and sustain the image of the Industry and promote Sri Lanka export capabilities among international buyers and provide opportunity for SME's to advance their talents and capabilities to become industry experts in the export field."