Govt: Lanka companies bullish at EDB's first ever China-Lanka direct B2B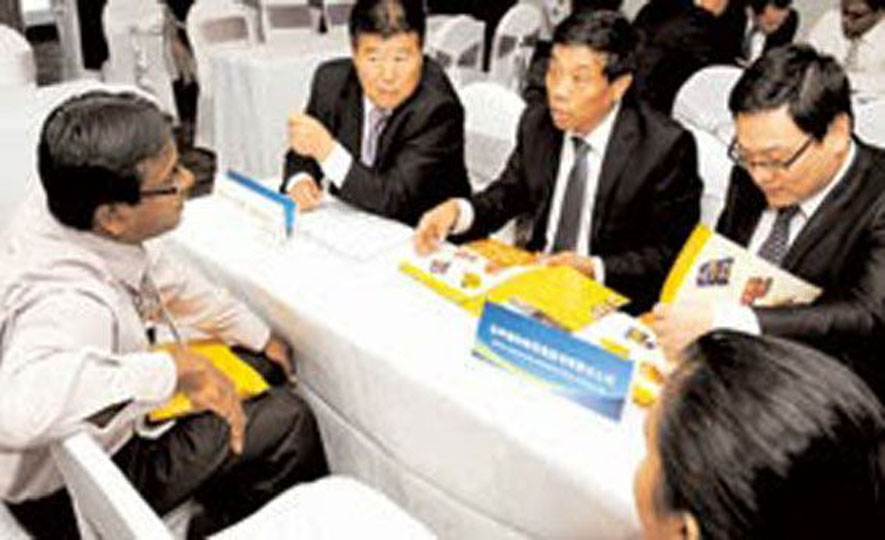 2013-09-29
"Eager Sri Lankan biz has experienced a sudden boost and witnessed new doors of opportunities on 26 September with a surge of inquiries from the powerful Chinese businesses now scouring Sri Lanka," the Ministry of Industry and Commerce said in a statement.
On 26 September, one hundred (100) Lankan firms of small, medium and large scales met reps from 23 powerful Chinese firms that arrived in Sri Lanka on 25 September as part of the Chinese Trade Promotion delegation to Colombo.
This is the largest Chinese private sector delegation to visit Sri Lanka. The Chinese delegation is led by Jia Guoyong, the Vice Director General of Chinese Trade Development Bureau (TDB). This is one of the strongest such Chinese delegations to arrive in recent Lankan trade history. The 36 member strong Chinese delegation consists of unprecedented Chinese private sector representation with 23 companies taking part in glass manufacture, mining/minerals, agriculture, polymer/petroleum bi-products, chemicals, and real estate. Three of the firms are in Fortune 500 list- Sinochem Group ($49.5 Bn revenue), China Minmetals ($ 37.5Bn) and Sinosteel ($27.2Bn). Among other visiting firms are Anhui Light Industries International Co., Ltd. (ALIC), Zibo Top Arts, Zibo Honghan Trading, Shandong Hanbang Household Glassware, Zibo Unishine, XinHe Commerce and trade Refco Group, Hebel Kaifa Glassware, AVIC International Holding, CITIC International, Chinatex, China National Township, Sinosteel Raw Materials, Sinochem Guangdong, and Sinochem Plastics.
During the four hour long Sri Lanka-China Business Meeting –the B2B matchmaking sessions facilitated by EDB- held at Cinnamon Lake Hotel on 26 September, the 23 Chinese firms met 100 Lankan firms for potential partnership on diverse sectors of interest.
Among the potential partnership avenues discussed were overall trading (both import/export), importing from Sri Lanka, exporting to Sri Lanka and business joint ventures.
EDB, on 27 September, said that the majority of Sri Lankan businesses that took part in the EDB facilitated B2B session, reporting 'it was a very effective session' with many potential partnership leads being generated for them.
Among the business sectors at play at the B2B session were chemicals, petroleum and fuel refining, activated carbon, metals (including non-ferrous), agriculture, financials, rubber and rubber products, plastics, activated carbon, glass and real estate.
On the eve of 26 September after the B2B sessions were over, many reps from the Chinese business side confirmed successes with eager Lankan firms, but insisted that it is premature for them to reveal the identities or Lankan partnership details since 'they have to process paperwork back home on nature of partnerships and determine exact Lankan (product) HS codes first.'
"We had very good, very successful meetings today. We also identified one Lankan partner firm for trading in Activated Carbon" said Anqi Fu, the Business Manager of CITIC International (Fortune 500 'CITIC Group' s annual revenue at $ 43 Bn, subsidy CITIC International annual revenue at $ 500 Mn). "The next step is to identify the exact product categories. We will start buying through the Lankan partner firm as soon as possible once the agreements finalised. We are also thinking of increasing purchase volumes in future but in step by step process" Qi Fu added.
"We had discussions with no less than 45 Lankan companies today" said a somewhat exhausted Ms Wang Zhi Jie (Assistant Manager-Strategic Planning) of Beijing's SINOCHEM Group (Fortune 500 firm, with $49.5 Bn revenue). "There was a strong demand from many Lankan firms to partner with us. We are focusing on chemical products and fuel refining. We listed several Lankan firms for partnership possibilities demanding refining services from us. We have an annual refining capacity of 1200 tonnes. We also have positive negotiation outcome for partnership with one Lankan rubber supplier for SINOCHEM's rubber plant in China. We are ready to start buying as soon as Sri Lankan firm's quotation is approved by our SINOCHEM offices. We are also looking for both import as well as export trading" added Ms Jie.
Han Ven Han (Manager Operations -Beijing's SINOSTEEL Metals) said: "We had many rounds of discussions with seven Lankan firms. And our cooperation prospects are looking good. We are looking for mineral sourcing from Sri Lanka as well as partnering in logistics and services. Within logistics, we are looking specifically for transport, warehousing and in the general value chain of logistics. We are still at fact finding stage and in discussion with the seven companies and we will make our decision back home based on what we learn here. We will also look into the possibility of investing in Sri Lanka on logistics. Sri Lanka's geographic and marine location is very strategic for logistics, which is the reason we are interested. We also want to source metals from Sri Lanka."
Gua Honghai [Administrative Officer of China Minmetals Non-Ferrous Metals Co Ltd, one of 800 subsidy firms of Fortune 500 ranked China Minmetals which has $ 37.5Bn revenue)], is keenly scouring for non-ferrous metal supplies from Sri Lanka-in large volumes. "We are looking to buy non-ferrous metals in large quantities. We are in need of 100,000 tonnes of copper, 100,000 tonnes of zinc and 400,000 tonnes of aluminium annually" said Honghai, and revealed: "But today, I could not locate any Sri Lankan suppliers who can give me these volumes even after speaking to ten companies. We are realising that Sri Lanka has no non-ferrous resources that we can make use of. But that is not the only option we have for Sri Lanka-there are still other avenues of business for us here, specially in logistics which we are now looking at. I also think Sri Lanka should learn from Singapore as to how to use your very distinct, strategic geographic location advantage to make it a maritime transport hub."