Lanka, Eu trade on the rise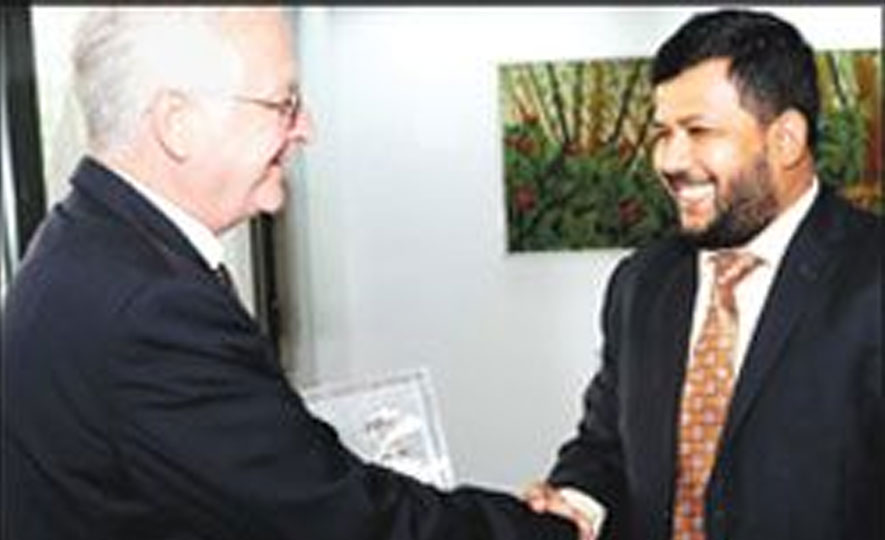 2013-06-24
As bilateral trade volume closes in on the crucial $ 5Bn mark, historic dialogue between Sri Lanka and the European Union appears to bolster even further. "We look for better trade levels and also thank EU for its on-going support," said Rishad Bathiudeen, Minister of Industry and Commerce.
Minister Bathiudeen was addressing Ambassador Bernard Savage (Head of the Delegation to Sri Lanka and theMaldives from the European Commission) on 20 June during Amb. Savage's farewell courtesy call on Minister Bathiudeen at the EDB premises, Colombo.
According to the Department of Commerce of Sri Lanka, there is an increasing trend in trade and the balance of trade between the two parties has been in favour of Sri Lanka during last nine years.
Total trade between Sri Lanka and EU which was at $ 3 bn in 2004 rose $ 4,946.18 mn in 2012. Sri Lanka's major export items to EU are apparel, diamonds, tea and rubber products.
EU is also one of the most diversified investors in Sri Lanka, with leading European companies operating in almost all sectors of economy-specially, FMCG, higher education, apparel, infrastructure, manufacturing, agro, technology and even in strategic development projects.
Such EU multinationals as Unilever and British American Tobacco are well embedded to Sri Lankan lifestyle with their decades long FMCG presence.
The UK, Germany, Italy, Belgium, France and Sweden are the leading EU members with investments in Sri Lanka. EU's specific investment segments include hosiery, knitwear, surf sails, electronic products, light engineering, rubber based products, (e.g. tyres), coir based products, gem and jewellery, diamond processing, tourism and recreational products, security printing, infrastructure development, activated carbon, food processing, computer software, ICT etc. "EU is our number one global trade partner. Our bilateral trade volumes show continuous growth and it has become a major element in our relations.
We look for better trade levels and also thank EU for its on-going support not only on trade aspects but even in various development initiatives here" said Minister Bathiudeen.
"Our cooperation with Sri Lanka is wide ranging including the assistance in tsunami and development. Even bilateral trade levels are showing a rising trend" Amb. Savage added.
According to the EU delegation, more than $ 148 mn (€ 112 mn) also has been earmarked for Sri Lanka under the 2007-2013 "Development Cooperation Instrument".