'Lanka handlooms special'-Int'l Design Expert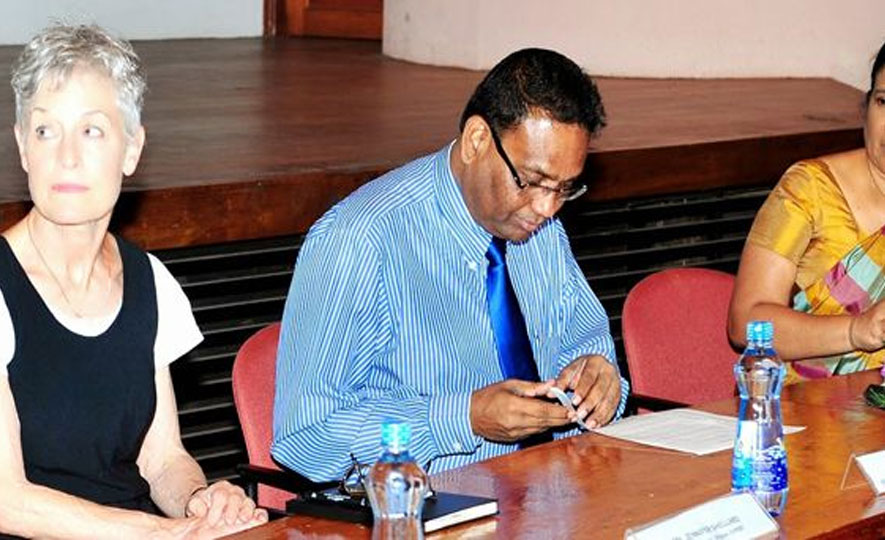 2014-07-01
Just as the US demand for Lankan handlooms surged, an international design expert called on 30 June the country to further strengthen its design and promotion capacities-and Sri Lanka's handloom designs continue to have a special identity.
"Sri Lanka has been known for its handloom textiles. Sri Lanka, rather than moving into fast fashion handloom cycles, can elevate its special handlooms brand by building competence and international promotion efforts" said Jennifer Shellard (Visiting Lecturer, Woven Textile Department of London's University of Creative Arts) on 30 June in Colombo.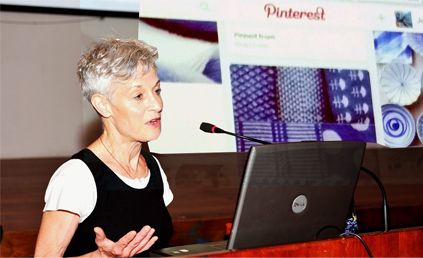 The highly experienced Design Expert Shellard was addressing more than 50 Lankan handloom designers and experts at the session titled "Design Development for Sri Lanka's Handlooms" organised by EDB on 30 June in Colombo. Design expert Shellard has more than 16 years' experience creating high quality products for the UK craft markets mainly in spun silk. As a senior lecturer in London College of Fashion, she ran the Surface Textile pathway and subsequently set up and ran the BA Hons Fashion Jewellery Course. She also assisted the Moratuwa University in 2003-04 to introduce weave designs to its BA Fashion course. Her expertise extends to using research for designs and crafts, as well as challenging definitions and perceptions of hand-made textiles particularly with regard to their presentation and context. According to the EDB, 2013's total apparel exports stood at $ 4.26 Bn. In 2013, Sri Lanka exported $115.55 Mn of woven fabrics-an increase of 10% from 2012's $104 Mn. Top five buyers of Sri Lankan handlooms in 2013 were Bangladesh, India, Turkey, Hong Kong, and UAE. Appetite for Lankan handlooms in US markets has also surged in 2013-US which was ranked as the 15 buyer of Lankan handlooms in 2012, jumped to seventh ranking importer in 2013 with $ 1.64 Mn of purchases.
"Sri Lanka has been known for its handloom textiles. It is a high precision sector and its precious in Sri Lanka branding. In fact, it is a jewel for Sri Lanka" said Design Expert Shellard and added: "Apparel sector is generally responsive to fast fashion cycles. But handlooms are not the same. Sri Lanka, rather than moving into fast fashion handloom cycles, can elevate its special handlooms brand by building weaver competence and international promotion efforts. I am not making a recommendation here but being already hands on involved in Sri Lankan weaving and gaining an understanding of Lankan designs, I identified these factors. Unlike powerlooms, handlooms help in maintaining the country's identity and helps tourism. My personal view is that if Sri Lanka becomes a mass producer of handlooms then it may not retain the same premium cache it now has. This is true even internationally. The reputed international handloom designers such as Junichi Arai and Reiko Sudo (Nuno Fabrics, Japan), Ann Richards (UK), European designers such as Laura Thomas, Drahomira Hampl, Margo Selby, Makeba Lewis, Katrin Hielle, Ptolemy Mann and Wallace Sewell & Emma Wallace used modern methods but preserved hand-woven quality. Research is important and do your research to make your products relevant, and differentiate locally and internationally-otherwise you will end up with unsold stocks. Also, if you are interested, I have news-that is 2014-15 autumn winter cycle color trend in international fashion for Lankan exporters-the two important colors are rust and dust."
Bandula Egodage (Chairman/CEO, EDB), addressing the event, said: "43% of Lanka's total exports are apparel. I believe that the secret of our apparel success could be that we don't sell apparel but sell designs. That's the value we deliver. Sri Lanka is a skilful place. We maintain our traditions and resources. Value addition is an essential factor and repeating of the same designs will not help us in the long run. Today's EDB initiative session titled "Design Development for Sri Lanka's Handlooms" is in line with this."
Anuradha Yahampath (Design Director of Kandygs Pvt Ltd), a participant of the EDB session, said: "Input and training of Jeniifer Shellard is important to our industry as she is a highly experienced global designer with an understanding of Lankan design. For me, Shellard's information on research, design, and color themes are the most important lessons." Director Yahampath's Kandygs has a large factory with 200 handlooms, 30 power looms, 50 sewing machines and a fully equipped dye house. Kandygs exports to such destinations as Japan, Germany, Greece, United Kingdom, Netherlands, Norway, Sweden, Mexico and Maldives. Kandygs has been representing in many international trade fairs including Heimtextil Frankfurt, Ambiante Frankfurt, and fairs in Sweden, Switzerland and Tokyo.