EDB's performance pilot triumphs with Lankan packaging breakthrough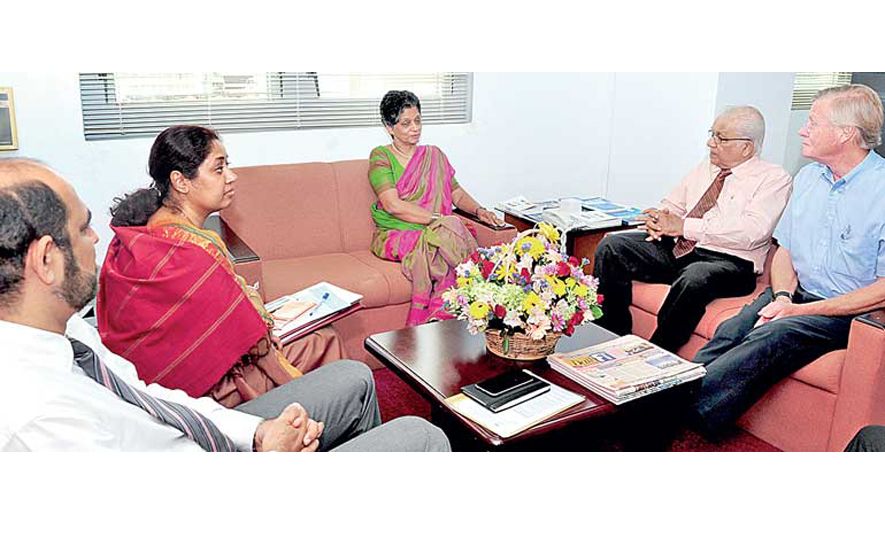 2015-11-04
EDB's first Lankan packaging pilot project is a hit and has opened the door for the entry of the 'performance packaging' trend to the local manufacturing sector for the first time. The new tech not only helps cost savings, but can boost sales revenue by 10-15%.

"With hands-on experience in perishable exports, I know the importance of packaging for exports sector. We thank PUM Netherlands for extending support to EDB and the Lankan packaging sector," said EDB Chairperson Indira Malwatte on 30 October.

Malwatte was addressing the visiting PUM Netherlands' Senior Expert Nico Knegt and PUM Sri Lanka Representative S.P.C. Kumarasinghe, who met the Chairperson on 30 October. Joining the session were top EDB officials including EDB Actg. DG Himali Jinadasa, EDB ADG Jeevany Siriwardene, and reps from Lankan packaging industry.

After EDB facilitated previous exposure visits to Thailand with six corrugated packing firms and 6 fruits and vegetable exporters, in 2014, EDB initiated tech transfer and productivity improvement program for corrugated packing industry via the National Packaging Centre of EDB and enlisted six firms for piloting.
One firm, the award winning Expack Corrugated Cartons Ltd., with the technical advice of Knegt promptly initiated the performance packaging pilot by importing tech and machinery and started production. On 30 October, Expack CEO Mohamed Riyaz reported the firm's success to Malwatte.

"I was with the fruits and vegetable exports sector prior to assuming duties as the Chairperson of EDB. Therefore I have hands on experience in perishable exports, and I know the importance of packaging in it," said EDB Chairperson Malwatte.

Malwatte added: "We are pleased of the good news that PUM Experts' observation that Lankan packaging sector has good standards. Packaging cost and performance is still a major concern for Lankan exporters and most of performance packaging material are imported from South East Asia rather than manufactured here. In that light, the commencement of the manufacturing of such performance packaging material within Sri Lanka is a new start and helps to reduce our exporters' costs; we welcome support for printing of packaging, specially medium to large boxes used in exports, due to the heavy costs involved and reduction of this cost too can help the exporters – and we thank PUM Netherlands for extending support to EDB and the Lankan packaging sector in this successful initiative."

"Today, packaging is not just making a box; the global markets will get what they want and Lankan exports packaging sector needs to realise this," stressed Knegt. "PUM Netherlands extends its support to Lankan sector via EDB with this realisation. In our experience of working with many other countries, I am pleased to say that Lankan packaging sector is good, adhering to many international standards. We conducted an in-depth study and investigated and based on our findings, started improving many aspects of Lankan packaging sector. We believe it is time to go to the next level and kicking-off of Performance Packaging technology in Sri Lanka is the first result. The corrugated production here is of good standards but we brought advanced tech and procedures so that sensitive quality of manufacturing processes are maintained and more importantly, introduced the current major trend in global packaging – performance packaging, in which the packaging material would adapt to products inside in terms of humidity, heat and air quality, etc. Our experience is that performance packaging brings cost savings and could increase product sales revenue by as much as 10-15%."

Sri Lanka's packaging sector, the critical background segment in the country's global consumer market appeal, also sits at the centre of domestic and export manufacturing. It claims on average 3% to more than 80% of export-product's unit cost (average packaging cost of apparels at 3%, fruits and vegetables 10%, tea 15%-95%, and spices 15%-50% etc).

"Packaging only" exports (such as corrugated boxes, flexi wrappers for packing, etc.) too doubled by 2014 (to $35 m) since 2010, while YoY exports surged by 9% from 2013's $32 m. Two-hundred Lankan companies are directly involved in this sector of which the main sub sectors are corrugated packaging for transports and flexible packaging.