Lanka's top global FDI partner in yet another $ 1 b rollout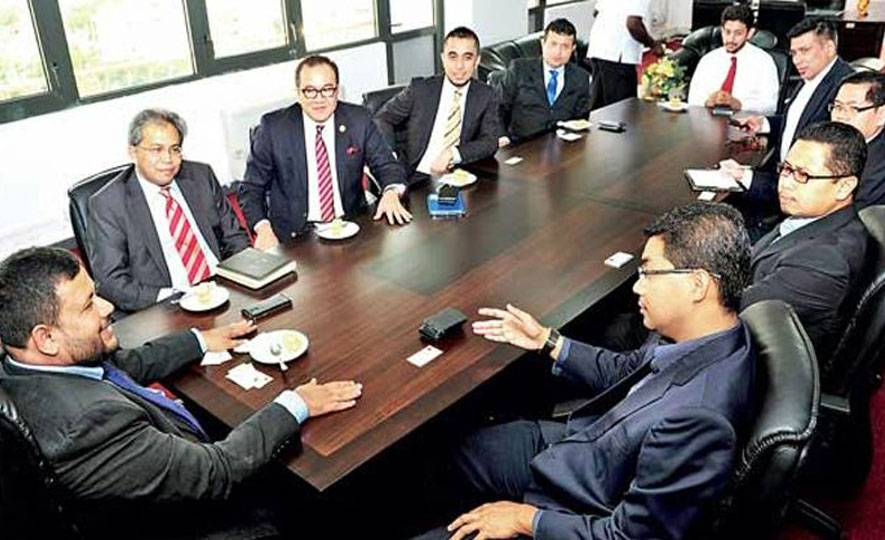 2014-10-28
Sri Lanka's largest global FDI partner Malaysia is mulling a new wave of incremental FDI totalling $ 1 b with an emphasis on SMEs.
It will become one of the largest-ever Private Public Partnership (PPP) ventures in Sri Lankan SMEs and the entry of biggest SME financier in Malaysia to Sri Lanka is the first step in their South Asian leap.
"We are thinking of another $ 1 billion portfolio in Sri Lanka in addition to the current investment portfolio here by EXIM Bank of Malaysia. SMEs are the priority sector in this new $ 1 b rollout while other sectors are also being mapped," said Syed Zed Al Qudsy, President of SME Factors, Jalan, Malaysia on 15 October, addressing Minister of Industry and Commerce Rishad Bathiudeen at the EDB Building in Colombo.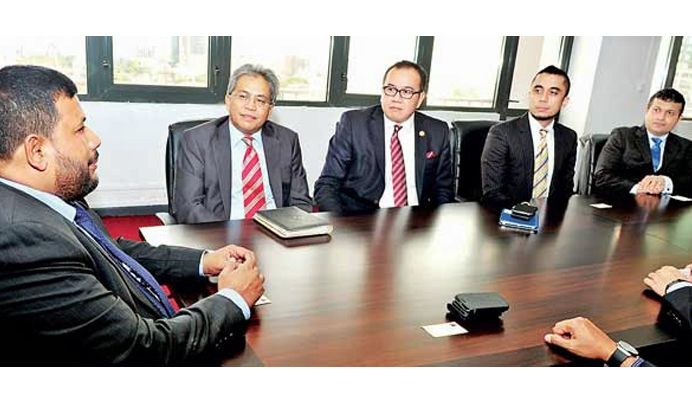 Al Qudsy was a member of the visiting Malaysian business delegation that made a courtesy call on Bathiudeen. The delegation was led by Dato' Latt Shariman Abdullah (Special Functions Officer to Malaysian Prime Minister and the Finance Minister).

"This is the first time that we have been invited to Sri Lanka and this invitation is by Senior Minister for International Monetary Co-operation Dr. Sarath Amunugama. I will be reporting back to Malaysian Prime Minister Najib Razak of our successful tour to Sri Lanka," said Abdullah.

He added: "The Malaysian business delegation I am leading now is of mostly financial sector consisting of Government as well as private sector firms. We are looking to partner with the financial sector, especially SME financing, and also mulling a new FDI incremental investment wave running up to $ 1 b in addition to what is here."

Bathiudeen responded: "We warmly welcome your decision to enhance current FDIs to new levels. The National Enterprise Development Agency (NEDA) has been working to uplift the SME sector. This sector's importance is recognised even by the vision of President Mahinda Rajapaksa. SMEs are vital in many ways; they contributing more than 50% of our GDP. NEDA too reported that financing is a very critical issue. Your visit can help boost our bilateral trade too."

In 2013, Sri Lanka-Malaysia bilateral trade totalled $ 577.66 m. The balance of trade has been heavily in favour of Malaysia due to high volume of imports of petroleum, palm oil and cement from Malaysia.
"We are a leader in SME financing in Malaysia, and the number one in SME receivable financing specifically. We have a proven track record in Malaysia. We intend to work with local partners in Sri Lanka and develop capacity with the objective of building the SME industry here. The sectors for the new $ 1 b rollout have to be mapped out in detail, since it's still preliminary, but SMEs are priority. We need time to create the investment stories when we go into new territories. Operations-wise, we are in Malaysia but we have also gone to Thailand and Indonesia as well. SME Factors is also looking to expand with regional offices to South Asia and South East Asia, one important reason we are partnering here," said Al Qudsy.
He added: "Such an expansion will boost business. We are coming to Sri Lanka with the hope and aspiration to partner and increase our presence. We have been supporting SMEs here already. In this next wave, we want to have an incremental investment running up to $ 1 b in addition to what has already been invested here. SME sector is the priority sector in this next $ 1 b new rollout and other sectors are being mapped. EXIM Bank of Malaysia is already partnering with SME Factors of Malaysia."

Bathiudeen stated: "When it comes to Sri Lanka's SMEs, it is the most neglected sector with regard to financing. As a result of lack of collaterals, they are continuously hampered and Lankan financial institutions too avoid them. In such a background, entry of firms such as yours can help our SME cash flows."
Once the $ 1 b new investment from Malaysia comes in, it would become one of the largest-ever Private Public Partnership (PPP) ventures in the Lankan SME sector, which contributes more than 50% of Lankan GDP.

According to the Department of Commerce, the cumulative realised investment from Malaysia has surpassed $ 1.4 billion. Malaysia has become the number one investor in Sri Lanka and Dialog Axiata is the largest investor in Sri Lanka with over $ 1 billion realised investments.

In addition to Dialog, Maxis Berhard, Naratha Agro Industries, Wincon Development Ceylon Ltd., APPIT College and Merbok are among other Malaysian investment projects in Sri Lanka.