Large Lankan private sector delegation at WEDF in Budapest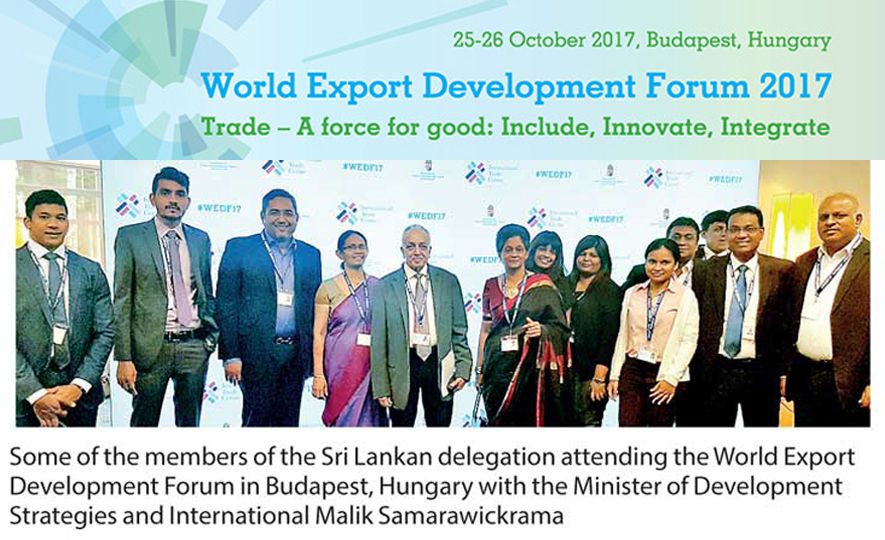 2017-10-28/ http://www.ft.lk/front-page/Large-Lankan-private-sector-delegation-at-WEDF-in-Budapest/44-642324
Central Europe's first ever World Export Development Forum (WEDF) in Hungary this week has drawn a large Sri Lankan private sector delegation put together by the Export Development Board.
The delegation of nearly 20 representatives are in Budapest to learn from the key insights shared at WEDF 2017 as well as participate in B2B meetings, explore prospects for Sri Lankan products and scout Hungarian technology and partners.
Sri Lanka is among over 60 nations represented at WEDF 2017, which is being held under theme 'Trade – A Force for Good: Include, Innovate, Integrate'. The event has brought together over 500 business leaders, ministers and other policymakers, heads of trade and investment support institutions and leaders of international agencies to share the latest trends and best practices. It is co-hosted by the World Trade Organization and United Nations joint agency the International Trade Centre (ITC) and the Ministry of Foreign Affairs and Trade of Hungary.
Apart from Development Strategies and International Trade Minister Malik Samarawickrama and EDB Chairperson and Chief Executive Indira Malwatte, the other members were Ceylon Biscuits Ltd. Export General Manager Jude Rubera (natural spices and coconut-based products); Development Interplan Ceylon Chairman Zuraish Hashim (fresh fruits and vegetables); Watawala Plantations Plc Marketing Senior Manager Yathindra Tennekoon (palm oil, tea and other export crops); Nestle Lanka Plc Assistant Vice President - Corporate Affairs and Communications Bandula Egodage (cereal and coconut milk powder); CR Exports Export Manager Bathiya Mallawaarachchi (fresh fruits); Colombo Export and Import Agencies Director International Trade Mohamed Ali Ashroff and Director Exports and Marketing Mohamed Shuhaib; Greenfield Bio Plantations Head of Business Development Koushalya Radhakrishnan and Manager Brands Ahalya Radhakrishnan (tea, herbs and spices); Grupo Canel Ltd. General Manager Subash Sameera Bandara (spices); Food and Nature Ltd. Chairman Chamendra Poddiwalamarage and Consultant S. Prageeth Tharanga (herbal tea); Ceylon Chamber of Commerce Manager Julianne Maria Boulton; Federation of Chambers of Commerce and Industry President Sarath Kahalapalarachchi; National Chamber of Commerce President Sujeewa Samaraweera and EDB Market Development Director Anoma Premathilaka.
WEDF in Budapest discussed how the benefits of trade could be shared more equitably with opportunities for SMEs in regional trade routes; innovation for trade competitiveness; innovative approaches to competitiveness when business and public policies were aligned; expanding digital trade (e-commerce) and the overall importance of innovation in becoming competitive; 'green' business and turning waste into wealth and how to move from agriculture to agribusiness and how to grow from a startup to a successful international business.
In addition to policy discussions and practical workshops, WEDF also facilitated business-to-business (B2B) meetings with a focus on how agricultural technologies, agricultural crops and oil seeds will give national and international companies the opportunity to network and make deals.
WEDF is part of ITC's broader objective of assisting small and medium-sized enterprises in developing and transitioning economies to become more competitive in global markets, thereby contributing to sustainable economic development within the frameworks of the Aid-for-Trade agenda and the United Nations' Global Goals for Sustainable Development. (NC)
By Nisthar Cassim in Budapest, Hungary
Source at: www.dailyft.lk