To Coincide with H.E. the president's visit EDB facilitated B2B and product display at Sri Lanka Business forum in Malaysia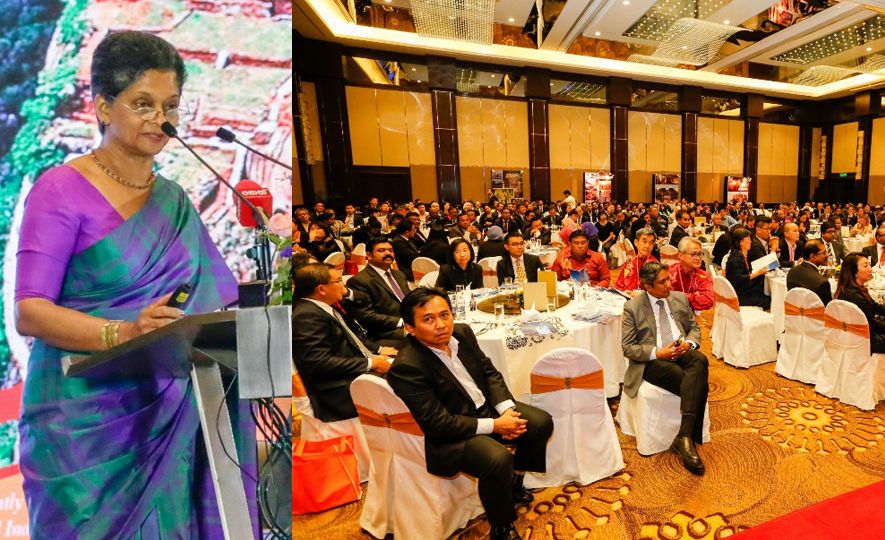 2017-01-02
The EDB facilitated Sri Lankan leading exporters to have fruitful discussions with Malaysian counterparts during the Business Forum themed "Mutual Business Opportunities between Sri Lanka & Malaysia" which was held on the 15th of December, 2016 at the Intercontinental Hotel in Kuala Lumpur with the participation of more than 300 top businessmen from Malaysia.

A Sri Lankan product display was organized during the Business Forum showcasing high quality exportable products viz Ceylon Tea, Virgin Coconut oil, Cashew, Confectionery products, Gems & jewellery, Porcelain Tableware and Handicrafts.

Sri Lanka High Commission in Malaysia in collaboration with Sri Lanka Export Development Board, Board of Investment of Sri Lanka and Sri Lanka Tourism Promotion Bureau organized this Business From. The main objective of the Forum was to enhance the trade, tourism and investment between the two countries. This event was held as a part of the activities organized to mark the 60th anniversary of Sri Lanka - Malaysia diplomatic relations .

Ms. Indira Malwatte, the Chairperson and Chief Executive, EDB addressed the distinguished business gathering outlining the opportunities for trade between the two countries. She further explained the services extended by the Sri Lanka Export Development Board in facilitating the Malaysian businessmen to establish contacts with Sri Lankan exporters. createing more trade opportunities for Sri Lankan exporters to enter into the Malaysian Market.

Chairman of the Dialog Axiata shared his investment experiences in Sri Lanka. He highlighted the positive factors such as close proximity, friendly people, availability of raw materials and English literacy which enabled them to intensify their investment towards Sri Lanka. Mr. Upul Jayasuriya, Chairman BOI and Mr. Paddy Vithana, Chairman, SLTPB also addressed the gathering.
Malaysia and Sri Lanka share long standing cultural and business ties and His Excellency the President's visit and the Business Forum was timely to further strengthen the goodwill that already exists between the business people of both countries.

Sri Lanka trade delegation consisted of representatives from CR GROUP, FROSTAIRE PVT LTD, GREEN WAY ASIA LANKA PVT LTD, SRI LANKA HANDICRAFTS BOARD (LAKSALA), ELLAWALA EXPORTS (PVT) LTD/RENELLE PRIVATE LIMITED, SAPPHIRE CAPITAL GROUP & SAPPHIRE CUTTERS and SILK ROUTE CEYLON MERCHANTS (PVT) LTD
The Business Forum paved way to establish significant number of business connections for the companies of Sri Lanka. Business negotiations conducted with leading Super Market Chains in Kuala Lumpur resulted in sending initial product samples.

EDB Chairperson had discussions with a biggest leading fresh fruit and vegetable importer in Malaysia to export fruit varieties from Sri Lanka and sought their collaboration to upgrade our post harvesting technology. She also invited one of the biggest e-marketing service provider in Malaysia to Sri Lanka and list Sri Lankan export products in their B2C and B2B e-marketing platform.

EDB also conducted fruitful meetings with the Malaysian Trade Promotion Organization, MATRADE, to share knowledge and learn about good business practices of each other.